With the state govt demanding implementation of NEP 2020 this year, many colleges stumble citing lack of infrastructure and overworked teachers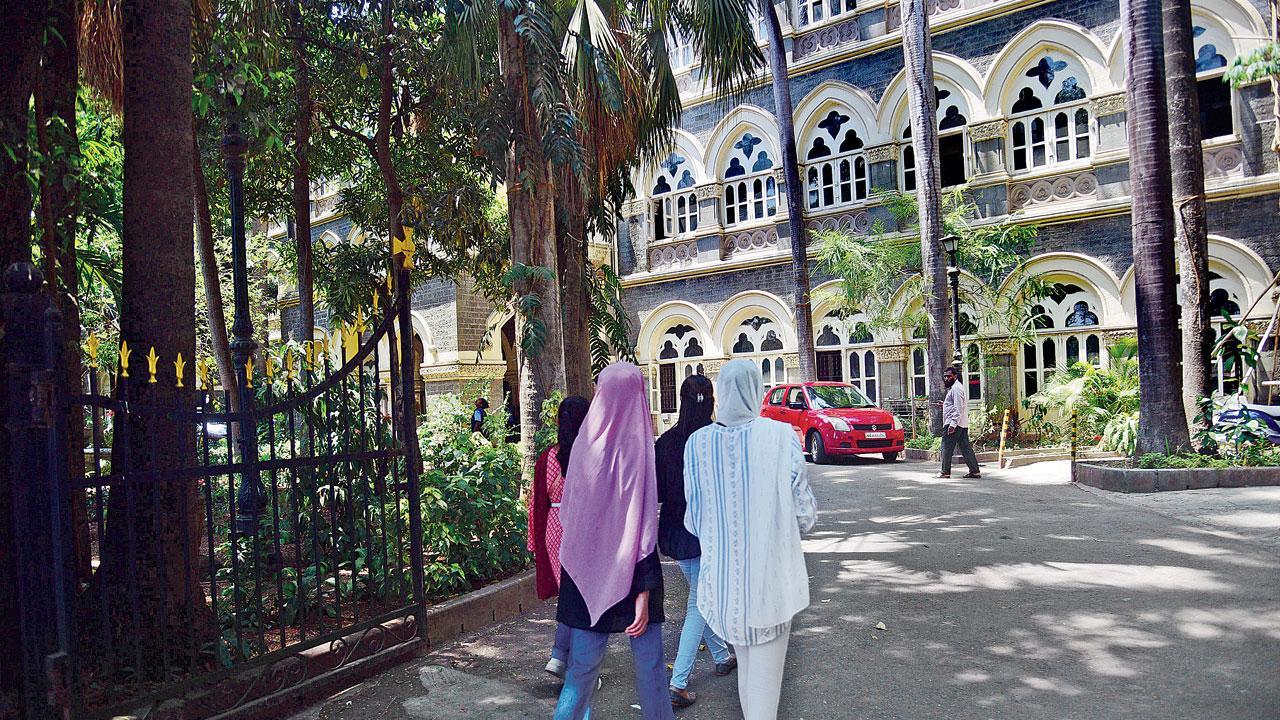 St Xavier's has formed a core group that is handling the implementation of the NEP 2020. Pic/Pradeep Dhivar
As the new academic year draws closer, colleges and higher educational institutes across Maharashtra are scrambling to put things in place to facilitate the implementation of the National Education Policy (NEP) 2020. Autonomous colleges, in particular, are experiencing a variety of difficulties and confusion, while attempting to meet the July/August deadline.
Over the last few months, the state government has introduced a slew of guidelines and government resolutions (GRs), setting in motion the implementation of NEP 2020. The NEP 2020, which is the first education policy of the 21st century, has proposed the "revision and revamping of all aspects of the education structure [in India], including its regulation and governance".
ADVERTISEMENT
In Maharashtra, the steering group formed to implement the policy recommended that it be adopted gradually, commencing with single major four-year undergraduate (FYUG) courses in the forthcoming academic year 2023-2024. Institutions having post-graduation (PG) sections have already been asked to expand their three-year UG degree courses to four-year honours degree. The panel also published an interim plan in March to adopt NEP's provisions in the state's higher education framework.
While non-autonomous colleges are being guided by the University-appointed NEP implementation cell, autonomous colleges have to plan and execute NEP 2020 on their own. For most colleges, it's a working vacation. "The [state] government told us to forget about Sundays and holidays, and work things out as soon as possible. Most teachers are not ready to work; they have been reminding me about clauses pertaining to employees, holidays, and workload," a principal of a well-known autonomous college in South Mumbai told mid-day, adding, "Principals are sandwiched between the government and staff."
Restructuring courses and designing subject combinations is not just time-consuming, but also tricky, said Dr Minu Madlani, Principal of KPB Hinduja College, Girgaum. "First, we must make it [the course] more and more student-centric, while taking faculty workload into account.  Even if we do manage to develop different subject combinations, while accounting for infrastructure and the teachers' availability, what if students are uncomfortable with the choices we provided?" said Madlani. The bigger challenge, he added, is to redesign the four-year course such that students can secure gainful employment after undergoing it. Restructuring and revamping of the syllabus will be finalised only after the approval of the subject board of studies (BoS) in the university and not at the college level. 
Dr Rajendra Shinde, principal of St Xavier's College, Dhobi Talao, said that the institute has formed a core group to handle planning and implementation of the NEP 2020. "The team comprises around 20 members, including the vice-chancellor  and a good mix of senior and new teachers," said Shinde. "While the initiative and policy is good and will be excellent for students and open many avenues for them, we are currently concerned about the timetable and space. Once we offer subject combinations, we will need more classrooms."
Another principal from a suburban college said that several colleges in the city do not have classrooms and infrastructure to offer four-year degree courses. "During a workshop organised for autonomous colleges and institutes in March, the minister of higher and technical education Chandrakant Patil indicated that colleges could develop vertically if necessary, and that the department would put out a request to raise the floor space index for them. But all of this takes planning," she said, adding, "The government should have given us a year more."
At present, only first-year students will be covered by NEP; the second- and third-year students will still adhere to the old curriculum. "The lecture time for the new curriculum will be one hour, while those following the previous syllabus will continue having 40 minute-long lectures. We will have to frame our timetable tactfully to avoid clashes," said another principal from a South Mumbai college, on condition of anonymity. "Additionally, it is unclear what will happen to students who failed the FY this year. What curriculum will they be required to follow? There are several gaps and many ambiguities. Teachers and administrators have been left on their own."
The principal said that the committee that framed these guidelines didn't take into account the additional expenses that will be borne by the colleges. "For example, if we have to offer artificial intelligence (AI) skill enhancement as an elective for a subject combination, we will have to get an expert in the field to teach the subject, which will involve additional costs. Colleges will have to recover that cost through fees. Will that be acceptable to parents?"
A senior teacher from a college in the eastern suburbs said that a student can finish a full year of classes under the NEP model—which provides a four-year programme—and exit with a certificate after one year, a diploma after two years, a degree after three years, or an honours degree after four years. "This might lead to a great deal of ambiguity in the course-planning process, and require more administrative support. Have government officials and experts on their panel given this a thought?" asked the teacher.
Despite the lack of clarity, colleges are working overtime, with the planning and execution. "We are keeping things in place for now. The Mumbai University is yet to issue further guidelines on admission... It's expected in June. We will wait for that," said Dr Neha Jagtani, principal of RD National college, Bandra. Will you take intranasal vaccine as a precautionary dose?