Public health experts express shock that Task Force has opposed the Education Department's decision to restart schools despite not having a single qualified person on the panel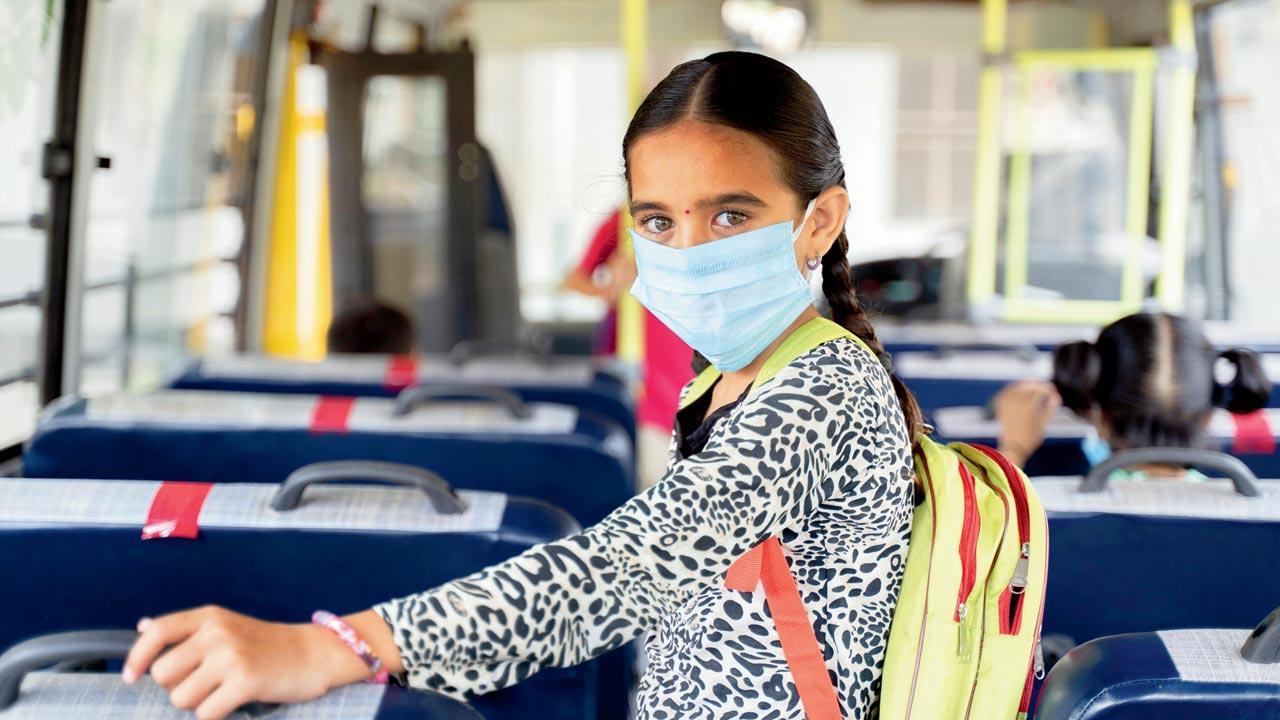 Representation pic
Public health experts from Maharashtra have called out the State COVID-19 Task Force's stand of not reopening schools for being unscientific and taken without having a public health expert on the team. The Jana Arogya Abhiyan (JAA) — a coalition of organisations active in the community health sector — has been talking about the need to reopen schools now, even for primary levels. 
We are shocked that the expert task force in Maharashtra has opposed the education department's decision to restart schools. Such a decision should be taken on the basis of the science of public health. But the task force does not have any public health expert," stated an open letter issued by the Jana Arogya Abhiyan (JAA). The JAA has demanded that the task force's report be made public.
ADVERTISEMENT
Public health experts say reopening of schools is far more beneficial than closure. Representation pic
Dr Anant Phadake, convenor, JAA, said, "Closure of schools has damaged the physical and psychological health of schoolchildren. In most developed countries, schools have partially opened and Standard Operating Procedures (SOP) have been prepared by many expert organisations. We can draw from these guidelines to prepare our own. The Indian Academy of Pediatrics has recommended reopening schools in areas having less than 5 per cent test positivity rate (TPR) and where the number of new cases per million population is less than 20 a day."
Elaborating on the concerns over the third wave and the indirect danger of infection to seniors and the seriously ill, Dr Phadake, said, "There is a possibility of the third wave but it should be borne in mind that the incidence of COVID in children in the second wave was extremely low. Even with very good precautions, some children will get COVID due to aerosol transmission. Though they are less likely to develop serious COVID, they will carry the infection home. However, despite this risk, there is not enough justification to continue to keep schools closed."
Dr Anant Phadake
Letter cites ICMR report
The JAA's open letter cites the Indian Council of Medical Research's (ICMR) July survey which shows that on average, 67 per cent of Indians have developed antibodies and that the proportion is almost the same in children.
"Though the prevalence of COVID in children is the same as that in adults as shown by this survey, and secondly, though the age group zero to 14 years accounts for about 26 per cent of the Indian population, children do not account for even 0.5 per cent of the total COVID deaths. These data tally very well with our experience. 
This is because the incidence of severe COVID disease is comparatively very low in children and the mortality is comparatively much lower. Given these facts and the fact that the prevalence of infection in children is almost the same as that in adults despite the closure of schools, there does not seem to be any rationale or wisdom in continuing the closure," the letter stated.
Results of a Twitter poll conducted by Francis Joseph, president, SLN Global
67 per cent
Proportion of Indians who have antibodies as per July ICMR report
26 per cent
Proportion of Indian population aged 0-14 years
'Need educationists in State Task Force'
There is a strong demand from the education sector for the need to have educationists in the State COVID-19 Task Force to decide on school reopening. In a Twitter poll by Francis Joseph, president, School Leaders Network (SLN) Global, 88 per cent respondents voted in agreement to have educationists on the task force. According to educationists, the reopening of schools involves several aspects and a decision by a task force that has only medical experts may not be able to take everything into account.
"Exciting news! Mid-day is now on WhatsApp Channels

Subscribe today by clicking the link and stay updated with the latest news!"
Click here!