Passenger files complaint against airline; claims staff threatened his mum to get Rapid Antigen Test despite no such guidelines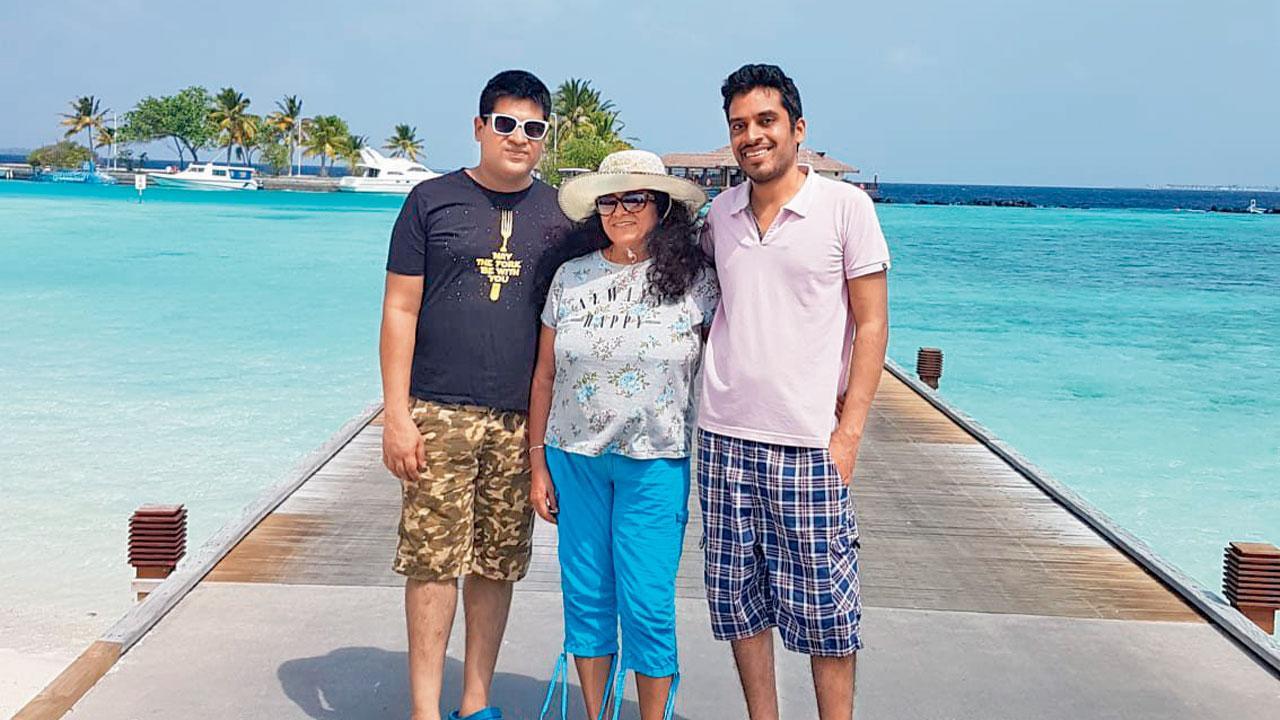 Complainant Ashwani Diwan (right) with his mother and brother
A Kolkata based passenger, who had gone to Maldives to celebrate his mother's birthday, has alleged that passengers at Chhatrapati Shivaji Maharaj Mumbai International Airport T2 were being forced to get a Rapid Antigen Test by Air India staffers.
On May 6, Ashwani Diwan, who was travelling with his mother Punam Diwan, 60, and brother Kunal, had a flight scheduled to Maldives from the Mumbai airport. In an online complaint filed with the Sahar police station on May 26, Diwan alleged that his mother was harassed by the Air India staff to get a test done.
Speaking to mid-day, Diwan said, "We were going to Maldives to celebrate my mom's 60th birthday, but the airport staff of Air India left her in tears. They misbehaved and threatened us, saying that they wouldn't allow us to board the flight to Maldives if we didn't produce my mum's negative RT-PCR report." His mother wasn't carrying her COVID-19 vaccination certificate, though she had the first dose certificate on her as proof.
After an argument, Diwan said that his mother was asked to get an RT-PCR done from the airport counter on an urgent basis at a premium cost. When Diwan pointed out that the new guidelines didn't demand an RT-PCR, and that they could miss their flight due to this, the staff suggested getting the Rapid Antigen Test. "Only after my mum did the test, were the boarding passes issued." To add their woes, Diwan says, their mum's seat number was manually changed using a pen to 20 rows away from his, despite pre-booking the seat.
When contacted, a spokesperson from Air India said, "We pride in serving our nation and its people with sincerity and dedication. In this case, the inconvenience caused to the passengers is entirely unintentional resulting from a communication gap on COVID guidelines in some of the counter staff belonging to our Ground Handling Agency. Air India has already communicated this to the passenger. 
Throughout the interface with the passenger, all support and cooperation was extended with courtesy. In fact, our counter staff had guided the [three] passengers with the IMUGA registration that is mandatory for travelling to Maldives, and which was not done by them. Since the updated information on COVID protocols for Maldives was not clear to one of our staff, one of the passengers was advised to go for the test with the sole mission to help them board the flight. Our airport staff in fact, guided the passengers to get the test done from authorised test centres at the airport." The spokesperson, further said that the seat allocation of the particular flight had to be readjusted, due to technical reasons. "Consequently, some of the passengers' seats had to be reallocated, and the said passenger's seat was among those. Air India has sincerely apologised to all the passengers. At no point in time, did the staff have any intention to harass, mislead or take any advantage of any passenger."