mid-day goes undercover to show how any mentally fit person could be institutionalised by greasing the right palms at Asia's largest mental health institution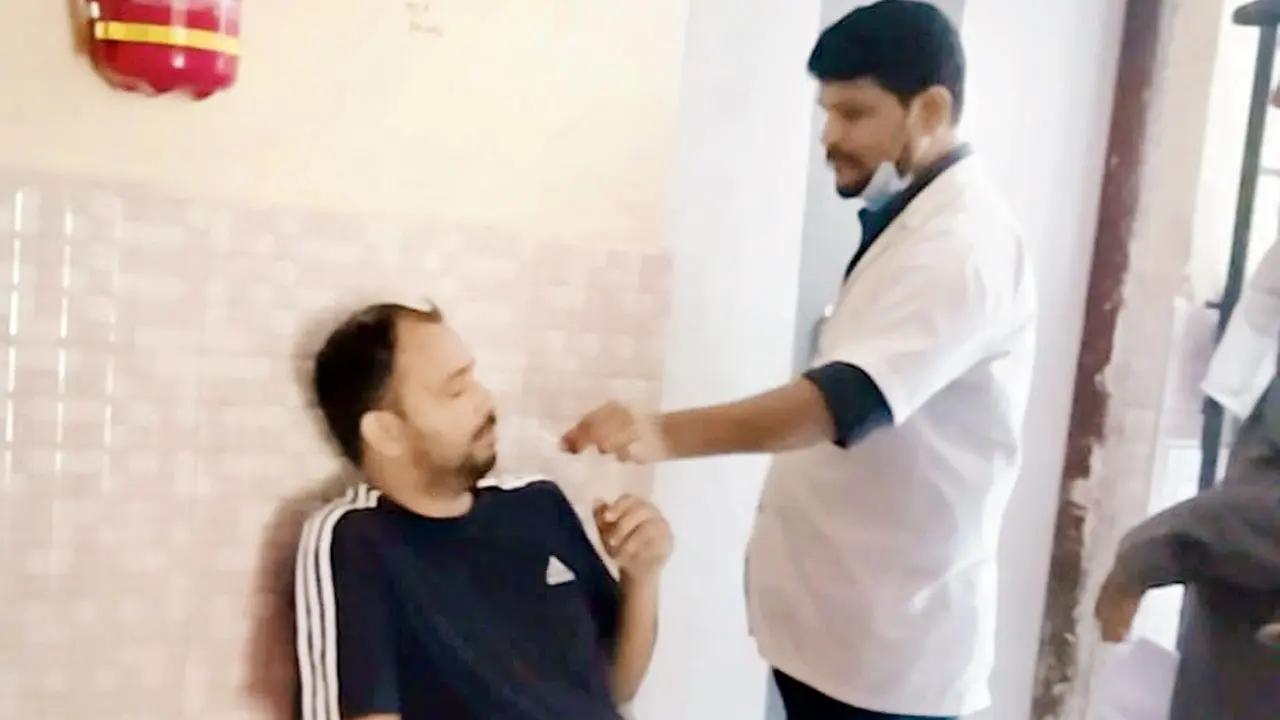 A pre-admission Covid test is carried out on Faizan at the hospital's pathology lab on May 2
Asia's biggest mental asylum, the Regional Mental Hospital, Thane, has always been in the news for the wrong reasons. Recently, a patient was beaten to death by the staff, following which a police complaint was filed by his kin. mid-day, while trying to uncover details about the case, stumbled upon far more sinister goings-on at the institution. Over a long investigation, these reporters found that the asylum has been admitting perfectly sane people by certifying them as unstable for as paltry a bribe as Rs 8,200.
Samiullah approached the hospital staff with a request to admit his 'cousin' Faizan. When the reporters followed the legitimate admission procedure, the staff refused to entertain them. However, after talking to a few staffers, the in-charge of a ward agreed to clear all hurdles in return for R8,200. Without making basic inquiries or demanding the patient's medical history or documents, Faizan was admitted to the hospital after the bribe was paid. However, before he was about to be handed over to the ward boys, the duo left the hospital with damning evidence.
ADVERTISEMENT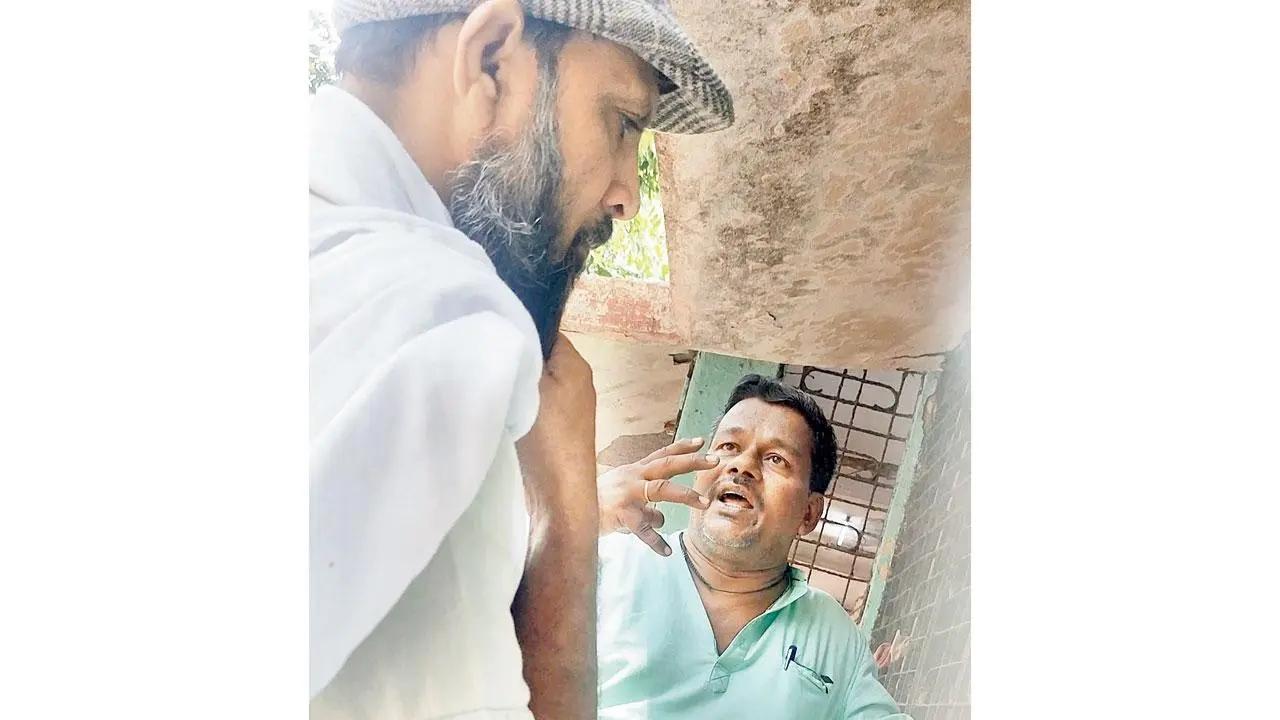 mid-day's Samiullah Khan talks to Sunil Shinde, a nurse who arranged for Faizan Khan to be admitted to the hospital despite a senior psychiatrist deeming admission unnecessary, on April 25. Pics/Rajesh Gupta
According to recent reports, over 250 patients have been dumped by their families at the hospital. Over 60 of them have been staying there for more than 20 years. Family disputes, married offspring who do not want their life to be impacted by aged parents and societal pressure are some of the reasons for the families not taking them back, The staff's alleged malpractices make it easy for these families to shun their moral responsibilities without a care.
Day 1 (March 4)
Samiullah visited the mental hospital and enquired about the admission process. He was told that he had to provide the case history of the patient and mention if he was receiving treatment. He was told applicants must pay R10 to create case papers for the patient. He was also informed that the patient had to be brought to the institution along with relatives and all the necessary documents including his Aadhaar card.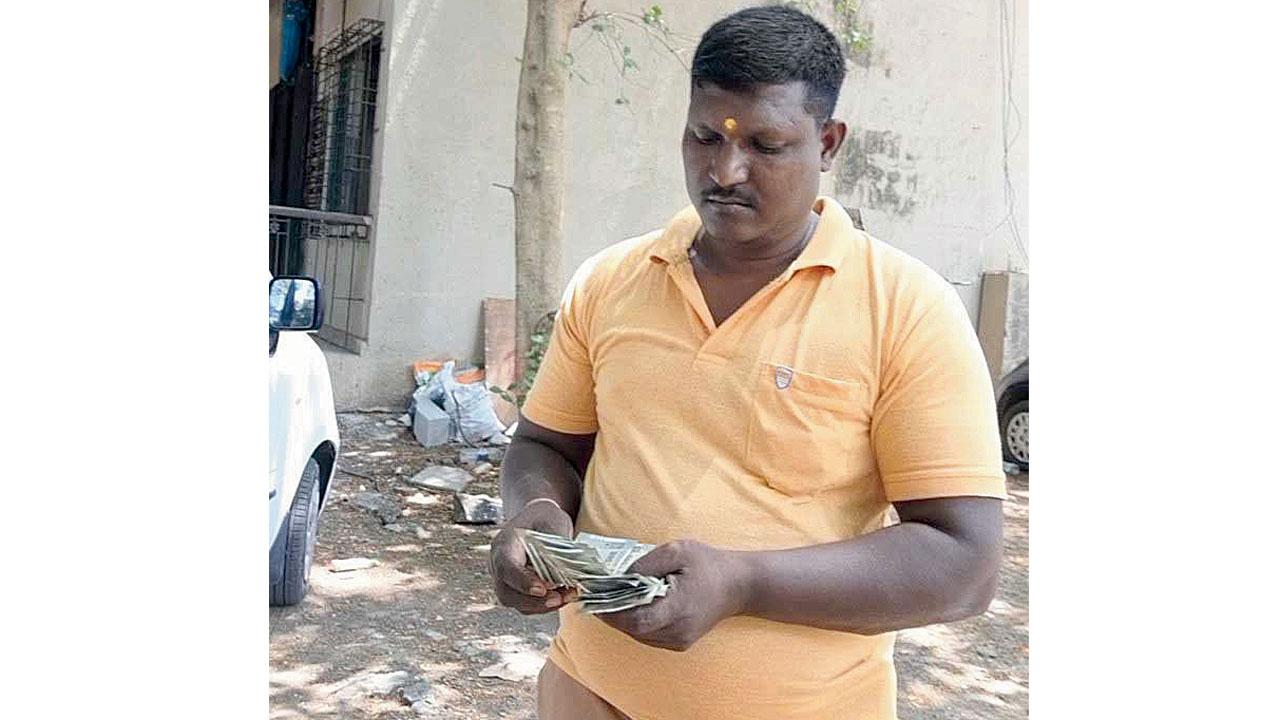 Day 2 (March 13)
Faizan and Samiullah showed up at the hospital posing as cousins. Samiullah paid R10 and completed the requisite paperwork, after which he took Faizan to the psychiatric social worker at the hospital. The duo provided basic details regarding the 'patient' Faizan, and the social worker referred the latter to the hospital's senior psychiatrist at the OPD. After evaluating Faizan, the psychiatric social worker noted on the case paper, "Patient noted cooperative and good eye contact. He (Faizan) denied symptoms and was quite able to give answers. According to cousin, patient gets aggressive at once, threatening to stay irritable and they noted temper tantrums and absconding nature, denied depression thoughts and attempts at suicide. Also denied physical illness."
Also read: Mumbai Crime: City cops nab Jharkhand man who duped financing firm of Rs 1.53 crore
Faizan was then asked questions regarding his background, such as where he had come from and where he was staying. The reporter, in character, responded that he hailed from Uttar Pradesh and was staying with his cousin in Mumbai.
The psychiatrist then asked Samiullah about the exact problems they were facing. He stated that Faizan gets aggressive at times and loses his cool. Samiullah stated that Faizan was a troublemaker and he had brought him to Mumbai for a medical check-up because the family in UP had taken him to a religious priest who claimed that he was possessed by a demon and someone had cast a spell on him. The psychiatrist then took down the patient's history and provided his opinion on the case paper.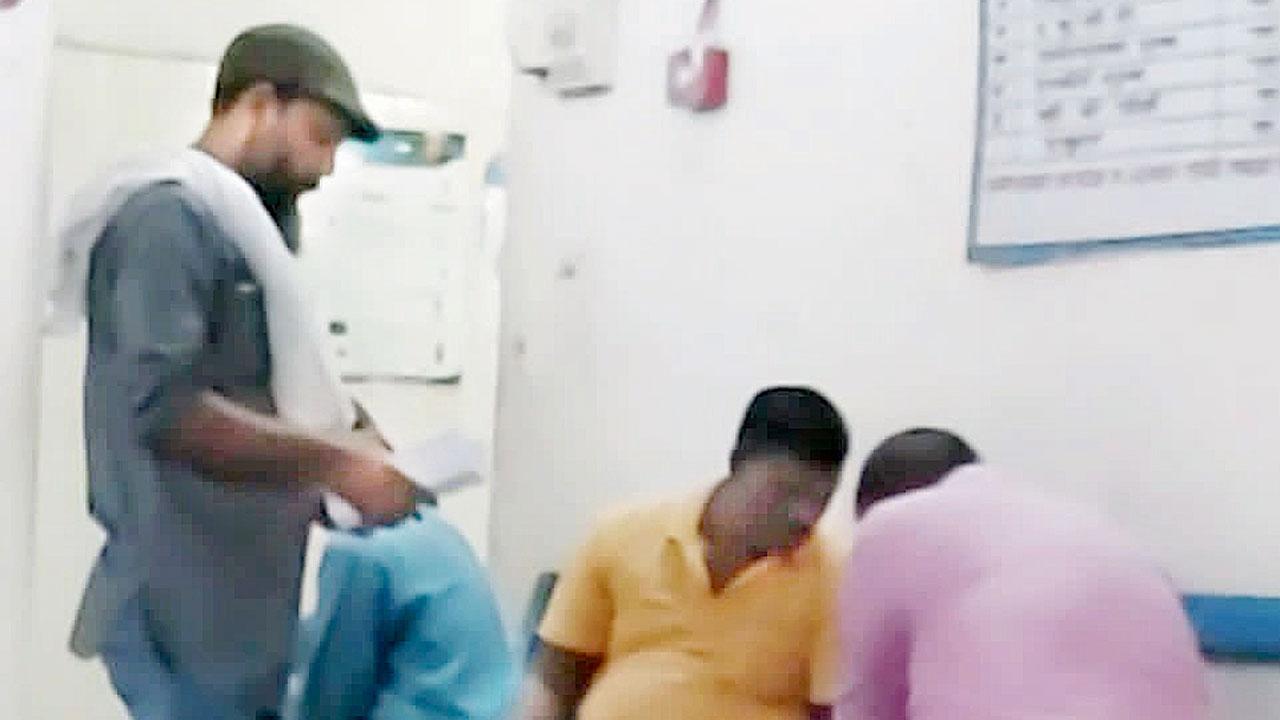 Samiullah (left) looks on while Vunjal and Patil are at work
The medical professional also evaluated Faizan and prescribed medication for a 15-day period. Despite Samiullah's insistence on admission due to the patient's aggressive nature, the senior psychiatrist deemed it unnecessary.
Day 3 (April 25)
As he had been visiting the hospital and talking to innumerable staffers for days, Samiullah eventually became a familiar face and managed to gain the trust of all. A warden informed him about Sunil Shinde,  a nurse who allegedly has ties with higher-ups who could help him get Faizan admitted. Staffers also revealed that apart from Shinde, there were others who could arrange for admissions in return for money. Samiullah spoke to Shinde over the phone and asked if he could help. The latter asked for certain details about the patient and informed Samiullah that he would need to bring documents and pay R8,500 for temporary admission spanning two months. Shinde added that once the patient became stable, he could be taken home.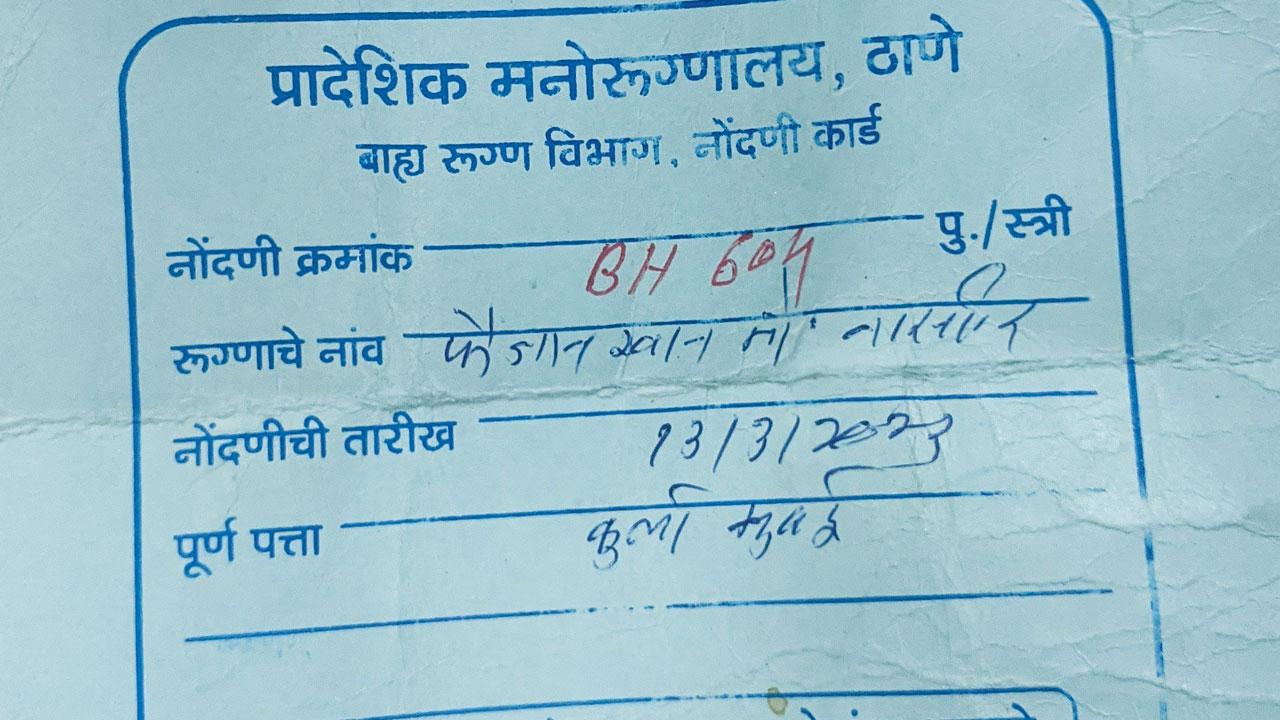 The registration card bearing the name and number of the 'patient'
Day 4 (April 26)
Samiullah decided to visit the hospital alone to verify if Shinde was a legitimate staff member or a scamster. Samiullah met Shinde outside the ward no. 1 of the hospital and he said that he was in charge of the ward. This is the exchange that occurred between the two Samiullah: Bhai aapse phone pe baat hui thi admission ke liye mai aaj usi ke liye aaya hoon.
Shinde: Yaha do type ke admission hote hai, ek court ke through aur dusra direct. Direct admission ke liye 8,500 lagega jisme 2,050 ki pauti (receipt) milegi aur treatment fauran chalu ho jayega. Abhi aapko kaisa karna hai batao ?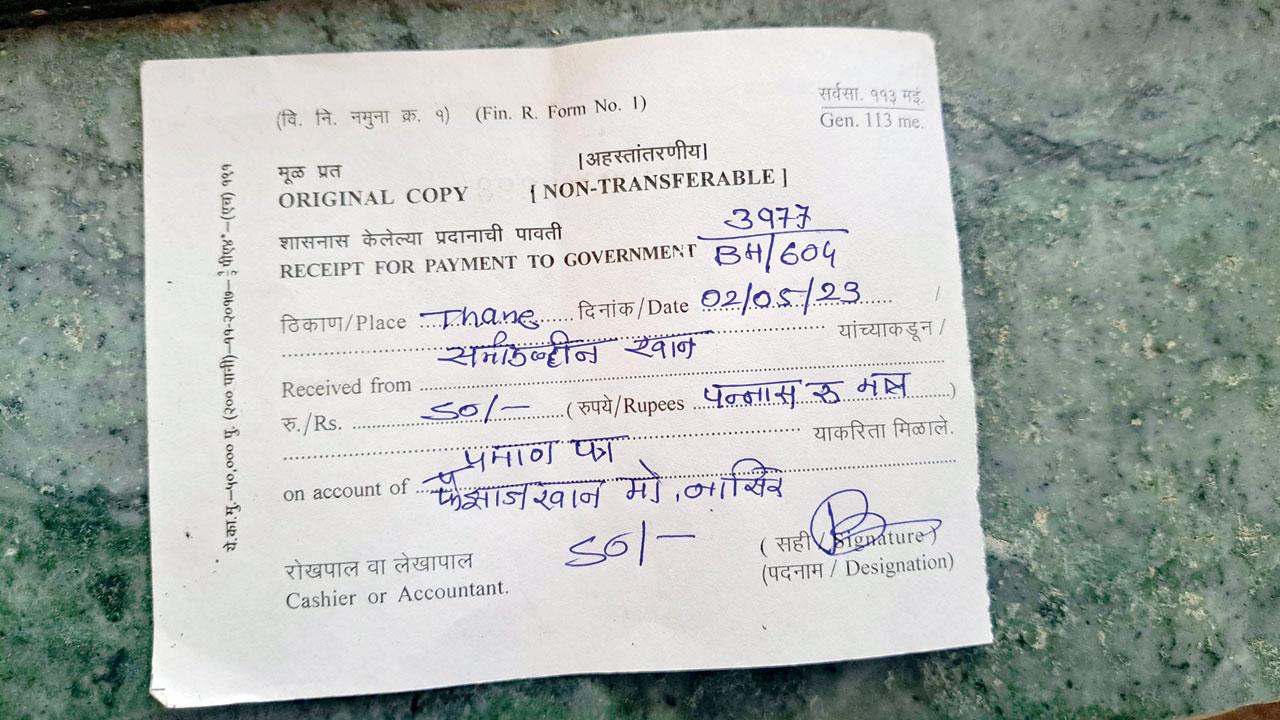 The hospital employees charged R8,200 to admit the 'patient' but handed over receipts for Rs 2,050
Samiullah: Theek hai aapne jo phone pe document lane ko bola tha use mai lekar aaya hu. Admission aaj hi ke din ho jayega ?
Shinde: Haan, ho jayega.
Samiullah: Kitne paise lagenge?
Shinde: 8,500.
Samiullah: Pura paisa ek sath dena padega?
Shinde: Haan, pura ek sath dena padega tum sirf 8,000 de dena.
Samiullah: Lane ke baad seedha admission ho jayega?
Shinde: Aap subah 10 baje tak lekar aa jao, ek baje tak aapka kaam ho jayega. Kya hai ki pahle court se hota tha ab direct hota hai.
Samiullah: Yaha par koi takleef to nahi hoga?
Shinde [gesturing at ward no. 1]: Dekho yaha kuch nazar aaraha hai kya? sab maze me hai khana kha rahe hai aur kaam kar rahe hai aur kuchh to theek hone ki condition me hai.
Samiullah: Aap yaha ke employee hai kya?
Shinde:  Haan, mai employee hoon.
Samiullah: Aapki kya post hai?
Shinde: Mai hawaldar hoon aur ward no. 1 ka in-charge hoon.
Samiulla: Ward no. 1 me kaise type ke mareez hai?
Shinde: Admit hone ke baad mansik halat ke hisab se divide kiye jate hai.
Samiullah: Theek hai bhai mai chalta hoon. Kal aata hu patient ko lekar. Aapko call karunga.
Shinde:  Aaram se soch lo aur ghar walon se bata kar lo aur Monday ko lekar aajai, fikar mat karo, mareez do mahine me theek ho jayega.
Samiullah: Bhai aap zimedaari le rahe na aane ke baad khaali haath to nahi jana padega?
Shinde: 100 per cent ho jayega. Haan bola to haan.
Samiullah: Pehle doctor ne toh admission ke liye nahi bola tha fir kaise hoga?
Shinde: Kya rehta hai doctor zyadatar aadmi ki zindagi kharab nahi karte hai use dawa se theek karne ka koshish karte hai magar ab mareez ghar walo ko pareshan kar raha hai dawa nahi kha raha hai to admit karna padta hai.
Samiullah: Aur agar doctor na bol de toh admission ke liye?
Shinde [with a tone of authority]: Tum kyu fikar karte ho? Mai dekh lunga.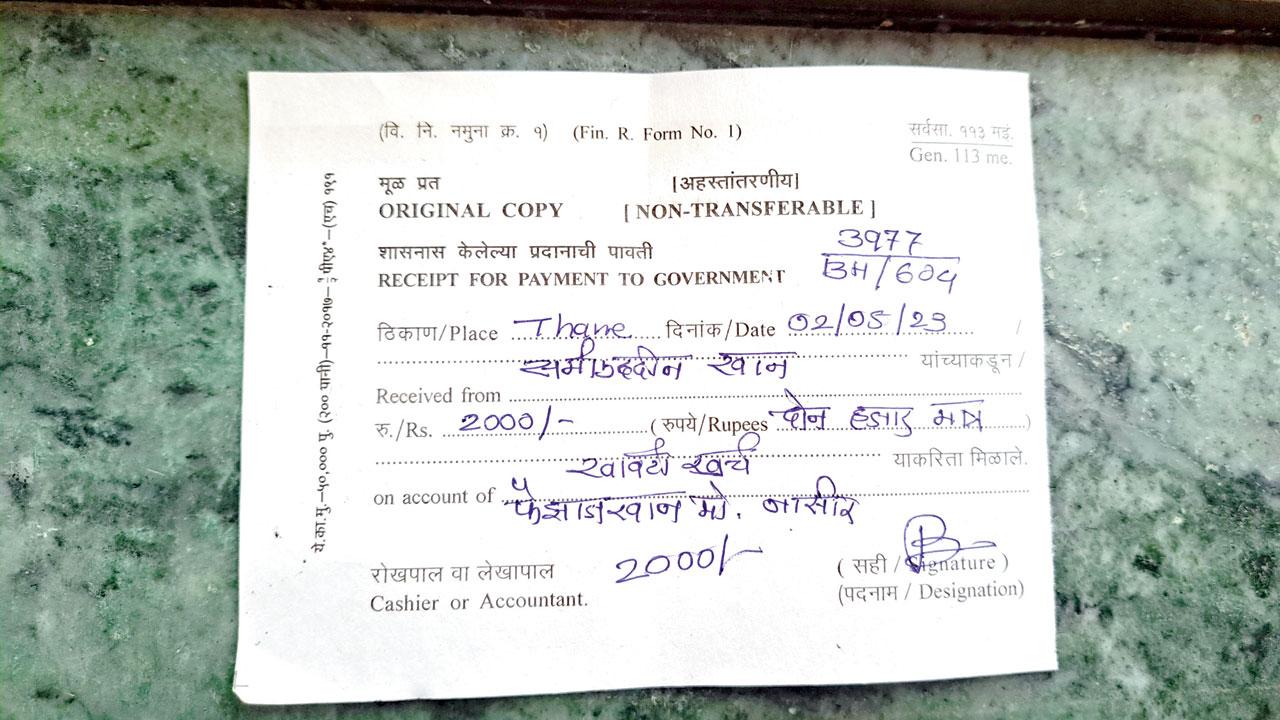 Satish Vunjal, the peon who facilitated the admission. PICS/RAJESH GUPTA
Day 5 (May 2)
As decided by Shinde and Samiullah, he reached the hospital at 11.17 am accompanied by Faizan.  Samiullah instructed Faizan to wait in the hospital garden while he went to meet with Shinde at ward no. 1. 
Here is the conversation that the two had:
Samiullah: Doctor ke pas gaye aur usne na bol diya toh?
Shinde: Tumko kya karna hai?
Samiullah: Main doctor ke pass jayunga kya?
Shinde: Niche ka doctor dimag wala bol diya to upar koi kuchh nahi bolega,  aur bade doctor ko milne ki zaroorat nahi.
Shinde then introduced Samiullah to a person in plain clothes who claimed he was a peon. He was later identified as Satish Vunjal.
Samiullah to Vunjal: Yeh doctor pehle admit nahi kar raha tha to ab kaise tayar ho gaya?
Vunjal: Yaha aise hi chalta hai...
Samiullah: Aap log hi admission karate ho kya?
Vunjal: Haan...
Samiullah: Admission receipt abhi milegi ya baad me?
Vunjal: R20,500 ki receipt admission hone k baad mil jayega.
Samiullah: Admission ke baad mareez ko kaha le jayenge?
Vunjal: Ward no. 3 me.
Admission process
After this conversation, Samiullah was taken to the admission file department located in room no. 15 of the hospital, where Vunjal retrieved Faizan's previous case papers. Though several people were waiting in a queue, Vunjal took Samiullah directly to the department and obtained the papers, which were generated during the first visit to the hospital.
Vunjal then took Faizan and the file to another senior psychologist and had some discussion with the latter alone before calling the undercover reporters inside the doctor's cabin. He asked Faizan to sit on the chair and asked for some basic details. The psychiatrist then abruptly received a call from the dean of the hospital and he disappeared. Meanwhile, Vunjal mentioned that Faizan had to undergo a COVID-19 and blood test before getting admitted. Faizan was then taken to the pathology lab the tests were carried out. He was then brought back to the OPD.
The senior psychiatrist then met Faizan and Samiullah again and why the former had come all the way from Uttar Pradesh. Samiullah replied that the facilities available in Mumbai are not available in their 'home state'. The psychiatrist then collected patient details, including family background, marital status, and education. Vunjal was present inside the cabin the entire time.
After the consultation, the psychiatrist directed Faizan to the last stage of the admission process, where an ECG test was carried out. Vunjal then informed Samiullah that the admission procedure was complete, and after the ECG, another doctor would speak to him. Then, the ward boy would take the patient into custody and transfer him to the allotted ward. Vunjal asked Samiullah to make the payment and asked him to step outside the OPD.
Meanwhile, Samiullah went inside the chamber of the doctor and asked him what Faizan's illness was. The doctor said that looking at his behaviour and it appeared that is was suffering from schizophrenia, a serious disorder in which people interpret reality abnormally.
The following is the exchange between Vunjal and Samiullah when the cash payment was made in cash.
Samiullah: Kitna dena hai ?
Vunjal: 8,500.
Samiullah: Shinde sahab ne toh 8,000 bola tha.
Vunjal: Theek hai mai puchh leta hoon.
Vunjal then called Shinde and hung up.
Vunjal:  8,000 de do aur Patil [the person who filled the admission form] ka 200 de do.
Samiullah [after making the payment]: Bhai abhi aage ka kya process hai?
Vunjal: Abhi lunch time ho gaya hai. Aap bhi patient ko khana khila do kyunki ward me jaane ke baad khana nahi milega lunchtime khatam ho gaya hai.
Vunjal then headed to obtain two receipts from the admission counter, one for R2,000 and the other for R50. The admission clerk then recorded the receipt in the register. After receiving the receipts, Vunjal showed them to Samiullah. Vunjal mentioned that he would attach these receipts to the admission form. Meanwhile, Samiullah told Faizan to run for it because once the patient is in the ward boy's custody, he is not allowed to step out.
When informed about these incidents, Netaji Mullik, dean of Regional Mental Hospital, told mid-day, We don't have any knowledge about these kinds of activities inside our hospital. We have given strict instructions to the staff warning them about taking bribes. Also, a notice has been prominently displayed on the board informing the relatives of patients not to pay bribes."
He added, "If an outsider [agent] has taken money, we have nothing to do with him. But if it involves a staffer, we will surely take action. If someone wishes to make a complaint, we will act on it." Dr Harish Shetty,  senior psychiatrist, said the mental health review board needs to be proactive in the state so that admission procedures are always above the board. 
"Admission to the hospital can be done after examination by the psychiatrist. Both involuntary and voluntary admissions are allowed by the Mental Healthcare Act 2017. Several protocols need to be satisfied for involuntary admission," he said.
March 4
Day reporters began investigation
"Exciting news! Mid-day is now on WhatsApp Channels

Subscribe today by clicking the link and stay updated with the latest news!"
Click here! Will you take intranasal vaccine as a precautionary dose?