The MMRDA should fix primary routes and operate a system of Bus Rapid Transit, which is not only the need of the hour but also a necessity, says expert Sudhir Badami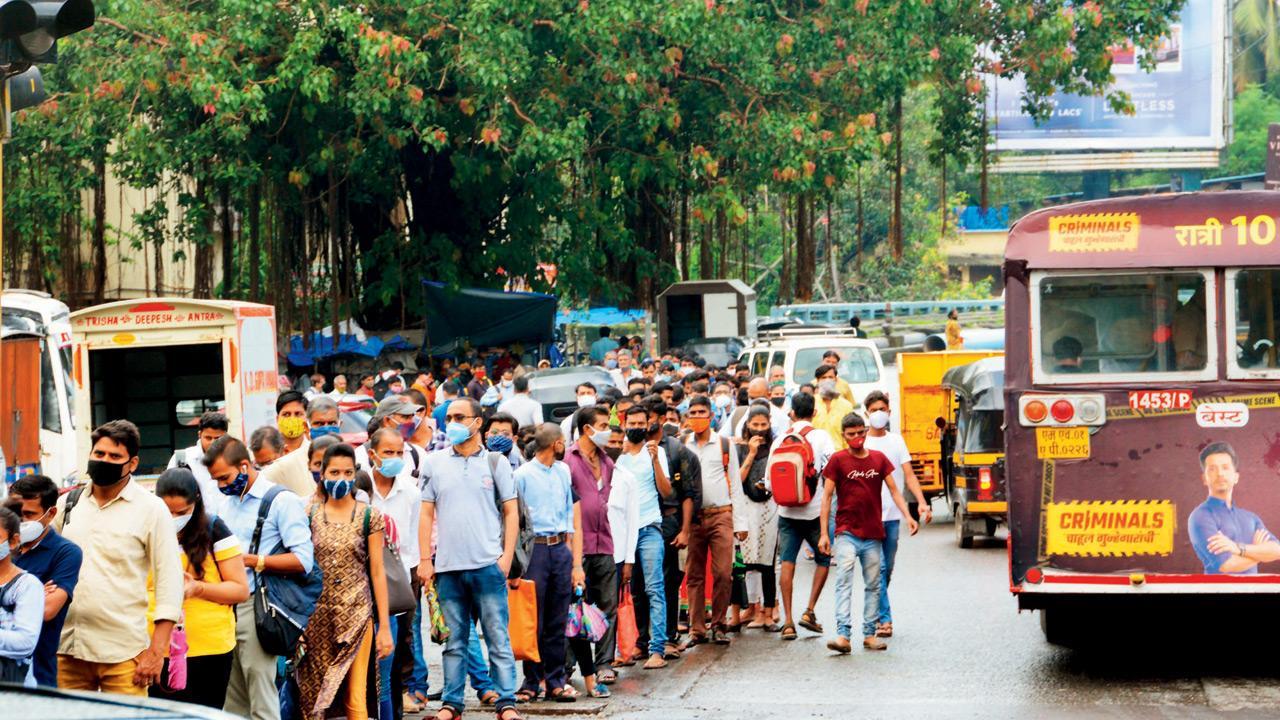 Commuters wait in a queue to board BEST buses at Poisar depot, Kandivli. File pic
In the absence of local trains, transport experts have suggested that all public buses in the Mumbai Metropolitan Region (MMR) should run consolidated services instead of just focusing on their townships and jurisdictions.
"An integrated bus transport system could ensure more seamless connectivity and optimisation of the vehicles and routes. However, such mergers also pose challenges, and need a robust administration that is fair and transparent. The Pune-Pimpri-Chinchwad model could be studied to understand this," said Ranjit Gadgil, programme director, Parisar for Sustainable Urban Mobility Network (SUM Net).
ADVERTISEMENT
Expert Sudhir Badami, who was a member of the state government's Steering Committee for Bus Rapid Transit System (BRTS) in Mumbai and MMRDA's BRTS Technical Advisory Committee, said, "Public transport buses hitherto operating in MMR by different agencies and it will be difficult to get them together as each of the agencies such as MSRTC, BEST, TMT, MBT, NMMT, etc. have their own understanding of their respective terrains."
"I would suggest the MMRDA should define primary routes and operate a system of Bus Rapid Transit. The local agencies should pick up commuters from their origins and feed the BRT. This is not only the need of the hour but a permanent necessity so that it not only caters to the current need of low commuter density in the system vehicles but meet the need of comfortable and safe commute in the MMR," he said, adding that MMRDA can do this as they are aware of the concepts of BRTS for Mumbai.
"As a large population resides in MMR and works in the city, such integration will be helpful," said AV Shenoy of Mumbai Mobility Forum.
Architect and transport planner Aditya Rane said, "This should not be treated as a temporary solution. Municipal boundaries serve only administration purposes, not public transportations. Similar to one common suburban rail network and Metro, the MMR needs a common public transport system for more efficient, affordable and reliable bus services." Actor and public transport supporter Khurshed Swami said, "The BEST should only run till Vashi, Thane etc and NMMT should run services to pickup people from Vashi and take them within their limits. This will enable better services."
However, transport observer Akbar Merchant said, "If all undertakings join hands, routes will overlap leading to chaos. I think the setup based on which MSRTC buses were put on BEST routes was better."