Party leader posts old photo of NCP boss with BJP MP from UP, who opposed Raj Thackeray's Ayodhya visit, attending an event together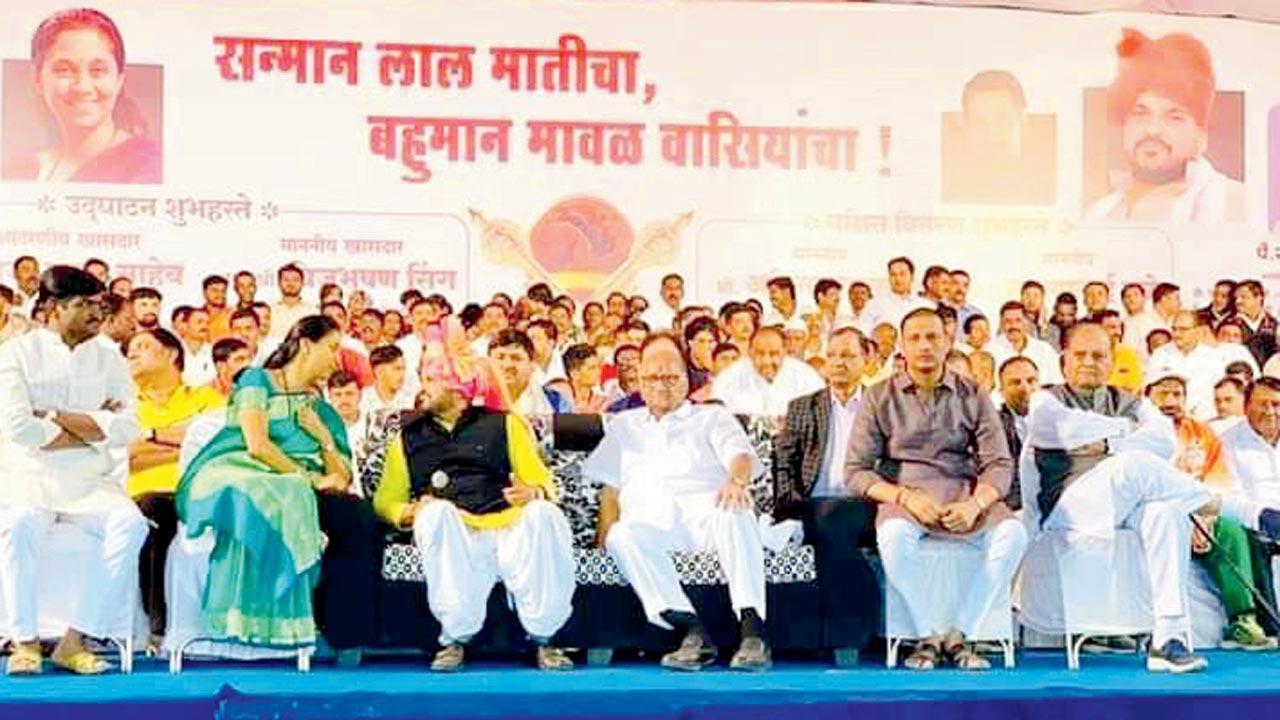 The photo tweeted by Sandeep Deshpande
The Maharashtra Navnirman Sena (MNS) has hinted at NCP president Sharad Pawar's hand in the alleged trap laid in Ayodhya for Raj Thackeray's visit. The party has dug out a wrestling connection between Pawar and Brij Bhushan Sharan Singh, the BJP MP from Uttar Pradesh who opposed Raj Thackeray's visit to Ayodhya.
The party indicated that Pawar laid the trap in collaboration with Singh to stall Raj's travel to the temple town on June 5.
MNS leader Sandeep Deshpande tweeted a photo of the two leaders at a wrestling event held in Maharashtra a couple of years ago. The post, in Marathi, said that the unity between a well-oiled wrestler (Pawar) and the all brawn and no brain counterpart (Singh) was evident in the picture.
Explaining his decision to scrap the proposed Ayodhya tour, MNS chief on Sunday alleged the leaders in Maharashtra instigated Singh. The trap was laid to engage his party workers with Singh's supporters on Ayodhya streets after which they would have been jailed for a long time ahead of the local body polls in Maharashtra, he claimed.
The NCP called the accusations childish and wondered whether the same logic would apply to the pictures in which Raj Thackeray was seen with Pawar or other leaders. It said the MNS was off target, claiming the BJP's hand, as Raj's Hindutva clashed with theirs.
Deshpande said the picture said it all. "Raj Thackeay announced his Ayodhya tour about one and a half years ago, but no one opposed it then. The roadblocks were created after he held three grand rallies exposing the NCP," he added.  
 
State Home Minister Dilip Walse Patil said Gonda MP Singh was the chief of the national wrestling federation and Pawar was patron of its Maharashtra unit. "The photo is from one of the wrestling events. It has no political connection whatsoever," he added.
Singh said he had good relations with Pawar because of the wrestling organisation. "I will be warm to Pawar whenever I meet him. He is a good leader and Raj Thackeray should learn from him," he said. He added that the picture was from an event in Pune where "Pawar and his daughter Supriya Sule treated him with utmost respect because of his good work in the wrestling field".