Say Monday's protests outside depots were only token gesture; threaten to intensify stir if salary situation doesn't improve soon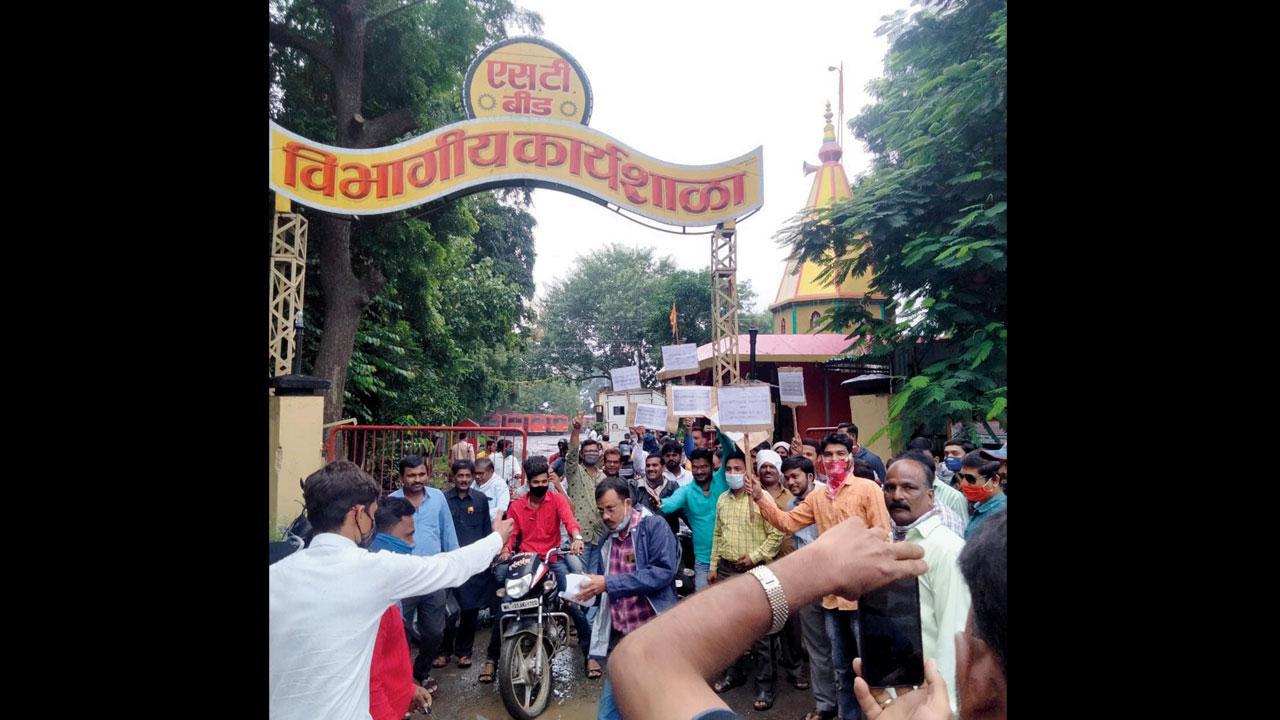 MSRTC employees protest at a depot in Beed on Monday
MSRTC staffers across the state staged protests and dharnas at bus depots against non-payment of salary, which has worsened the financial condition of most of them. In the past nine months, three staffers have killed themselves due to unending suffering caused by delayed salary disbursals. The protesting staff has threatened to stop bus operations if their grievances are not addressed soon.

MSRTC employees protest at a depot in Dhule on Monday
Three employees of the Maharashtra State Road Transport Corporation (MSRTC) have died by suicide in the past nine months over poor financial situation. While two of them blamed the delayed disbursal of salaries and debt for taking the extreme step, the reason for the third employee's death was not known.
"What we did today was just a token protest. We will intensify the agitation, as the government has not taken any concrete steps to improve our situation," said Shashank Sharad Rao, the general secretary of the State Transport Kamgar Union.
Also read: Salary delay: MSRTC driver kills himself; staff to sit on dharna today

"The state government and authorities served us notices, asking us to not gather, citing Covid-19 protocols. But, protests were still held at many bus depots. Not giving the employees their salary is inhuman. It is also a violation of the industrial court's August 14 order, directing disbursal of salaries," he added.

MSRTC employees protest at a depot in Panvel on Monday
One of the frustrated employees said dharnas and protests were not enough and that the employees should hold a 'chakka jam' — stop plying buses.
Last week, an MSRTC employee in Dhule, Kamlesh Bedse hanged himself to death. A purported suicide note stated that he was unable to pay his debt of Rs 5 lakh due to 'low' salary and delays in payment.