Andheri resident Sujit Sonkar, who saw the school students campaigning for Sena's Borivli candidate, says action must be taken against the neta or whoever asked the students to campaign for him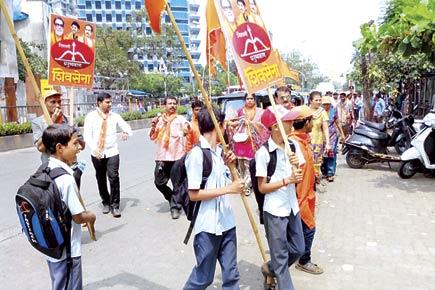 election campaigning, school students, Borivli, Shiv Sena candidate, Mumbai news, Uttam Prakash Agarwal, Himalaya English High School
While Mumbaikars are used to seeing parties using all kinds of tactics to get their votes, Shiv Sena's MLA candidate, Uttam Prakash Agarwal, managed to surprise Borivli residents yesterday. Some students of a local school in school uniform and during school hours were seen holding up placards and Shiv Sena flags, urging people to elect Agarwal.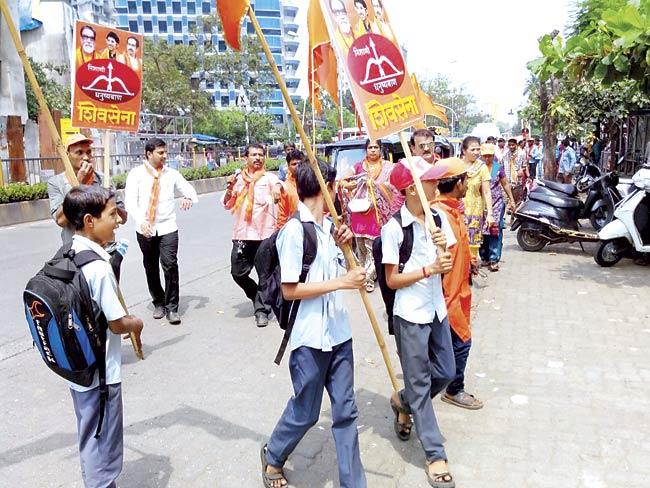 Students from Himalaya English High School, Borivli, were spotted in a campaign rally for Shiv Sena candidate Uttam Prakash Agarwal
ADVERTISEMENT
Getting minors to take part in electoral road shows goes against Election Commission rules, and residents were left wondering whether parties are facing such a huge crunch of campaigners that they are being forced to rope in school students.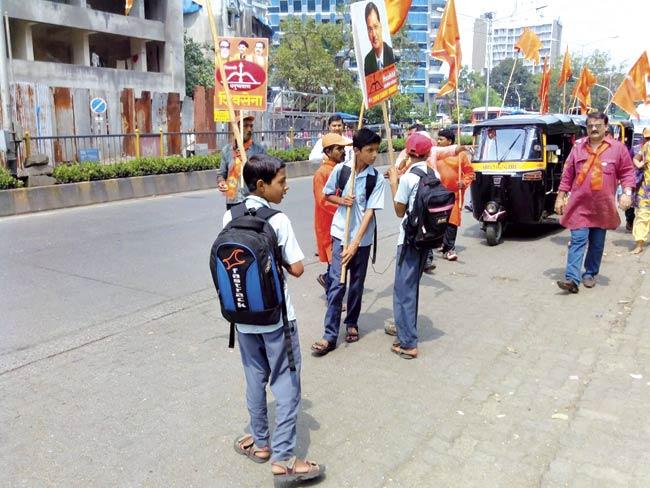 Agarwal claims the students joined the rally and took up the flags and placards on their own
Around noon yesterday, Sujit Sonkar, a resident of Andheri (West), was near Kora Kendra in Borivli (West) when he saw some school children from Himalaya English High School in the area campaigning for Agarwal.
Speaking to mid-day, Sonkar said, "I was surprised to see 3-4 students of the school, who were in their school uniform, campaigning for Shiv Sena candidate Uttam Prakash Agarwal.
It is really shocking. How can any candidate ask a minor to participate in election campaigning? The returning officer in charge of the constituency should immediately take note of this and appropriate action should be taken against the candidate or whoever asked the students to do this." Sonkar immediately clicked photos of the students and tried to talk to them, but they refused to say anything.
School speak
When mid-day contacted Himalaya English High School, teachers refused to come on record claiming that the secondary school's principal is yet to be appointed.
"Every day, the secondary school gets over at 1 pm and it got over at the same time on Wednesday as well. However, since exams were being held, some students must have left early after finishing their papers.
We did not ask any student to campaign for anybody. All of the students in our secondary school are below 18 years of age and action will be taken against students found campaigning for any political party," said a teacher .
Official speak
Deputy District Election Officer (suburbs) Tarunkumar Khatri said, "As per Election Commission rules, no student can take part in the election campaign of any candidate, and no school or candidate can ask them to do so. If they were campaigning in their school uniform, we will conduct an inquiry and speak to the candidate if need be."
"Exciting news! Mid-day is now on WhatsApp Channels

Subscribe today by clicking the link and stay updated with the latest news!"
Click here!