The civic body says it is trying to tackle the shortage by hiring contractual teachers and with transfers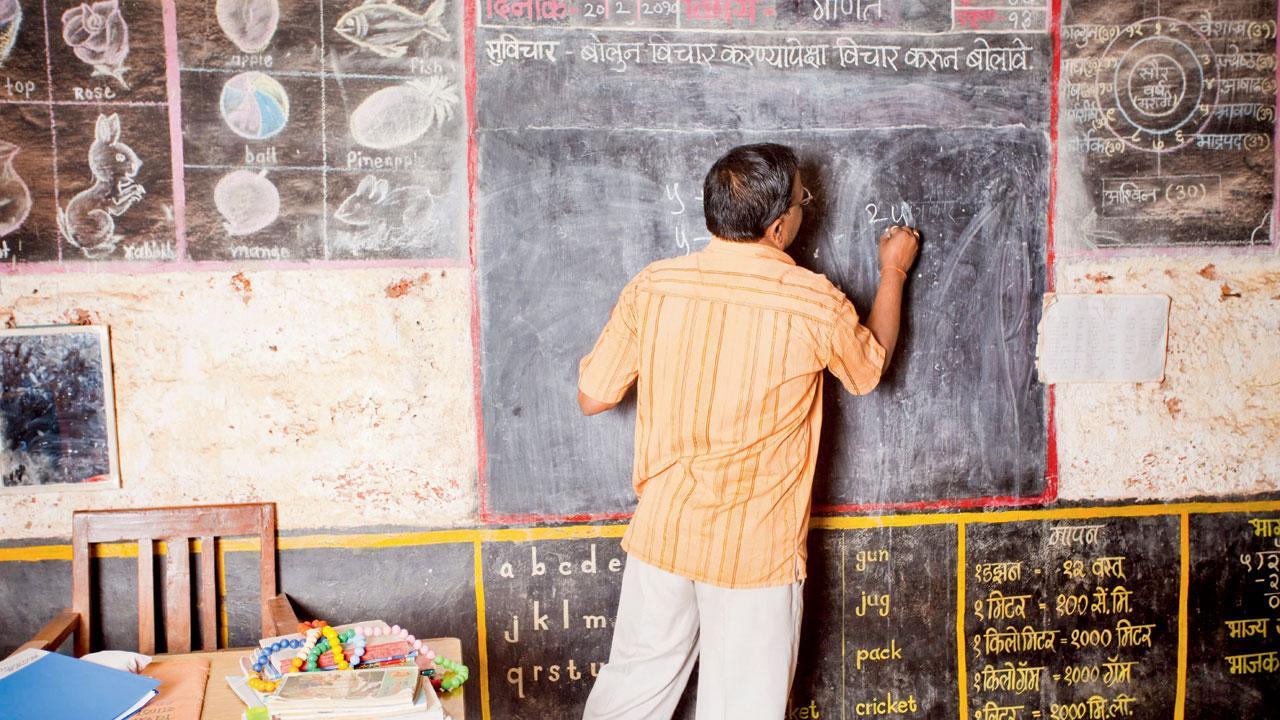 BMC in July asked schools to get contract teachers. Representation pic
Even as the BMC claims to be upgrading and rebranding its education system, the civic schools in the city are facing a shortage of teachers. The civic body has 810 vacant positions for the teaching staff, accounting for over 11 per cent of the total requirement, shows the data from the Brihanmumbai Municipal Corporation. Marathi-medium schools account for the most vacancies at 259, followed by 222 in Mumbai Public schools (MPS).
Contract teachers
ADVERTISEMENT
In July, the BMC asked the civic schools to appoint contract teachers for a fee of Rs 150 per hour, and allotted funds as per requirements raised by the schools.
"Considering the vacancy of teachers in civic schools and the fact that permanent appointments could take time, we had issued a circular in July allowing headmasters to appoint contract teachers on an hourly-pay basis. However, this was just a temporary solution to ensure that students do not suffer due to the dearth of teachers," said Rajesh Kankal, BMC's education officer.
Also read: Bombay HC questions Maha govt over framing of policy on clean toilets in schools
Besides, the civic education department has chosen to source teachers from educational NGOs or government- and private-aided secondary schools that have surplus teachers.
Kankal said, "We observed that some schools with easy access have more teachers than those in less desirable areas, which had vacancies. We hence decided to keep 20 per cent of positions vacant in all civic schools, so that all have the required number of teaching staff, instead of some having more because of the location or accessibility."
"We recently got the approval of the deputy director of the school education department, Mumbai, for the transfer of 550 surplus teachers from secondary schools. If they fill up the vacant posts in civic schools, we won't have to rely on contract teachers and the problem will be solved," he added.
There are no vacancies in Gujarati- and Tamil-medium civic schools; instead, they have surplus teaching staff. While Gujarati-medium schools have 18 extra teachers, Tamil-medium institutions have four more than required.
"The BMC, which is facing a shortage of teachers, could have appointed the 250 good candidates it rejected three years ago because they studied at Marathi-medium schools. Moreover, what standard upgradation is the BMC talking about when good teachers are not being hired?" said a headmaster of a BMC school requesting anonymity.
These teachers had cleared the Teachers Eligibility Test as well as the Teachers Aptitude and Intelligence Test before the state government recommended them for BMC schools. The civic body also verified their documents as per the procedure, but rejected them when the time came to give the final appointment letters. These candidates were told that they were ineligible for the job because their school education was from Marathi medium, the headmaster said. 
810
No of vacant posts across civic schools