Nurses took 4 hours to count them; doc says this is a new national record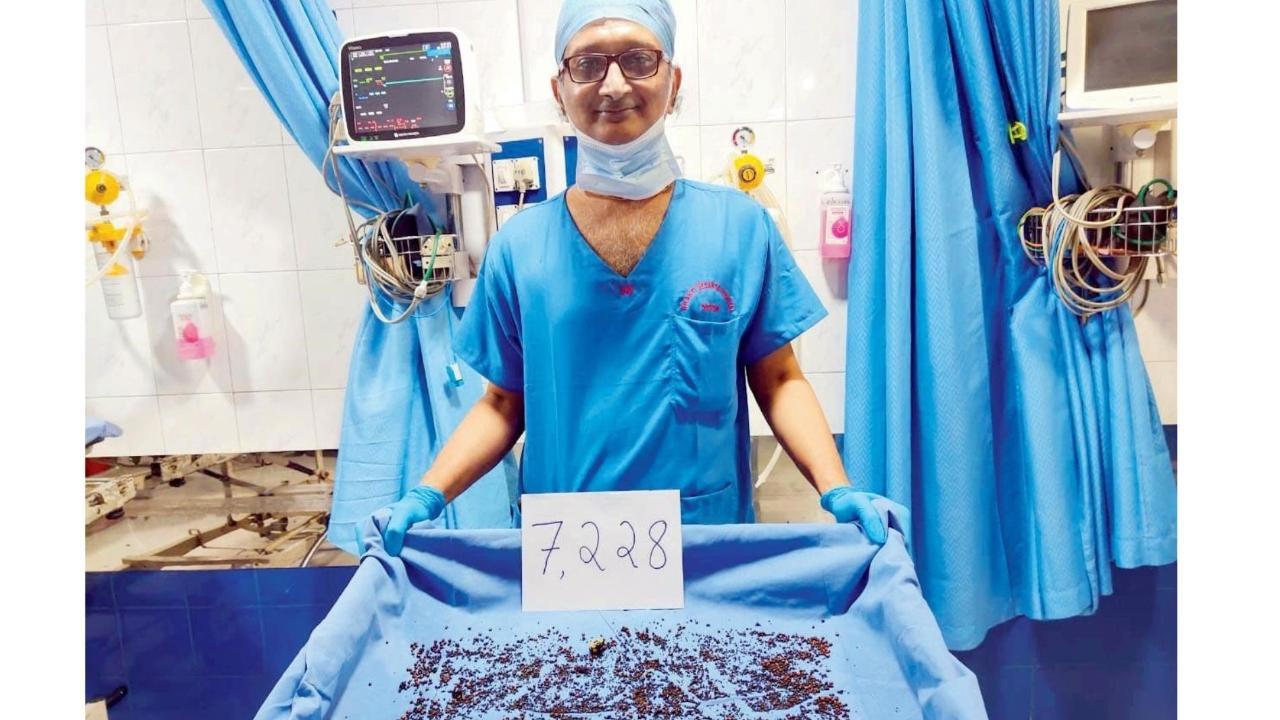 Dr Bimal Shah and the gallstones that were removed from the patient
A record 7,228 gallstones were removed from a 43-year-old female Mira Road resident recently.
The patient had been experiencing stomach pain for the past two years but had written it off as acidity and gas. After the pain increased radically, she was advised by her doctor to undergo sonography. It was then that the stones were found in her gallbladder.
Gallstones are hardened deposits of digestive fluid that can form in one's gallbladder, an organ on the right side of the abdomen.
Doctors at Mira Road's Bhaktivedanta Hospital on 23 August performed a laparoscopy, also known as keyhole surgery, a procedure that allows surgeons to access the inside of the abdomen and pelvis without having to make large incisions, and removed the stones in a 40-minute operation. It took nurses around four hours to count them.
This is the largest amount of gallstones that have been surgically removed from a single patient in India, according to doctors. In 2017, more than 5,000 gallstones were removed from a 45-year-old resident of Kota, Rajasthan. 
 
Dr Bimal Shah, who conducted the surgery told midday, "The patient had been experiencing pain in her gallbladder for years. During her sonography, I found big stones and her gallbladder had blockages due to this. I had removed around 2,300 gallstones from an individual but I found out that this patient had even more stones. In India, the previous record was 5,000 gallstones, but this is the new record."
The surgeon stated that most people attribute stomach pain to gas or acidity. "Due to this, they take painkillers and if they do not get relief, they see a doctor. If anyone experiences pain for several days, they should undergo a sonography. Many people also avoid surgery after gallstones are found. This is risky. Don't wait for things to escalate.."