Over 200 students watch controversial film on PM Narendra Modi on nine laptops; TISS officials say no public screening happened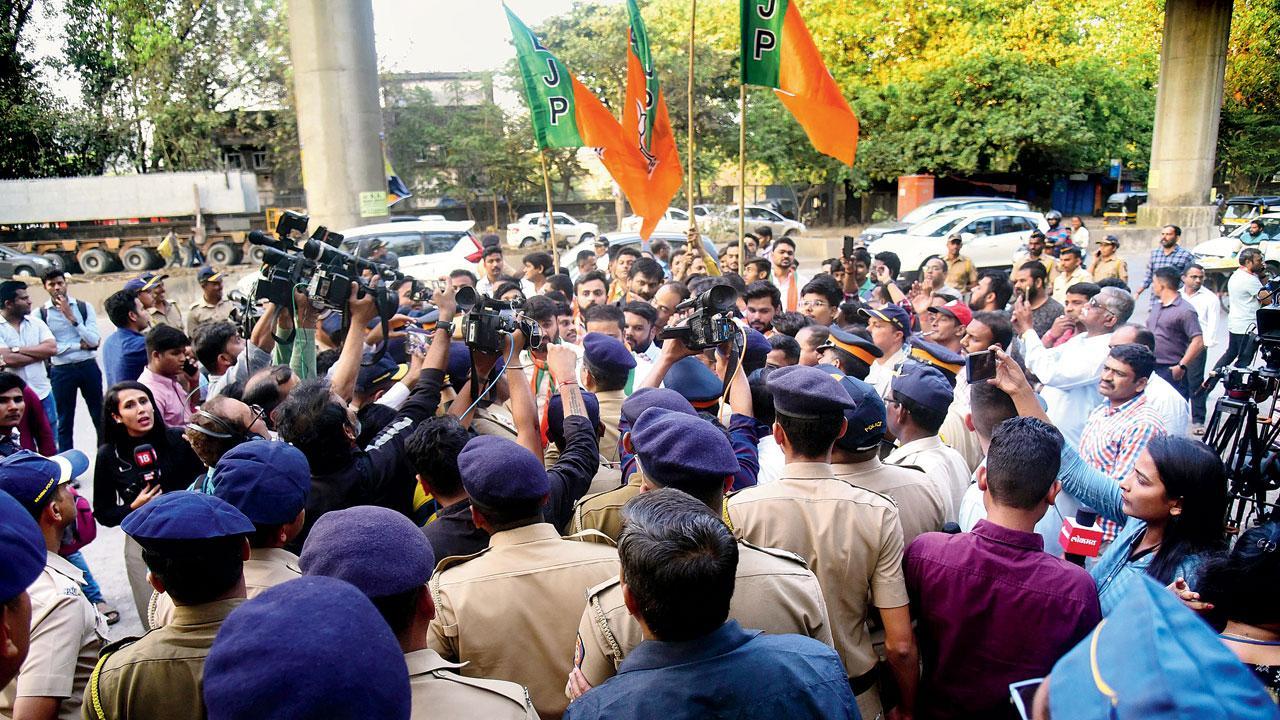 BJP's youth wing protesting outside TISS. Pic/Shadab Khan
The Tata Institute of Social Sciences (TISS) turned into a battlefield on Saturday. While groups of students watched the controversial BBC documentary on PM Narendra Modi despite multiple advisories issued by the administration and a ban on public screening, BJP workers gathered outside the institute to protest the screening.
BJP workers led by Tajinder Singh Tiwana, president of Bharatiya Janata Yuva Morcha in Mumbai arrived outside TISS' Deonar campus on Saturday evening, shouting the slogan "Desh ke Gaddaro ko, goli maro saalon ko". Amid all the drama, over 200 students watched the controversial documentary inside the campus on nine separate laptops.
ADVERTISEMENT
The students had already circulated and distributed QR codes providing access to the BBC documentary The Modi Question, Anand Patwardhan's Ram ke Nam and Maktoob Media's film on the Gujarat genocide, and Gujarat Unhealed on Friday. The police had cordoned the entire campus since Friday. Around 100 police officials were on bandobast duty.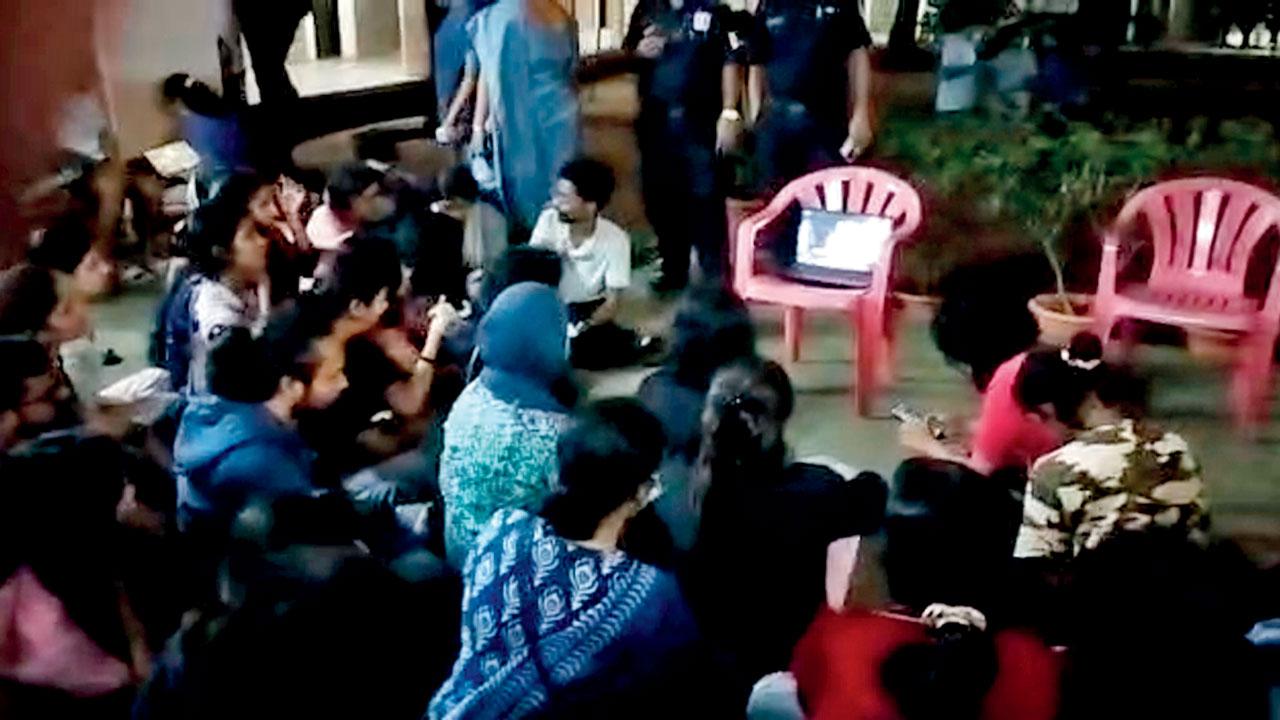 Students seen watching the film on a laptop
After an advisory on Friday warning against the screening of the film on the campus, the TISS administration had issued a fresh one on Saturday. The advisory read: "Some students group are engaged in activities contravening the advisory issued on January 27 regarding the screening of a BBC documentary forbidden by the government and attempting to mobilise and trigger other students to do the same. 
Also Read: Mumbai: IIT-B develops tool to combat air pollution
We cautioned the students to understand that any such acts by any student or groups violating the instructions issued on January 27, 2023, and engaging in any activities, leading to disturbance of peace and harmony will be held responsible for the same and will be dealt with  relevant institutional rules on the matter."
Several student organisations, including the Progressive Students' Forum (PSF), TISS Students Union, Muslim Students Federation (MSF), and Fraternity Movement were in favour of screening the controversial documentary.
Speaking with mid-day, Ramadas Prini Sivanandas, a member of PSF and a central member of the Students Federation of India said, "Initially, we screened the movie on a single laptop, but as the number of students increased, we got additional laptops to watch the film."
Some student collectives like the Democratic Secular Students Forum, however, condemned the screening of the documentary. TISS officials, meanwhile, said they didn't allow any public screening.