Party president expected to visit city soon, leaders hope he will put an end to internal rivalries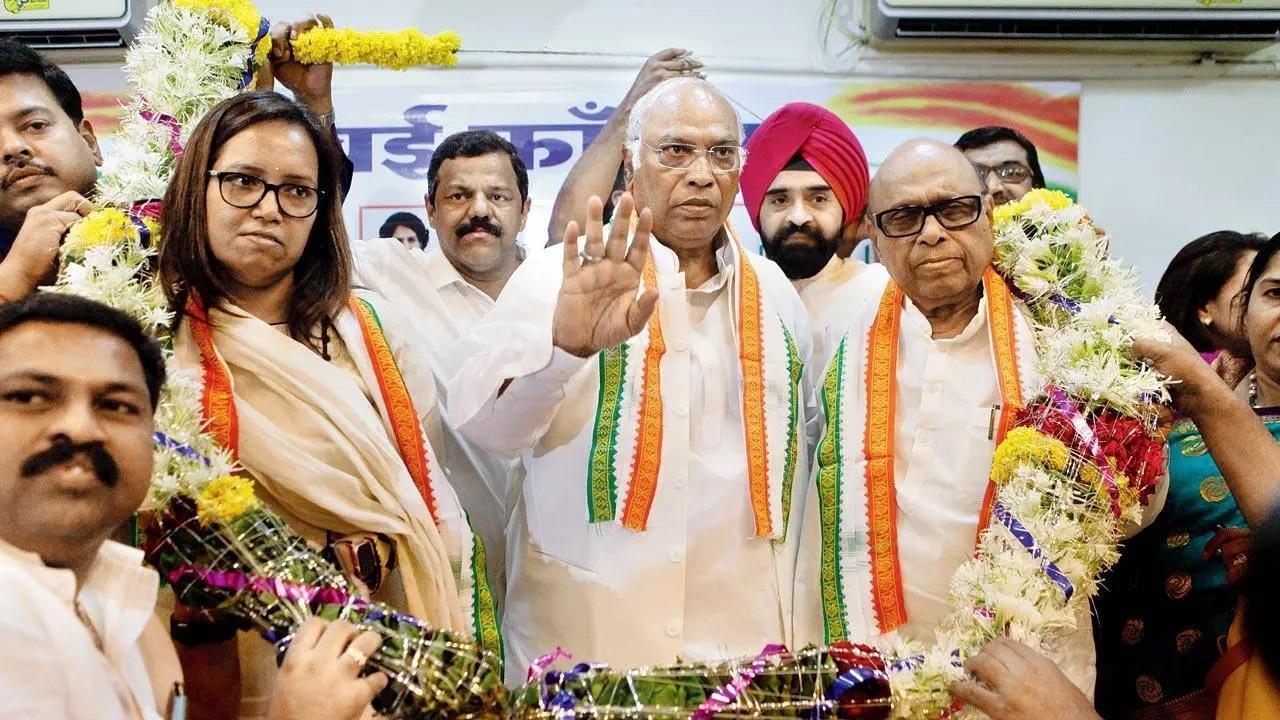 Mallikarjun Kharge with Mumbai Congress leaders, in February 2020. File pic
Congress leaders in the city are eagerly waiting for the visit of their new party president Mallikarjun Kharge to the city. Apart from giving direction to the unit that is battling internal rifts, he is expected to take the final call on whether to go with the Uddhav Sena in the upcoming BMC elections.
  
Sources said Congress's Mumbai chief Bhai Jagtap and his colleagues met with Kharge after he was chosen as the party president. "Kharge and Mumbai leaders discussed the party's position in the city, including the split in the Shiv Sena and its impact on Congress. Kharge agreed to visit Mumbai though the schedule is yet to be finalised," said a Congress leader. 
Also Read: Torchbearer versus swordsman: Ahead of BMC polls, what does the loss of symbol mean for Uddhav sena?
ADVERTISEMENT
Sources said one section of city Congress leaders is keen to go solo in the civic elections, while some others are in favour of joining hands with the Uddhav Sena. Even for the Andheri East bypoll, there were divergent views within the party, with some pressing for putting up a candidate. The party, however, decided to back Uddhav's candidate. Internal rivalry is another sore spot for Mumbai Congress. Sources said Kharge is expected to help the leaders resolve their differences. 
"Kharge is coming to Mumbai. The date of his visit is not fixed," said Charan Singh Sapra, working president of Mumbai Congress. "During his visit, he will take a review of the political situation in Mumbai along with the organisational structure in the background of the civic elections. There might be a discussion about the manifesto for the elections." Sapra added, "Kharge will also take a look at whether the party can contest the elections in an alliance or independently. He will discuss this with party leaders." 
During the formation of the Maha Vikas Aghadi government, Kharge had played a key role. He shares a good rapport with Uddhav Thackeray, said a Congress leader. 
31
No. of seats won by Cong in 2017
227
No. of seats in BMC polls in 2017 Should Congress go solo in BMC polls?