Civic body administers vaccine for lumpy skin disease to the cattle in Durga Nagar that had been left out in its earlier drive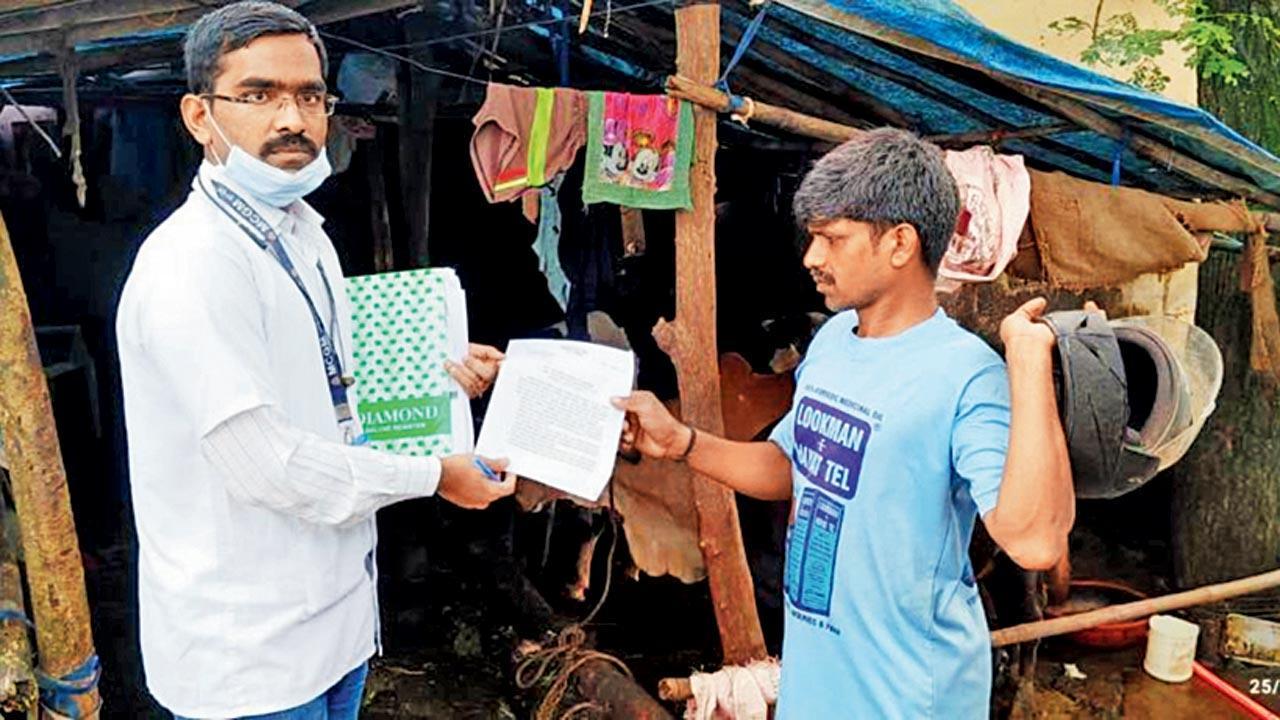 A BMC personnel gives literature on lumpy skin disease to a cattle owner at Durga Nagar
Following mid-day's report on unvaccinated cows spreading panic in Aarey Milk Colony, the Brihanmumbai Municipal Corporation (BMC) swung into action, and jabbed them against lumpy skin disease. The Animal Husbandry Department also extended its ongoing drive and vaccinated the bovines in the locality.  
Lumpy skin disease has spread in some bovines in Maharashtra. Mumbai also reported the disease in 3 cow class animals. The Animal Husbandry Department took swift action and vaccinated 99 per cent of the bovines in the city. The BMC also vaccinated some.
Also read: Mumbai: BMC-run Nair hospital doctors threaten to bunk en masse over allowance
However, mid-day had found that hundreds of cow class animals in Durga Nagar (Jogeshwari east) on the outskirts of Aarey were unvaccinated. These cows were at the risk of getting the infection. As the owners left these cows in the Aarey jungle to graze, bovine owners at Aarey feared they might infect their animals.
Appeal to people
Last Friday mid-day had visited Durga Nagar and spoken to the cattle owners who claimed that neither government or BMC officials had reached out to them to vaccinate their cows. After the story was published last Saturday (Unvaccinated cows spread panic in Aarey) the BMC acted. Kalimpasha Pathan, the head of BMC's Veterinary Health Department and the Deonar abattoir said, "After mid-day's report, we sent a team to the area and in the past two days we vaccinated 82 cow class animals there. We appeal to people to call us on our helpline number if their animals are unvaccinated."
Dr Shailesh Pethe, deputy commissioner of animal husbandry, Mumbai said, "I sent a team to the area and 75 cow class animals were vaccinated. There is no need to panic as almost all cow-class animals have been vaccinated and so far there are no new cases in the city. Still, if any cattle are left out, their owners can reach out on the helpline numbers." The Department also vaccinated stray bovines. As per a BMC press release, those who want to get their cattle vaccinated can call 022-25563284, 022-25563285.
Lumpy count in state
The spread of lumpy skin disease has been seen in 1,841 villages of 30 districts, till September 26. Of 27,431 infected livestock in these villages, 10,528 livestock have recovered after treatment. A total of 106.62 lakh vaccine doses have been made available in the districts of the state. Vaccination has been carried out free of cost on 66.69 lakh animals including 43.80 lakh animals from infected areas and 22.89 lakh animals in the other areas. A total of 8.54 lakh livestock have been vaccinated so far. A total of 907 infected animals have died of lumpy skin disease in Maharashtra so far.