Despite 6 per cent increase during pandemic, Marathi-medium institutes saw 50 per cent overall drop since 2012-2013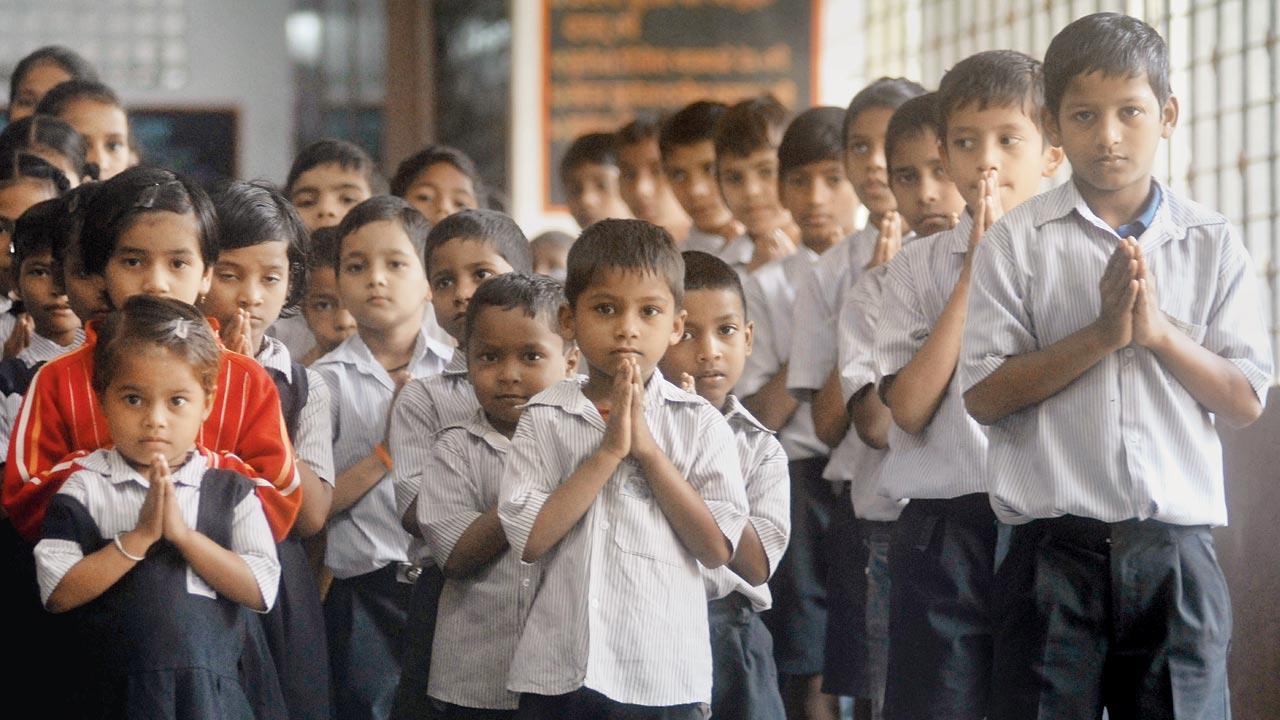 The report is based on a survey by NGO Praja Foundation and information gathered under the RTI Act. File pic
While enrollments in Brihanmumbai Municipal Corporation (BMC) schools seem to have increased by six per cent from the academic years 2018-19 to 2021-22—during which the world was in the grip of the pandemic—a 10-year trend shows that they have been seeing a continuous drop.
A report titled State of Municipal Education in Mumbai, which was released on Monday by a city-based NGO, Praja Foundation, reveals that the overall enrollment of students enrolled in BMC schools has declined by 27 per cent in the past 10 years (between 2012-13 and 2021-22).
The report, which is based on a survey carried out by an NGO and information gathered under the RTI Act, states that during the period in question, Marathi, Hindi and Urdu-medium civic schools saw a fall in enrollment by 50 per cent, 44 per cent and 30 per cent respectively.
Also read: Mumbai: Measles vaccination goes slow with only 5 per cent kids getting dose in 3 days 
At the same time, the municipal English-medium schools have seen a 77 per cent rise in enrollments in the past 10 years.
Out of the total enrollments in Mumbai schools—BMC, private aided and unaided, unrecognised and others—the proportion of BMC student enrollments declined from 45 per cent in 2012-13 to 36 per cent in 2018-19 and then increased to 42 per cent in 2021-22.
As per the report, BMC's total enrollments decreased by 31 per cent from 4,34,523 in 2012-13 to 3,00,746 in 2018-19, which then increased by six per cent from 3,00,746 in 2018-19 to 3,18,002 in 2021-22.
While the civic body has failed to cover up the overall decline of 27 per cent, the BMC's rebranding initiative, which highlights the six per cent rise, garnered huge success.
BMC's Mumbai Public Schools (MPS), meanwhile, have seen continuous progress; enrollments in these schools increased by 92 per cent from 27,464 in 2014-15 to 52,662 in 2021-22, the report revealed.
Milind Mhaske, CEO of Praja Foundation, said the trend of increase in enrollment in government-run schools in post-pandemic years has been seen across the country. "This also happened in BMC-run schools where BMC registered a six per cent increase in overall enrollment as compared to two years of the pandemic. Many people for whom private school education became unaffordable shifted to government-run schools and BMC schools in Mumbai. The Mumbai civic body should take this transition seriously and get accountability into the system."
Mhaske added, "The BMC has a dedicated education committee that monitors the functioning of the education department but currently there is no corporation to hold the administration accountable. The upcoming education committee should continue the trend and meet frequently and deliberate more for overall improvement in the BMC's education system."
Elaborating on the report, Nitai Mehta, founder and managing trustee of Praja Foundation said, "The BMC should look at the proportion of students enrolled in different standards and make provisions to provide the necessary infrastructure and resources. For instance, enrollments in MPS schools increased as these schools have classes from pre-primary to 10th. This indicates that parents are accessing BMC schools for their child's education and the BMC should take this as an opportunity to further improve its education system."
3,18,002
Total enrollments in civic schools in 2021-22
Report's findings
. 27 per cent increase in student enrollments in BMC's English-medium schools from 79,884 in 2018-19 to 1,01,110 in 2021-22
. Only 40 per cent (18,781 out of 46,913) of BMC students who enrolled in Class 1 in 2012-13, continued their education up to Class 10 in 2021-22
. Only 26 per cent (84,247 out of 3,18,002) of BMC school students were examined for health check-ups in 2021-22
. In FY 2022-23, BMC's per-student budget estimate is Rs1,02,143, an increase of 108 per cent from Rs 49,126 in FY 2012-13
. BMC's Education Committee meetings increased by 176 per cent from 21 in 2019-20 to 58 in 2021-22, but the number of questions asked decreased by 27 per cent from 2019-20 to 2021-22. Do you follow any winter skincare routine?