The BMC plans to float revised tenders with an increased rate, based on the new schedule for road works, in December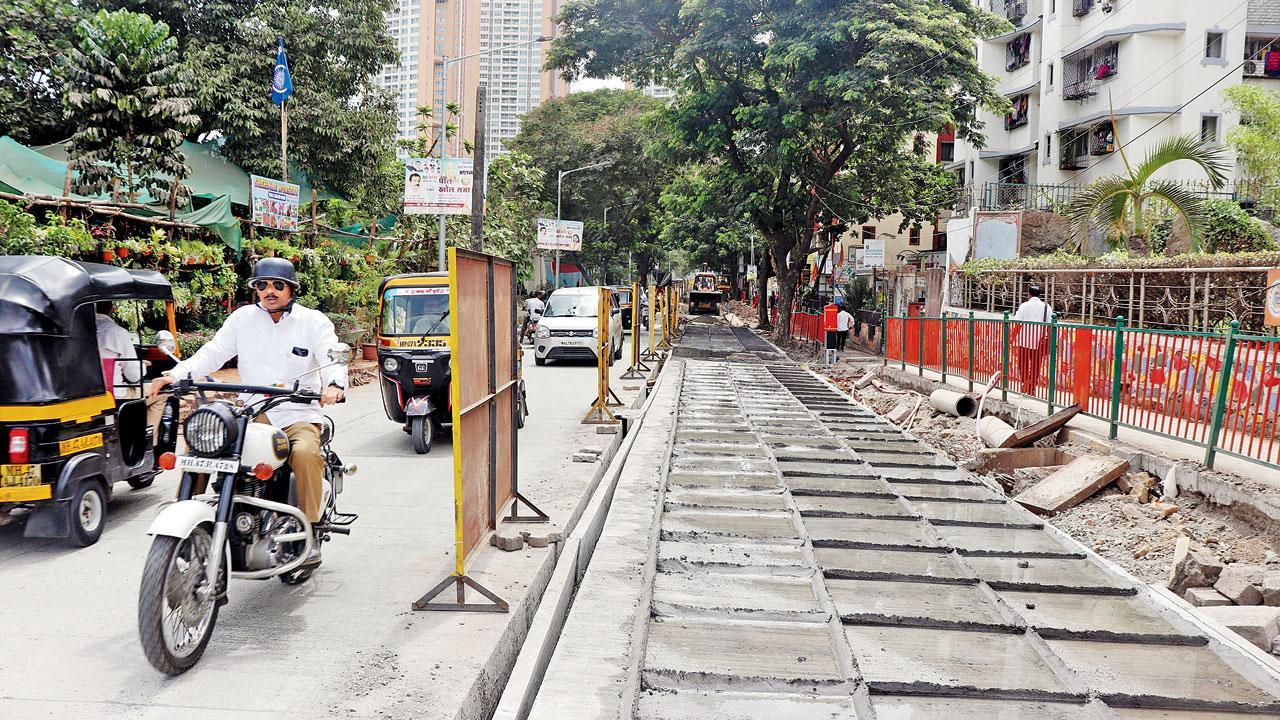 A road being concretised in Goregaon East. File pic
Mumbaikars will have to wait a tad bit longer to get over bad roads riddled with potholes across the city, as the BMC is waiting for a revised rate list before it floats tenders to concretise city roads. The civic body had last week scrapped tenders worth Rs 5,806 crore to convert 400 km of asphalt roads into cement-concrete ones. 
These tenders were based on a rate list from 2018. The BMC plans to float revised tenders with an increased rate, based on the new schedule for road works, in December. The new rate list, however, is still two weeks away from completion. If put into effect, the cost of construction of 400 km of road work will jump by at least 20 per cent.
ADVERTISEMENT
The BMC makes its own schedule of rates for various infrastructure related work in the city. This includes going into the micro level too, deciding on rates for materials to be used in construction, and labour. Any estimation of work thus depends on the base list prepared by the BMC. The last such list was compiled in 2018 and all work until now was awarded to construction companies on its basis.
Also read: Mumbai: BMC East Ward engineer asked for Rs 50 lakh bribe, caught
In March last year, the BMC received responses that were lower than 30 per cent of the estimated cost for its roadworks tender. After allegations of corruption were made against these tenders, the corporation scrapped the bids and asked for re-bidding in September. But the quotes received from companies were still 15 to 20 per cent below the estimate.
The civic body then decided to invite five tenders each with an estimated cost of around Rs 1,000 crore. It also laid down conditions such as joint ventures or sub-contracts are not allowed. Contractors need to have experience of working on state or national highways. It also stated that the machinery should be owned by contractors and workers should be on payroll for at least a year. All of these riders eliminated smaller contractors, but the bigger fish was not ready to work as per old rates.
"All these conditions are necessary to maintain the quality of roads but the cost also increases with them. The tenders were as per the old rates and the big companies didn't show interest to work as per those rates," said a BMC official. Additional BMC Commissioner P Velrasu said, "The new rate of roadworks will be finalised in the next two weeks and the new tenders will be invited as per new rates."
The BMC has reasoned that though the rate of steel has returned to its average price after an increase last year, other material and labour prices have gone up in the past four years. These inflated rates will reflect in the new rate list. "The cost of some material may have varied in the last few years, but the overall cost of a project has increased by around 15 to 20 per cent at the least," an official said.