What is common to all 77 electoral wards that were allocated a whopping Rs 3 crore each for basic amenity spending? They ALL had BJP corporators; the rest, including even Eknath Shinde loyalists, got just Rs 1 crore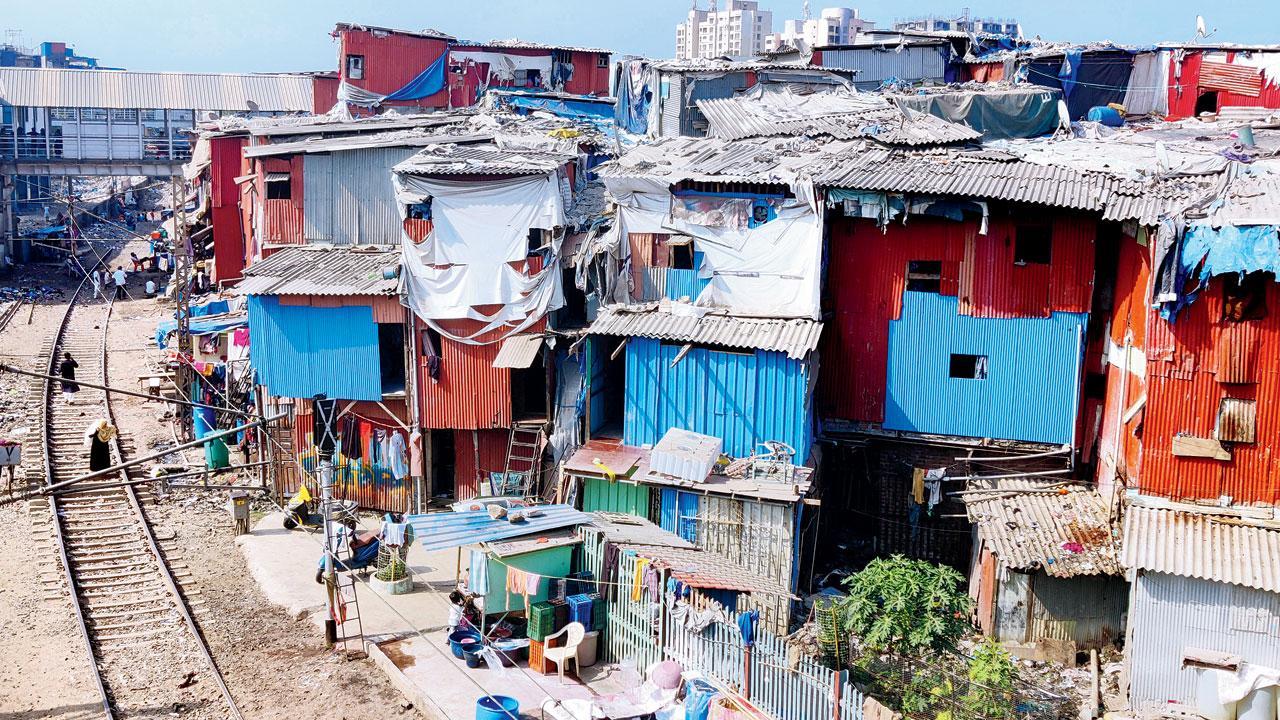 Funds allotted to corporators are used for development works in their wards, mainly for repairs of public toilets, balwadis, reconstruction of walkways in slums, etc. File pic
Wards dominated by the Bharatiya Janata Party (BJP) will get the maximum funds allotted in the BMC budget, at least three times more than wards with former corporators from other political parties. The Brihanmumbai Municipal Corporation (BMC) administration has made a provision of R3 crore each to 77 of 227 electoral wards. BJP corporators were elected from these 77 wards in 2017. Even wards with Chief Minister Eknath Shinde's loyalist former corporators won't get Rs 3 crore each.
Civic Chief I S Chahal has made provisions for funds for the 227 electoral wards under the head 'Provision for providing various basic civic amenities along with development work' in the BMC budget. The remaining 150 wards are to get Rs 1 crore each.
ADVERTISEMENT
The term of corporators in Mumbai ended on March 7, 2022. At that time, the BJP had 79 corporators. In the 2017 civic election, 83 BJP corporators were elected, later two were disqualified. Ward number 45 of Malad and Ward number 80 of Andheri East were vacant due to the deaths of BJP  corporators Ram Bardot and Sunil Yadav. So when the term ended, the BJP had 79 corporators in the city.
Also Read: Mumbai: Soon, rate BMC on its online redressal services
Two of these BJP corporators—Rajul Desai and Rajani Keni—won't get the R3 crore fund. Rajul Desai is the former corporator of ward 56 from Goregaon. She is the wife of former Congress corporator Sameer Desai who recently joined Shiv Sena (UBT). There is a Rs 1 crore provision for ward number 105 of  Mulund where Rajani Keni of BJP was elected.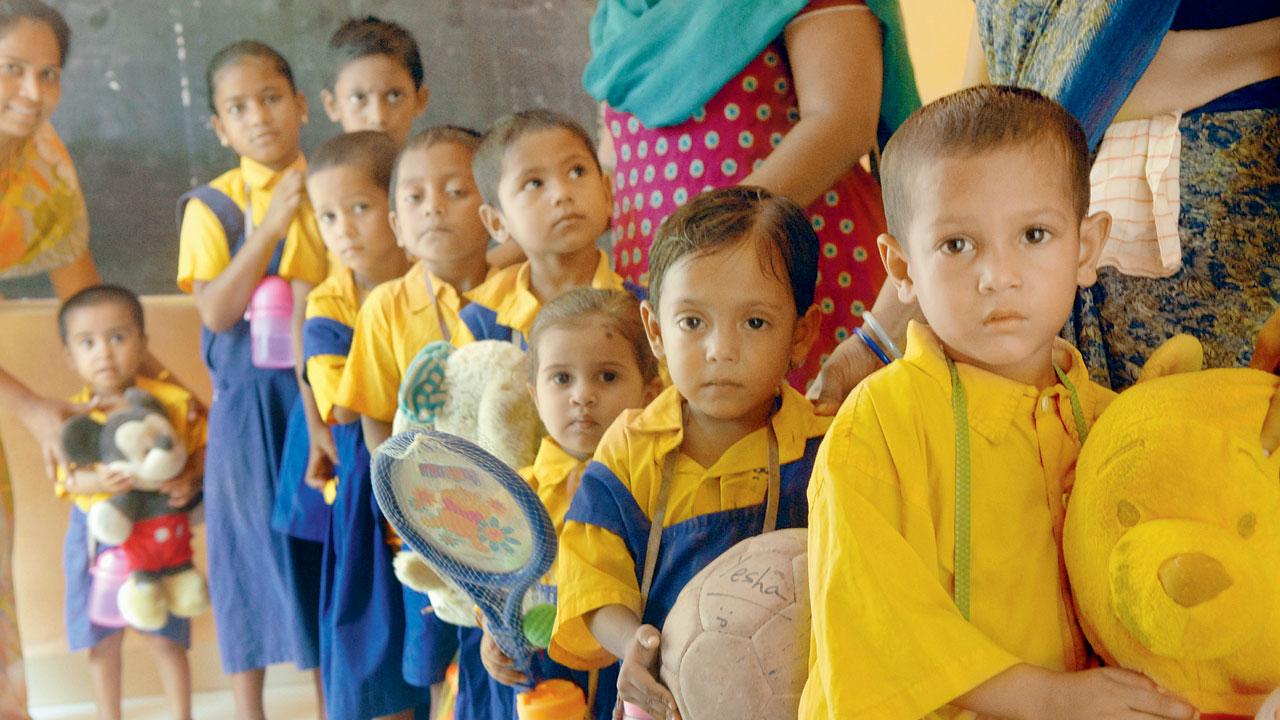 The funds are to be used to repair balwadis, among other things. Representation pic
Former corporators Shital Mhatre (Ward 7), MLA and former corporator Dilip Lande (ward 163), Samadhan Sarwankar (Ward 194), Yashwant Jadhav (209), and Santosh Kharat of Worli (Ward 195) are now with Chief Minister Shinde. But even their wards received only R1 crore fund.
Former chief minister Uddhav Thackeray's residence Matoshree falls under the administrative ward H East. There are 10 electoral wards in this administrative ward but none of them got Rs 3 crore. Former minister Aaditya Thackeray's constituency Worli is part of G South administrative ward. None of the seven corporators in this ward belongs to BJP, and here too, a provision of R1 crore has been made for each of the seven electoral wards. Even in F south administrative ward,  all 7 electoral wards got R1 crore each.
Chahal, BJP criticised
While approving the budget for 2022-23 in the BMC general body meeting, civic chief Chahal had refused funds to corporators saying their term was going to end before the financial year started. "Chahal promised to make provisions as per elected corporators' demand. Now the administration has made provisions for each electoral ward though there are no corporators. How can the administrator do this in a biased manner? Earlier Shiv Sena used to amend large funds in their corporator's electoral wards while approving the budget in the general body. Now the BMC administration is acting in the same manner," said former opposition leader Ravi Raja.
Talking about the allocation of funds to BJP-dominated wards, former mayor Sunil Prabhu said the BJP's meddling in BMC work was clear. "This clearly shows the state government's, especially BJP's interference in BMC work. This is an example of the use of political pressure on civic administration. There are competent officers in BMC but the state government is not allowing them to work freely," said Prabhu, who is also an MLA of Shiv Sena (UBT).
"This is injustice to the residents of 150 wards. The Shiv Sena did the same during its time. Now, the administrator is doing the same. This is due to political pressure. This money belongs to the taxpayers. Neither the administrator nor the political party can distribute it as they wish. It needs to be distributed equally," said Rais Shaikh, former group leader of SP and MLA.
"This is discrimination among citizens. It is an indication that if voters vote for BJP, their ward will get funds for amenities. It is clear that the administrators are under the influence of the Central and state governments," said NCP leader Indrapal Singh.
Shinde Sena, BJP speak
"I am not aware of the provision for wards. I will check this," said former corporator and spokesperson of the Shinde Sena, Sheetal Mhatre. "Even in the absence of corporators, this is a welcome move by the administration to provide funds to each electoral ward. We had requested the administration to provide us funds while preparing the budget. Wards where works were done previously may have been allotted Rs 1 crore now. There is a need to study the amount of funds received in those 150 wards in the past five years," said Vinod Mishra, former BJP leader of BMC.
What the funds are used for
Funds allotted to corporators are used for development work in their wards. The work mainly includes the repair of balwadis, repair or reconstruction of walkways in slums, repairs of public toilets, installation of solar lights in slums, public benches, repairs of small drains mainly in slums, public gym repairs or the construction of other civil works which are mainly used for public purposes.
227
No of total electoral wards in Mumbai
77
No of wards with former corporators from BJP
150
No of those with former corporators from other parties
"Exciting news! Mid-day is now on WhatsApp Channels

Subscribe today by clicking the link and stay updated with the latest news!"
Click here!