While location of school is yet to be decided, BMC plans to start classes from next year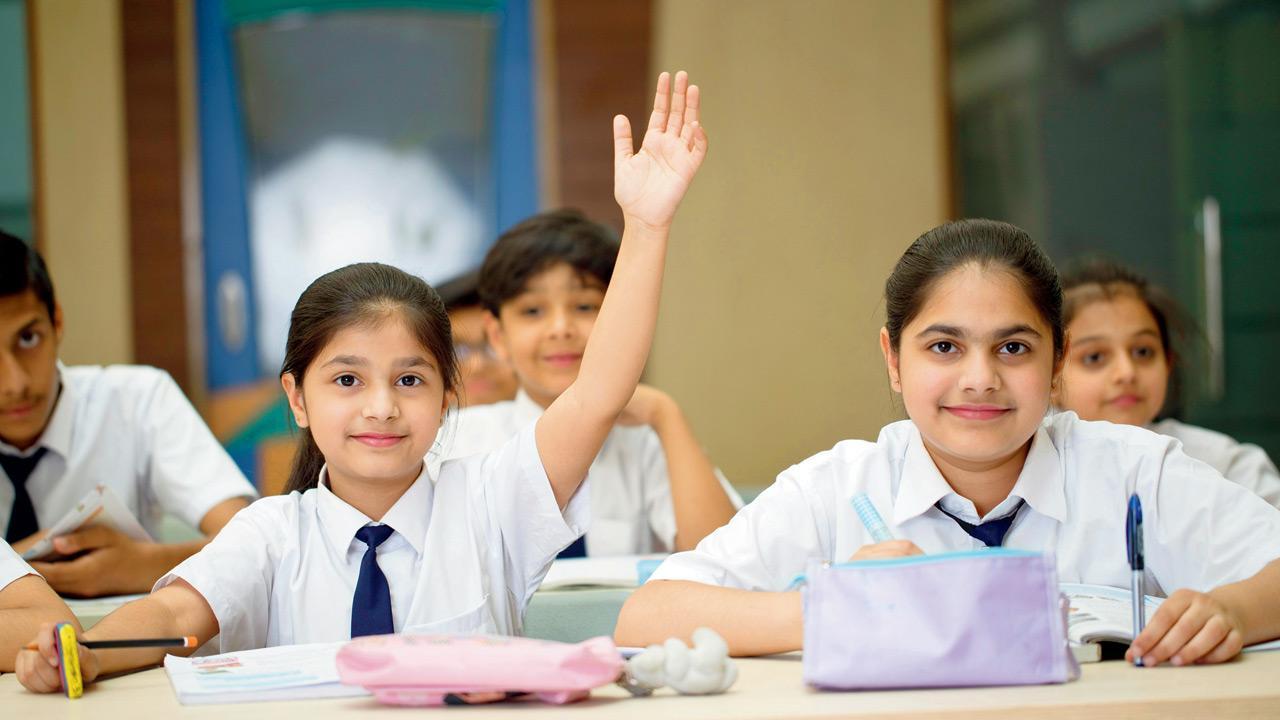 The new school will follow the lottery system of admission just like other non-state board civic schools. Representation pic
After offering CBSE and ICSE curriculum in the city's public schools, the Brihanmumbai Municipal Corporation (BMC) now plans to set up a Cambridge-affiliated school, which is expected to start admissions from next year. While the location of the school is yet to be decided, the plan is to start classes from June 2022. Environment and Tourism Minister Aaditya Thackeray made the announcement on Wednesday. "It is my dream to ensure that every child, irrespective of their background, gets access to world-class education in all municipal schools for free," said Thackeray.
BMC Education Committee member, Sainath Durge, said, "We are sure that this new school too will see equally great response just as the existing CBSE- and ICSE-affiliated schools of BMC. In the coming years we plan to set up one such school in each ward and transform public school education in terms of infrastructure, teaching/learning and even extra-curricular activities. This will surely change the mindset towards civic schools."
Educationist Francis Joseph, who is coordinating with the ICSE, CBSE and Cambridge Board, said, "This first school will be a pilot project. The plan is to begin classes from June next year and for that the school should be ready to take in children during the admission season. So now we have a strict timeline for completing several aspects of the project, which starts with identifying the location of the school." While three to four locations are being discussed, the final one would be selected soon. The new school is expected to follow the lottery system of admissions just like other non-state board civic schools.
Also Read: BMC tightens the screws on Ganesh mandals in Mumbai
"The idea is to remain transparent while providing free-for-all international-level education. Cambridge and other private players will back the initiative in terms of identifying teachers, their training and other aspects. This will add value to BMC schools," shared Joseph. Talking about the initiative, Mahesh Srivastava, regional director for Cambridge, South Asia, said, "We relate with Aaditya Thackeray's vision that quality education should reach all."
As per information provided by Cambridge, they have partnered with over 110 schools in Mumbai. Srivastava said, "The idea behind this is to offer children from underprivileged sections of the society world-class international education that will help them fulfill their dreams. The partnership will create opportunities for students from civic schools to access educational facilities of the highest level. We will support the schools in every way possible to impart quality education through training and resources. We are committed to setting targets for school improvement and staff development, supported by well-designed performance review and self-evaluation."
When asked whether any other civic body had approached Cambridge, he said, "We are exploring opportunities to impact the lives of students and help them fulfill their dreams, and are open to such partnerships in future as well." 
Civic schools in the city started changing the path of traditional affiliation in the 2020-21 academic year. Two such schools, one affiliated to CBSE and another to ICSE were set up. Looking at the response, 10 more CBSE-affiliated schools were started this academic year. Currently there are two ICSE-affiliated and 12 CBSE-affiliated civic schools running in Mumbai. 
12
No. of CBSE-affiliated civic schools in Mumbai