Court was hearing a writ petition filed by three booked for restricting the elderly woman's daughter from entering their south Mumbai flat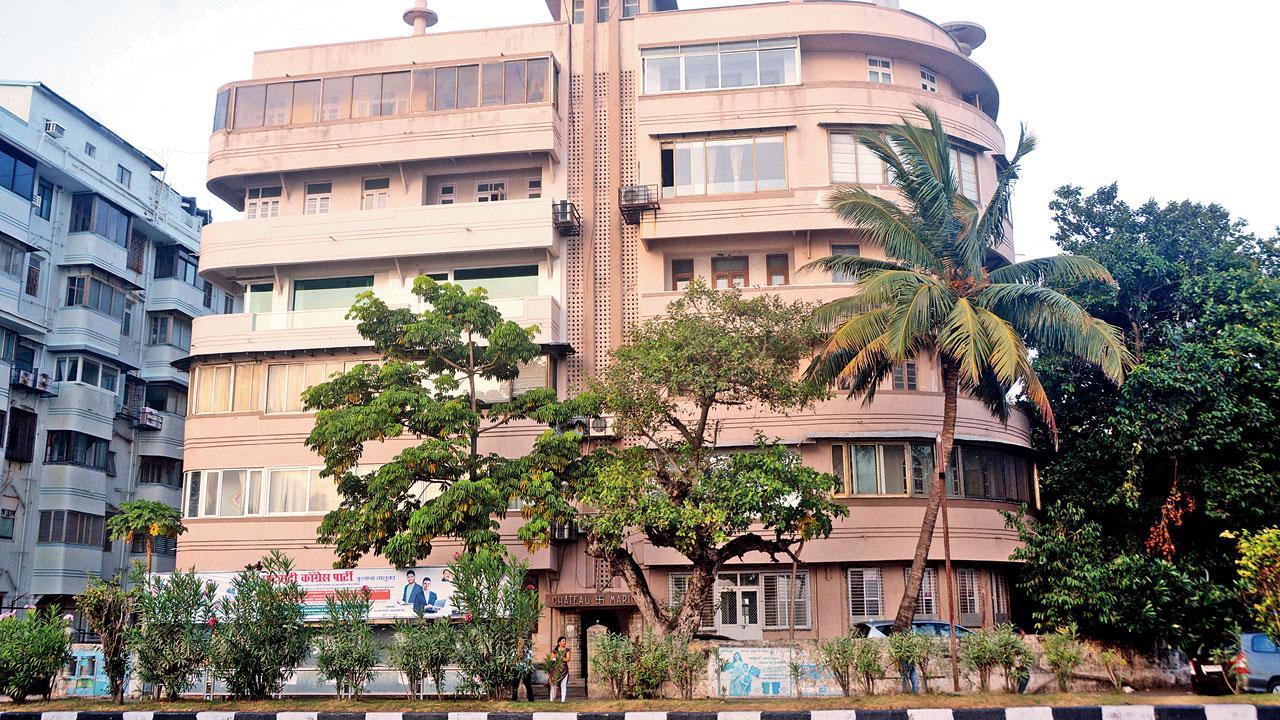 The Sethi family live in a tenancy flat at Chateau Marine building on Marine Drive. File pic
The Bombay High Court has directed the Marine Drive police not to file a charge sheet against a 103-year-old woman, her 85-year-old son and 71-year-old daughter-in-law who have been booked for not allowing the elder woman's daughter, aged 78, to enter their south Mumbai flat. The court has also asked them not to take any coercive action against the three till February 15, when the court will next hear the matter.
The  incident took place in a tenancy flat at Chateau Marine building on Marine Drive where the Sethi family lives. On June 13, 2022 the victim, Urvashi Sethi, who had just gotten discharged from hospital, and her daughter Namrata Kapoor were denied entry to the flat by Urvashi's mother Sumitra, brother Vinay and sister-in-law Nabia. Namrata had called the Mumbai police control room seeking help and eventually a case was filed against the trio at Marine Drive police station, in June 2022.
ADVERTISEMENT
Namrata then filed a case of Domestic Violence against the trio before the magistrate court as well as a civil suit before the Bombay High Court. After Urvashi passed away in October 2022, Namrata withdrew the civil suit from HC while the criminal case and DV case are ongoing. The Sethi family, represented by Advocate Himanshu Maratkar, meanwhile filed a writ petition before the HC seeking to quash the FIR.
Also Read: School fee is not maintenance: Court in Domestic Violence case
The HC bench of Justice Revati Mohite and Justice Prithviraj K Chavan, while hearing the writ petition, passed the order granting interim relief to the Sethi family on January 20. The order was made public on the website January 30.  During the hearing, advocate Maratkar told the court that the dispute, as mentioned by Namrata while filing the police case, was of civil nature but was given the colour of a criminal case as she wanted to grab her grandmother's multi-crore SoBo flat by using her mother as an excuse. He also mentioned the age of the petitioners, all of whom are senior citizens, and added that the said flat was their only home.
The court, after hearing the arguments, observed that Namrata's lawyer, though present for the hearing, had not filed his vakalatnama and posted the matter for hearing on February 15. The court further provided interim relief to the petitioners till the next hearing by asking the cops to not file a charge sheet or take coercive action against them.
15
Day in Feb when court will hear the matter Do you think Budget 2023 will meet aspirations of common man?