Civic body set to issue loans to 1.25 lakh hawkers before PM's visit; officials say, without hawking licence, they are not responsible for authentication; hawkers ask how to pay back when they can't work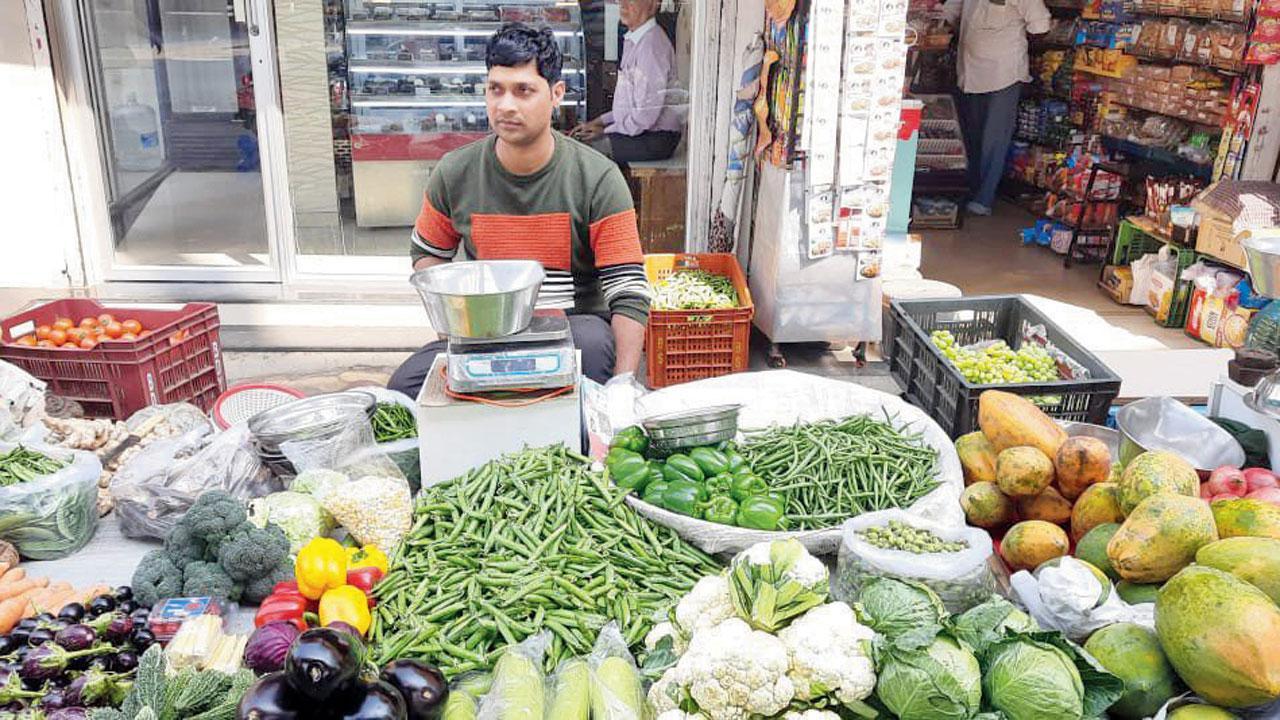 Ganesh Gupta, a hawker from Andheri East, said that he got the loan deposited to his account in November, but also had to pay a fine of R1,250 for unauthorised hawking
As the BMC is about to achieve its target to give Rs 10,000 loan to 1.25 lakh hawkers in the city under the PM SVANidhi scheme ahead of the prime minister's visit to the city, hawkers are confused about the civic body's stand. They alleged that on the one hand, civic officials are taking action against them and stopping them from selling their wares, and on the other, the same people are asking them to take a loan. They also questioned how they would repay the loan amount if they are not allowed to work.
The Brihanmumbai Municipal Corporation has not been able to issue licences to hawkers even six years after it surveyed the city for the same. The civic body also acts against hawkers intermittently. However, the target to disburse loans to 1.25 lakh hawkers to help them with their business after facing losses during the pandemic has led to confusion among civic officials, too.
ADVERTISEMENT
'We're not responsible'
"We had a target to issue loans to 1.25 lakh hawkers before Prime Minister Narendra Modi's visit. However, many hawkers were reluctant to get a R10,000-loan as it is not a significant amount in a city like Mumbai," said an official from the BMC's licence department, adding, "Now, even we are facing a dilemma on how to take action against hawkers who have availed the loan."
PM Modi is set to visit the city on January 19. Another BMC official said, "As on Tuesday, around 1.25 lakh letters of recommendations were approved by the BMC and 1 lakh applications have been sanctioned by banks," said a BMC official.
When asked about what documents are required to avail the loan under PM SVANidhi scheme, another BMC official said that one only needs an Aadhaar card apart from informing the civic body about the area where they carry out their business.
Also Read: Mumbai: 'These hawkers continue to rule Bandra's Hill Road'
Ramakant Bane, general secretary of The Municipal Union, said, "Every ward was given a target regarding issuing loans to hawkers. As there are no licensed hawkers in the city, we made it clear to the higher officials that if any problem arises later regarding authentication of the hawkers, then the official concerned in the licence department will not be held responsible."
'Double standards'
Dayashankar Singh, founder of Azad Hawkers Union, said, "This clearly shows civic officials' double standards when it comes to hawkers. On one hand, the government is lending loans to hawkers and on another, it is taking action against us. Hawkers have been facing stringent action, not just in the form of fines but also physical assault, from the police for the last few months."
"We have been selling fruits on J P road, Andheri West for over 50 years. BMC officials, who take action against us, came to ask offering loans. When we asked how we were supposed to repay the same when we are not allowed to work, they said they have orders from their higher-ups," said Ashok Suravase, a hawker. Ganesh Gupta, a hawker from Teli Gulli, Andheri East, said, "I have been selling vegetables here at the same spot for years. The BMC officials offered a loan and the money was deposited in my account in November. But at the same time, police officers came and slapped a fine of Rs 1,250 for unauthorised hawking."
"K West ward officials requested us to fill up forms for loans and we helped them with 450 forms from the hawkers. But now, after the Gokhale bridge closure, they refuse to let us do business even at the station area. How will we pay off the loan or even make ends meet like this? We even took morcha to the ward office on January 12, but the officials said they got orders from higher authorities," said Abdul Gafar Sheikh, a vendor near Andheri station.
Ashok Panday, a fruit vendor on Daftary Road in Malad East, also complained about police action since the past three months and said, "Last week, the police took us to the police station and we had to pay a fine of Rs 1,250 each. The government has to clear its stand on hawkers. Do they want to support us or break us?" 
Citizen Speak
Activist Godfrey Pimenta said, "The BMC doesn't want to solve the issue of hawkers as the hafta system will come to an end. The footpath along Andheri-Kurla Road was widened, but it is now fully occupied by hawkers. For whose benefit did the BMC widen the footpath? In fact, the BMC is encouraging more hawkers by giving them loans." "The BMC is giving loans to unauthorised hawkers, but what are they doing for tax-paying pedestrians? We are not against lending loans, but at the same time, who will be responsible for pedestrian safety," said Suresh Lad, a resident of Borivli. 
"Exciting news! Mid-day is now on WhatsApp Channels

Subscribe today by clicking the link and stay updated with the latest news!"
Click here! Should Joshimath subsidence be declared as a national disaster?