The flyover will remain closed until May 24, and further traffic jams can be expected until then. Moreover, BKC, Santacruz Airport, Amar Mahal and some other areas are likely to witness slow traffic movement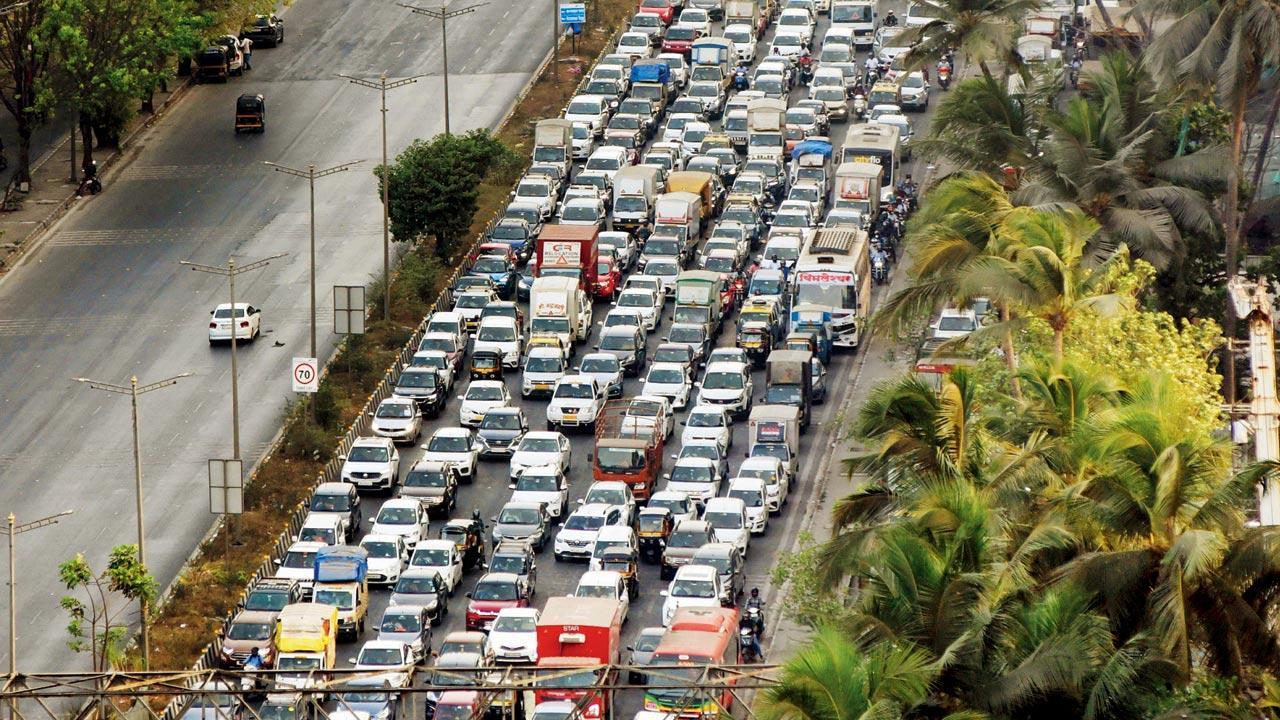 Nightmare Highway: Traffic moved at a snail's pace on the Jogeshwari-Vikhroli Link Road, as the northbound arm of the flyover is closed for repairs, on Monday. The lane on the Eastern Express Highway and the JVLR, going towards Thane, was choked with traffic till Powai. The work will go on until May 24. Pic/Sameer Markande
The shutdown of the Jogeshwari-Vikhroli Link Road (JVLR) flyover for repair works choked up lanes on the Eastern Express Highway and the JVLR, creating a traffic backlog until Powai.
The flyover will remain closed until May 24, and further traffic jams can be expected until then. Moreover, BKC and Santacruz Airport, Amar Mahal, and some other areas are likely to witness slow traffic movement on Tuesday.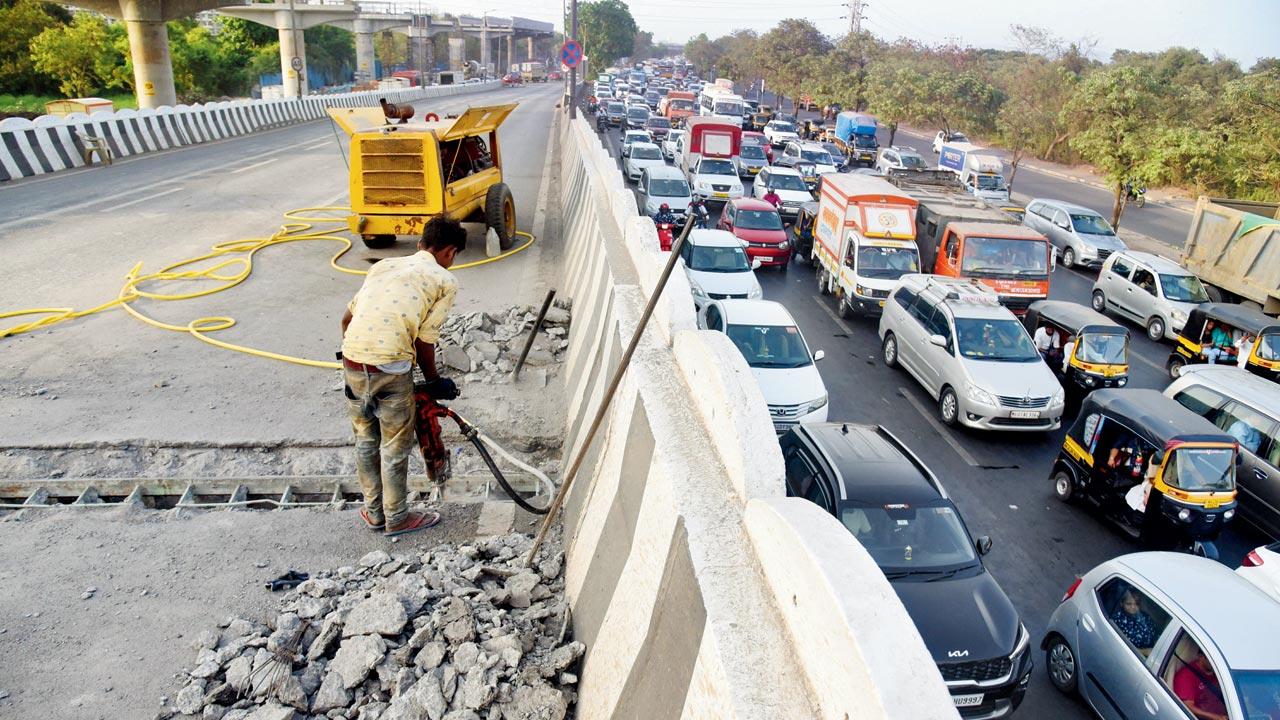 Maintenance of the flyover underway, on Monday. Pic/Sameer Markande
"It took one hour from Powai lake to IIT Powai, on the JVLR, and the map shows it would take over an hour to reach Bhandup West from Powai. What planning is this?" asked Jai Kumar Rao, a commuter, on Twitter.
Another angry commuter, Keval Kothari, tweeted that most of the Mumbai roads, including the Eastern Express Highway, are either dug up, or under repairs or are diverted. "Take this example of my daily commute from Mulund to Kalina--LBS from Fire brigade to Sonapur signal is dug, Goregaon-Mulund Link Road at Nahur bridge is dug, Kanjurmarg bridge at JVLR junction under repairs and is dug, Chedda Nagar flyover is dug since eternity, SCLR BKC junction is dug, the diversion of Air India entry near LBS- bridge extension is dug, pipeline road at Hyatt has potholes," he said.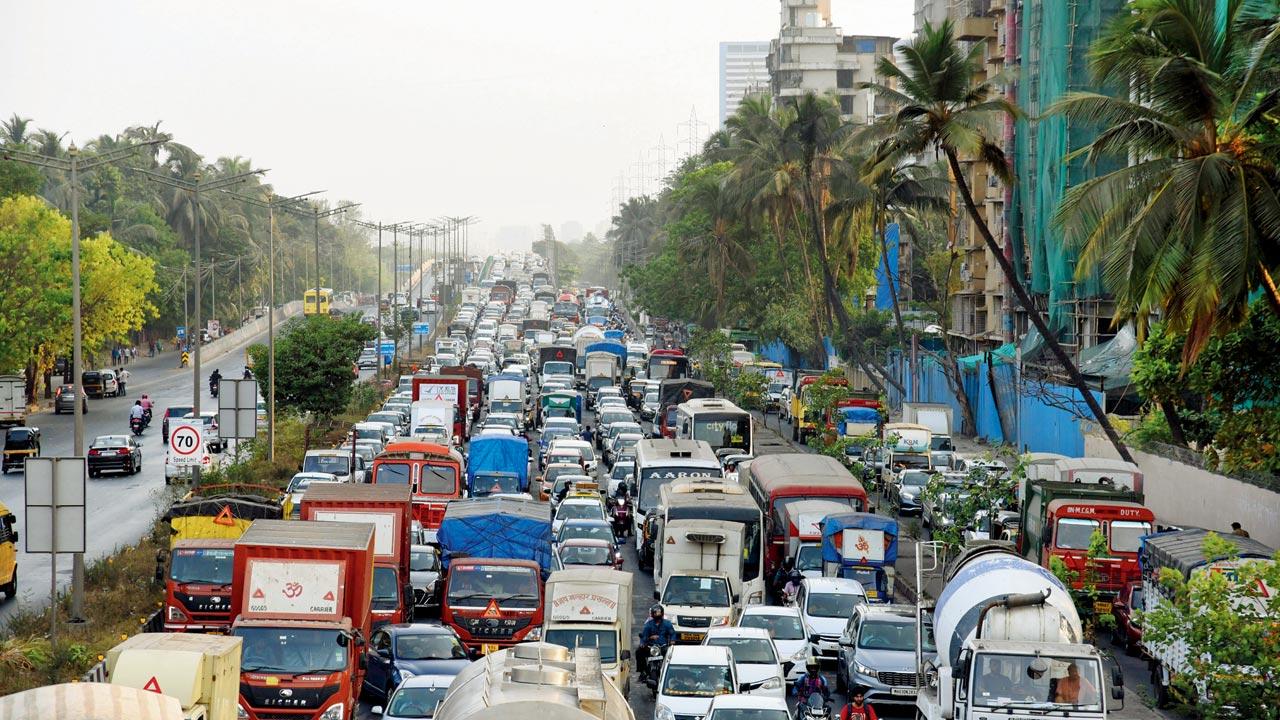 A jam-packed highway owing to the work
"How would Mumbaikars travel?" Kothari asked.
"The government should allow work from home if this is going to continue," said a techie, Anjali Prabhu.
The Maharashtra State Road Development Corporation (MSRDC) has shut down the northbound arm of the flyover for repair works. The traffic snarl was witnessed on the lane, going towards Thane.
Meanwhile, Mumbai police on Monday evening tweeted, "Due to a planned VIP movement between 11 am and 3 pm, traffic will be slow around Santacruz airport, University, Amar Mahal, Chheda Nagar, Freeway and Yellow Gate on May 17. Citizens are requested to plan their commute accordingly."
Moreover, the Mumbai Autorickshaw Union has called a protest at the BKC office of Mahanagar Gas on Tuesday. Auto drivers have planned to storm the office with their vehicles, demanding reduction in the CNG charges and changes in fare structure, raising fears of traffic jams.