Residents reach breaking point, launch peaceful protest to get leaders to resolve their issue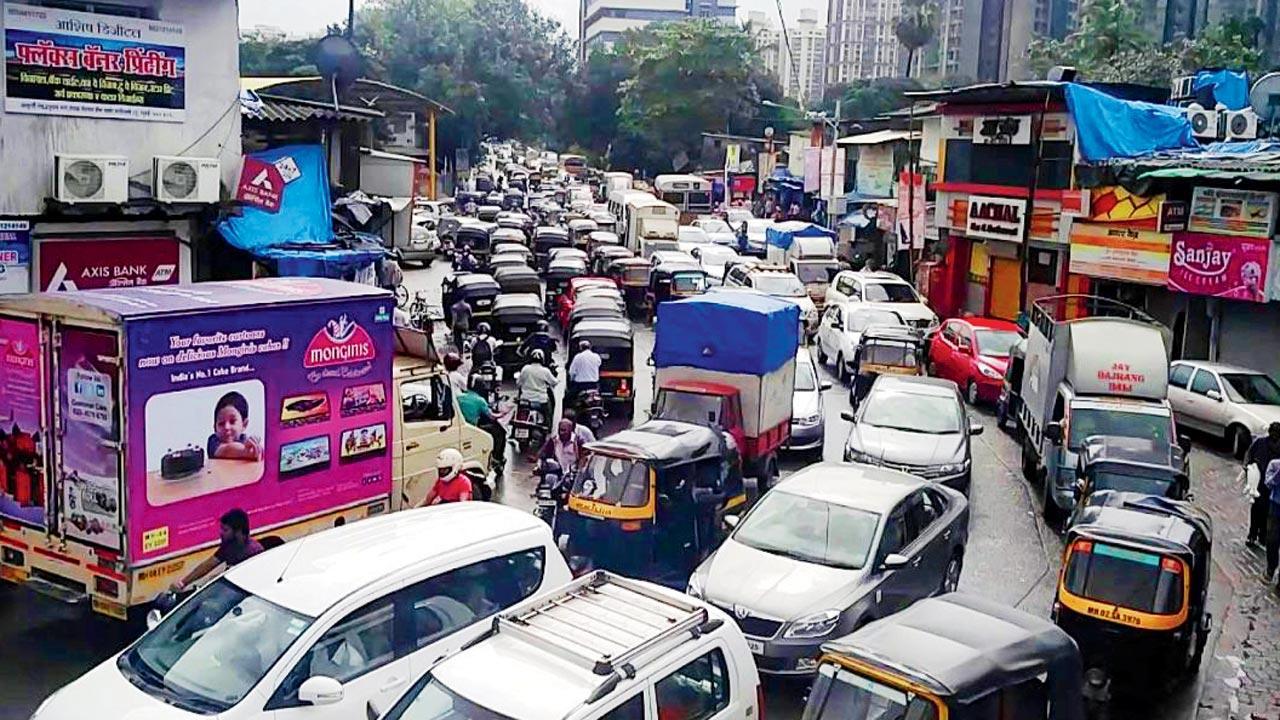 The congested stretch of Akurli Road
Spending hours to cover a one-kilometre-long stretch of road, which connects Kandivli Lokhandwala township to Thakur Village, towards the Western Express Highway, has been a daily ordeal for nearly 50,000 locals, who want the authorities to properly implement the Development Plan of 1991—which makes a provision for a 120-foot-wide road—or find an alternate solution to their daily woes. The construction of the road mentioned has been stalled for three years.
mid-day learnt of two tragic cases where families allege that the traffic on Akurli Road—which is 90 feet wide but beset on both sides by illegal encroachments—claimed the lives of their loved ones, who could not reach the hospital on time.
ADVERTISEMENT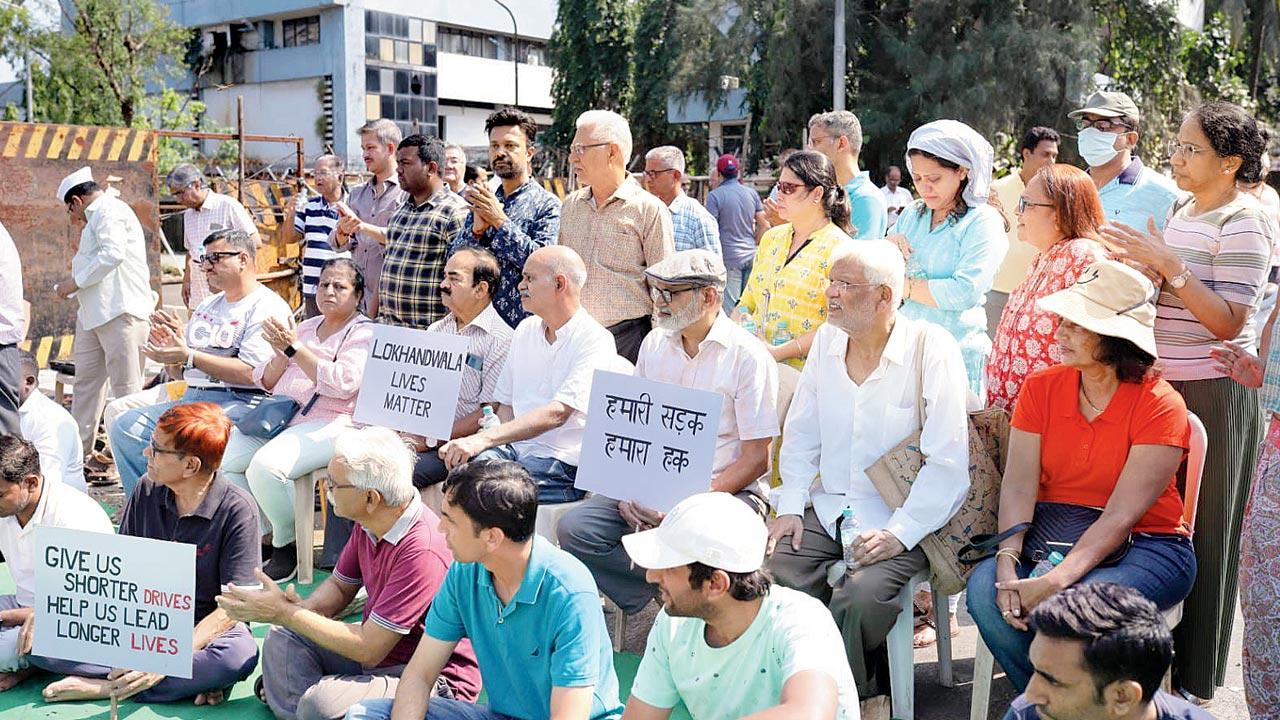 Locals press for their demands at a peaceful rally on Sunday afternoon
Ashutosh Bajoria, a textile merchant, still recalls the afternoon of May 26, 2011, when his father Govind Lal, 58, suffered a heart attack around 3 pm. "We should have reached Sancheti Hospital, which technically is not more than ten minutes away from our house, but our automobile was stuck in traffic for over 45 minutes and he was declared dead on arrival," he said.
Also Read: Mumbai: Bio-waste plant is killing us, we have proof, says Govandi residents 
A similar experience was shared by Rajesh Talwar, who runs a furniture and catering business. Talwar's father Joginder Pal Talwar, 72, had to be rushed to Sai Baba Hospital, which is around 1.5 km away from the family's residence, on June 9, 2008. "As the entire family was at work, my mother had to take my father to the hospital via rickshaw, but it got stuck in traffic for forty-five minutes and my father breathed his last in the middle of a congested road without receiving any medical attention," said Talwar.
Govind Lal Bajoria and Joginder Pal Talwar
Five years ago, his son, a student of Gundecha Education Academy in Thakur Village, reached an hour late for his Class IX exams, as the school bus was stuck in traffic. "Many parents and students had to plead with the school authorities and they finally allowed the students to sit for their exams in the afternoon. Even today I spend two hours travelling to and fro by car only covering this small stretch, which is probably more than the time I spend in my living room," said Talwar.
Nitin Jha, a local resident and activist stated that documents obtained under the Right to Information (RTI) Act show that there are over 300 legal hutments at Singh Estate, which create obstructions on DP Road, which puts the entire load on Akurli Road. 
"A permanent solution can only be found if they are relocated amicably. This could be a time-consuming task so we have suggested an alternate plan, where a boundary wall, which was handed over to the government by Mahindra & Mahindra in 2018, could be demolished without touching the houses at Singh Estate. This will ease the traffic," said  Jha.
The activist further stated that more than 25,000 families residing in Kandivli Lokhandwala township and more than one lakh commuters travelling on Akurli Road are reaching the point of desperation.
To press for their demands nearly 500 residents attended a peaceful assembly on Sunday afternoon, hoping that their voices are heard by the authorities concerned.
Both local MLA Atul Bhatkhalkar and deputy municipal commissioner Dr Bhagyashree Kapse, to whom Jha has written complaints, were unavailable for comment at the time of going to press. 
300
The no. of legal hutments at Singh Estate
"Exciting news! Mid-day is now on WhatsApp Channels

Subscribe today by clicking the link and stay updated with the latest news!"
Click here! Do you think Station Area Traffic Improvement Scheme is a solution for overcrowding at Bandra, Kurla stations?