Simian scare rules plush SoBo tip; accusations fly as housing societies say some are feeding the animals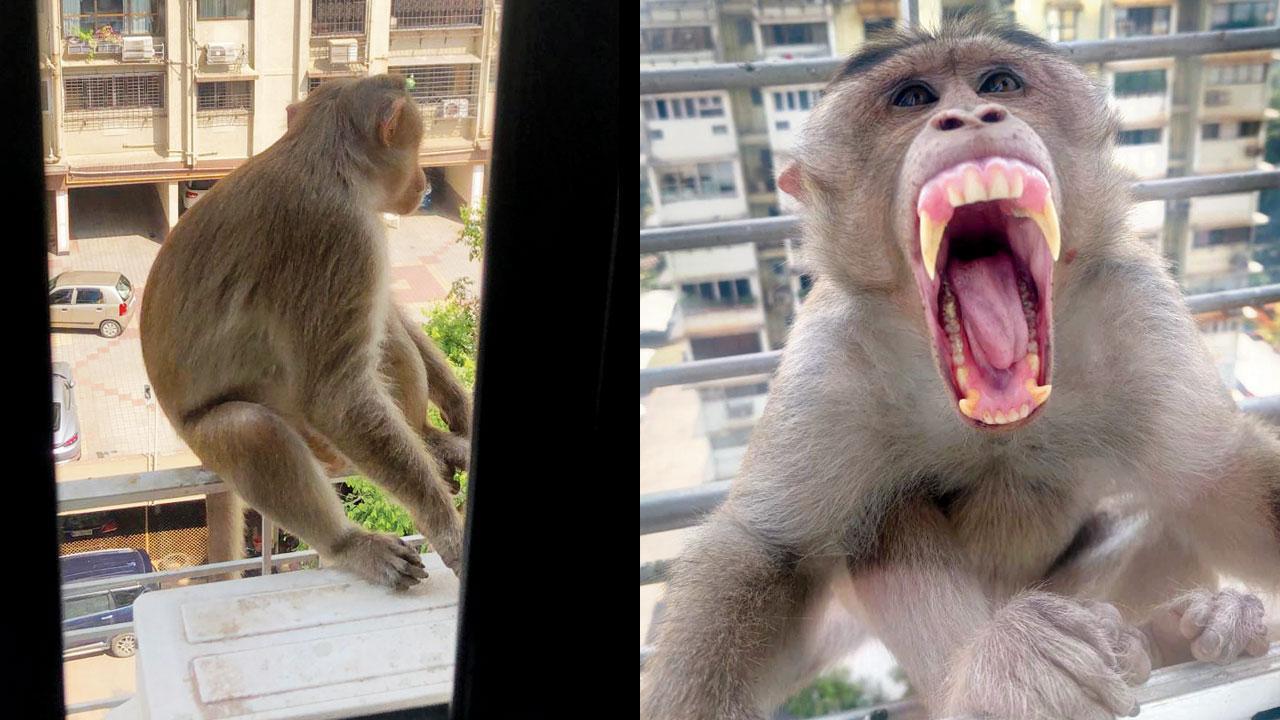 The monkey finds a perch at Cuffe Parade (right) Straight out of a horror film
Dunston has checked in at Cuffe Parade once again. The line is a spin-off from the comedy film, Dunston Checks In, starring an Orangutan called Dunston. Only this time, this is real life instead of reel, and not many think of this as comical. The monkey menace is haunting the South Mumbai tip, with locals cooped up in their homes, windows closed, wondering how to deal with this.
Window wise
ADVERTISEMENT
Housing society chat groups of some of the plushest towers in the vicinity are buzzing with photos of monkeys trying to open windows, videos of the scary simians walking on terraces. The problem is also creating divides within buildings with some residents accusing others of 'feeding' these monkeys stalking the area.
Anand Sheth, honorary secretary of Cuffe Parade Residents Association (CPRA), said, "The monkey problem has reared its head once again in Cuffe Parade. We have had these intimidating animals here earlier too. They seem to return at the same time every year. We are flummoxed."
Also read: Mumbai Crime: 24-year-old man kills relative over minor scuffle, held
The timing
Haresh Hathiramani, a Cuffe Parade resident, endorsed Sheth's statement about the monkeys' arrival. He said, "I have also noticed that they are spotted in the buildings at this time of the year." Hathiramani added, "This is a larger problem than just one that is simply affecting Cuffe Parade. We have now witnessed, read about or heard about monkeys in residential societies across the city. I think this has gone beyond a small or laughable thing now. The authorities concerned also may not have the wherewithal to tackle this."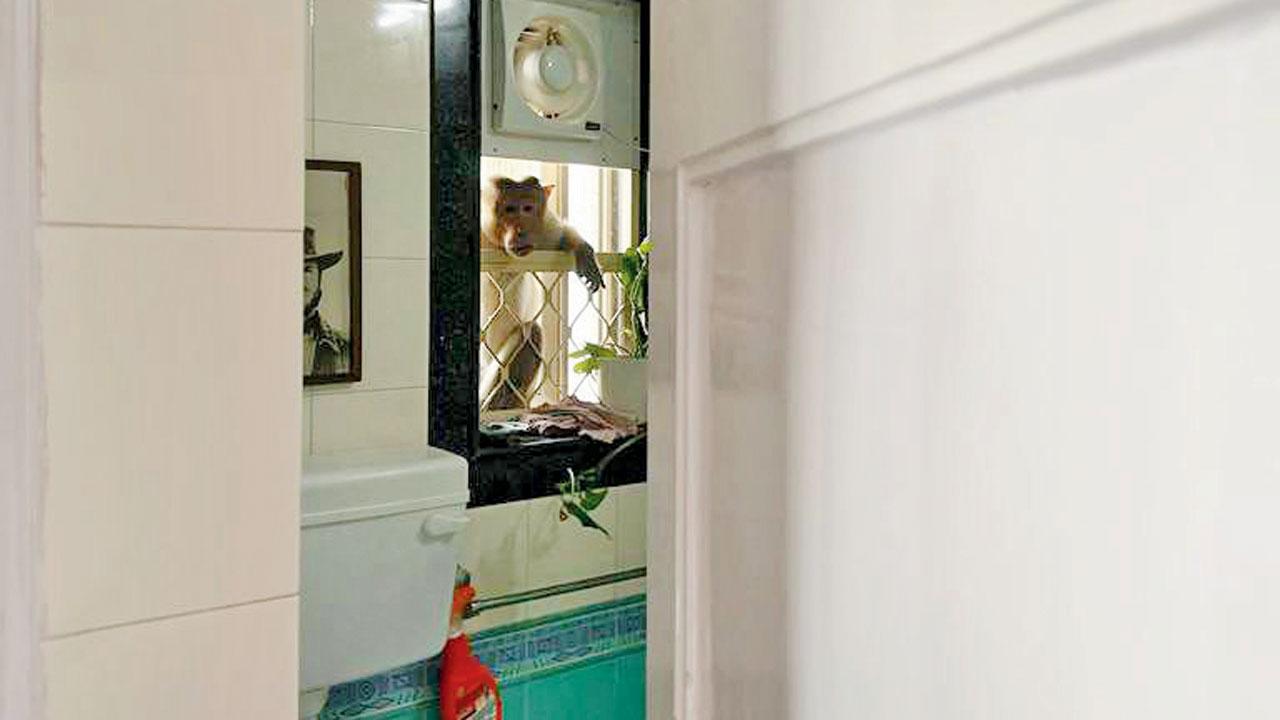 A monkey trying to enter by opening a window
Residents added that the monkeys not only enter homes but are seen on building terraces, at times defecating in these spaces, leading to unhygienic conditions. The monkeys have become fearless, baring their teeth, ready for confrontation even if people come into the space. On Tuesday, there were photographs of a monkey pacing around nonchalantly and perched on a plant pot, eating something on the terrace of Casablanca building.
Mangoes, tomatoes
Jaya Asrani, a resident, claimed, "This problem has become more acute since lockdown, I think. Many people have sliding windows. Even though these are closed, if one forgets to lock them from the inside, then the monkeys can slide them open. Recently, three monkeys, with one carrying a baby, came into my home and ate a dozen mangoes, while we kept ourselves locked in a room. After they finished eating, they left but the house was full of half-eaten mangoes and seeds."
This happened in the 31-storey Jupiter building. Jaya Asrani, who lives on the 16th floor and has taken pictures on her cell phone, said, "We are senior citizens, and it is terrifying to see these animals inside homes. Imagine, one minute you are seated on your sofa watching TV, and the next, there is a monkey next to you." The monkeys also ate 1 kg of tomatoes from a neighbour's home.
Trained thieves?
Many residents insisted that the monkeys seemed to be "trained" to steal, saying they also pick up watches, mobile phones, jewellery which may be lying around in the home. While some say this is just by chance, there are several who firmly believe this is "deliberate" and "they have been taught to steal."
The solution
Sheth said, "We are trying to get an effective monkey catcher, as the one we called last year was not very effective. Though it may seem implausible, many residents insist monkeys are picking up 'flashy' items, anything left in the open inside homes." Animal activist Vijay M, however, said, "The problem persists because people are feeding these monkeys. These monkeys are wild. They are not trained to steal certain valuables. When these animals realise that they get food from a home or at a spot, they keep coming back. The locals should not feed monkeys. They also need to keep their windows closed."
The flashback
In 2015, this paper had an extensive report about a Worli society called Venus where monkeys had terrorised the residents. Those living in the mammoth Worli sea-facing towers had spoken about monkeys getting inside homes, opening fridges and drinking juice, pulling toasters and throwing them out of windows, even taking on stray dogs and roaming in the passages of the society. The report had been headlined: SoBo Society becomes Planet of the Apes. This was a play on the building name: Venus, a planet. Now, the building under attack is called Jupiter, another planet, and that headline can very well apply here too. This may be black humour but for those facing the terror, there is little to smile about.