Traffic-choked, busy area gets big dash of green, to bring respite for travellers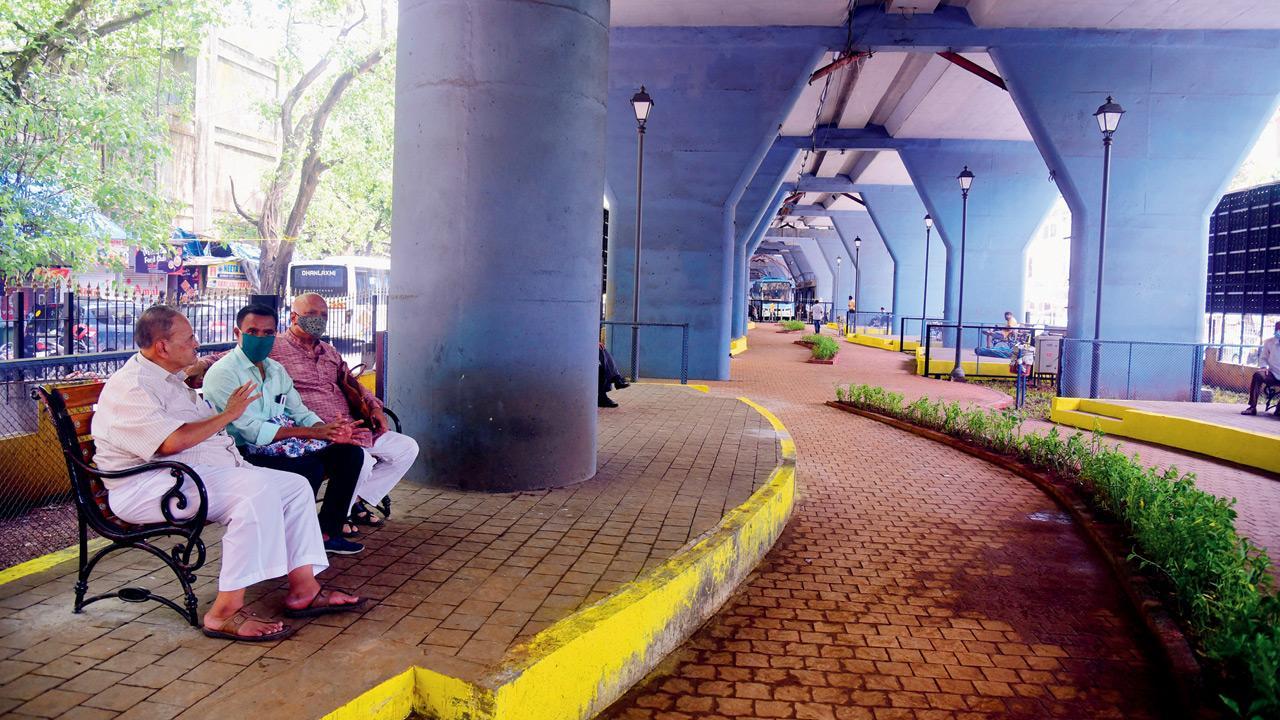 Scene and green: Some seating areas give respite. Pics/Shadab Khan
Like the sun shining through an overcast sky, bringing some brightness, a mammoth public garden opened under the Dadar TT flyover (at Khodadad Circle) over the weekend.
The green seems to cut the pace of life with its very presence bang in the middle of an area where the residential and commercial collide. It is also the proverbial stone's throw from Dadar station's east side and next to where buses leave for Pune and Nashik among other destinations. This space once was a parking lot for taxis, but those were moved out and a garden was made in its place.
ADVERTISEMENT

A kid zone awaits the bachcha party
The guidelines
Amey Gole, Shiv Sena corporator, said, "The park will remain open as per BMC guidelines in the morning and evening. The space is ready, we are just giving it some final touches. The project that began in February 2019 had a deadline of a little over 12 months. The pandemic and lockdown were a spanner in the works. We also had to ask for a tender for the last segment of the garden, which was not in the plans earlier, opposite the Dadar fire brigade. That stretched the deadline too."
Simplicity key
For Gole, it was important that the garden, spread across more than 60,000 square feet, be relatively easy to maintain. "If you go for very hi-fi equipment or infra, it looks good at the outset, but is impractical overall," said the corporator, adding that the contractor will be in charge of maintenance for the first six months after which, the garden will be handed over to the F ward. "We have 300 saplings inside, children's play equipment and a walking track. There are also a large number of vertical gardens. We also have a sitting area," Gole said.
Less pollution
For Gole location was important, "as this is the first area travellers see as they come into Mumbai. First impressions are lasting ones. In ordinary times, this is such a traffic-choked area, we had to do something to lessen pollution. The vertical gardens add a touch of green and help reduce pollution." The corporator added that the project that had a Rs 4.5 crore budget, has opened even as the outbreak has necessitated curbs. He said, "It is not locals of say, Hindu Colony or Parsi Colony, who will use this garden every day. They have so many gardens inside, it is other Dadar locals and commuters who will use it. With outstation travel now open, we will see travellers using the garden."
The uplift
Nikhil Desai, a Matunga resident and a well-known area activist, said, "It would have been good if children's play equipment was installed in one of the already existing parks in this ward. I do not know if children will come to the main road to play. I also wished to see 80 per cent of horticulture and 20 per cent of cement, that is not the case here. We do have vertical gardens but not as much greenery." 
Conceding problems in the topography, he said, "There are several vehicular crossings underneath the flyover so the park cannot be continuous but has to be segmented." He added that it was certainly a facelift for a space that had gone to seed. "If there is proper lighting and security, this will definitely be advantageous, rather than having a messy underbelly of the flyover, which had also become a urinal. 
Let us hope that the garden is the end to all of this. While there may be some reservations about space usage, in a city starved of greens, any garden maintained and with security is better than no garden at all."
Gole has a message for the people, "Please treat this park and use equipment and infra with the same care and respect you use your amenities at home."
60,000
Area in sq ft the garden is spread across
"Exciting news! Mid-day is now on WhatsApp Channels

Subscribe today by clicking the link and stay updated with the latest news!"
Click here!