The city - sliced, diced and served with a dash of sauce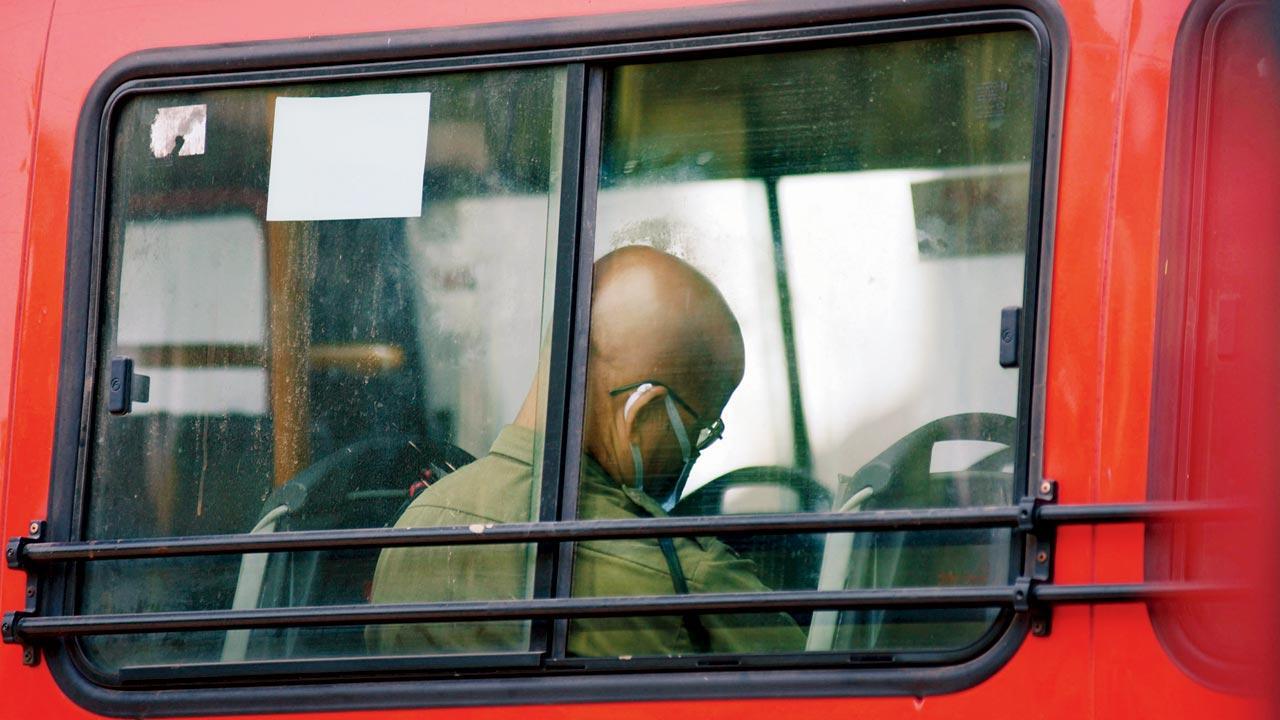 Portrait of a model citizen: Despite being the sole occupant of the bus, this conductor sets a fine example by keeping his mask on even while catching a nap. Pic/Nimesh Dave
Mind the gap
Last April, Project Mumbai, a non-profit, had set up a free helpline to offer mental health support to people experiencing Covid-related anxiety and grief. "We received more than 17,000 calls from 24 states. Since many of our callers are students grappling with academic and personal stresses, we are setting up a dedicated division for adolescents," shared Devika Kapoor, officer-in-charge. Dial 18001024040 for help.
Bandra cooks for a worthy cause
Chef Seefah Ketchaiyo and Raveena Taurani
Although the F&B industry has been struggling for more than a year now, it's inspiring to see chefs and eateries step up to serve meals that heal. Seven eateries have teamed up to form Bandra Restaurant Community for COVID Relief to deliver meals to positive patients and frontline workers in need of nutritional support in the suburb. The collective includes Seeds of Life, Pack-A-Pav, Seefah, Bombay Salad Co, Supper, Earth Cafe and Yogisattva. 
Raveena Taurani, founder and chef of Yogisattva, told this diarist that the month-long initiative will kick off from May 3. "All I wanted to do was help. If you're living alone, or if your parents or grandparents are old and live by themselves, you may not have the energy to cook, especially if you are fighting the infection yourself. We wanted to offer some relief from the stress of your next meal," she added. Chef Seefah Ketchaiyo, who's part of the team, shared that when Taurani reached out to her, getting onboard was a no-brainer. "We'll do as much as we can to support people in this situation and it's good to see everyone come together," she noted. If you know someone in need of healthy meals, or want to lend a hand with the initiative, log on to @raveenataurani on Instagram.
Celebrating the Raja of Indian art
April 29 marked the 173rd birth anniversary of eminent artist Raja Ravi Varma. "He was one of the first painters in British India to blend European realism and traditional Indian art. His portrayals of mythological characters have influenced Indian literature and films," shared Nivedita Poddar, founder of Art Fervour. Beyond museums and auction houses, his paintings have taken on a life of their own on social media through memes; they have made his art relatable and accessible. Recognising this, they've created a meme generator for Raja Ravi Varma memes. Check it out on memecreator.artfervour.
Hail animal welfare advocacy
People For Animals, a non-profit, has launched the Ahimsa Fellowship Program to offer training to youth keen on animal welfare advocacy. This year-long fellowship focuses on experiential training and guidance, to help animal welfare advocates to communicate with and assist authorities. "We found that while sheltering was the main focus of most organisations, working efficiently with the system was lacking. Interacting with the administration and being familiar with laws requires a certain degree of training. We hope this fellowship will motivate people with such interests to pursue it," Gauri Maulekhi, a trustee and member secretary of People For Animals, said.
Reaching for Bhojpuri heights