The city - sliced, diced and served with a dash of sauce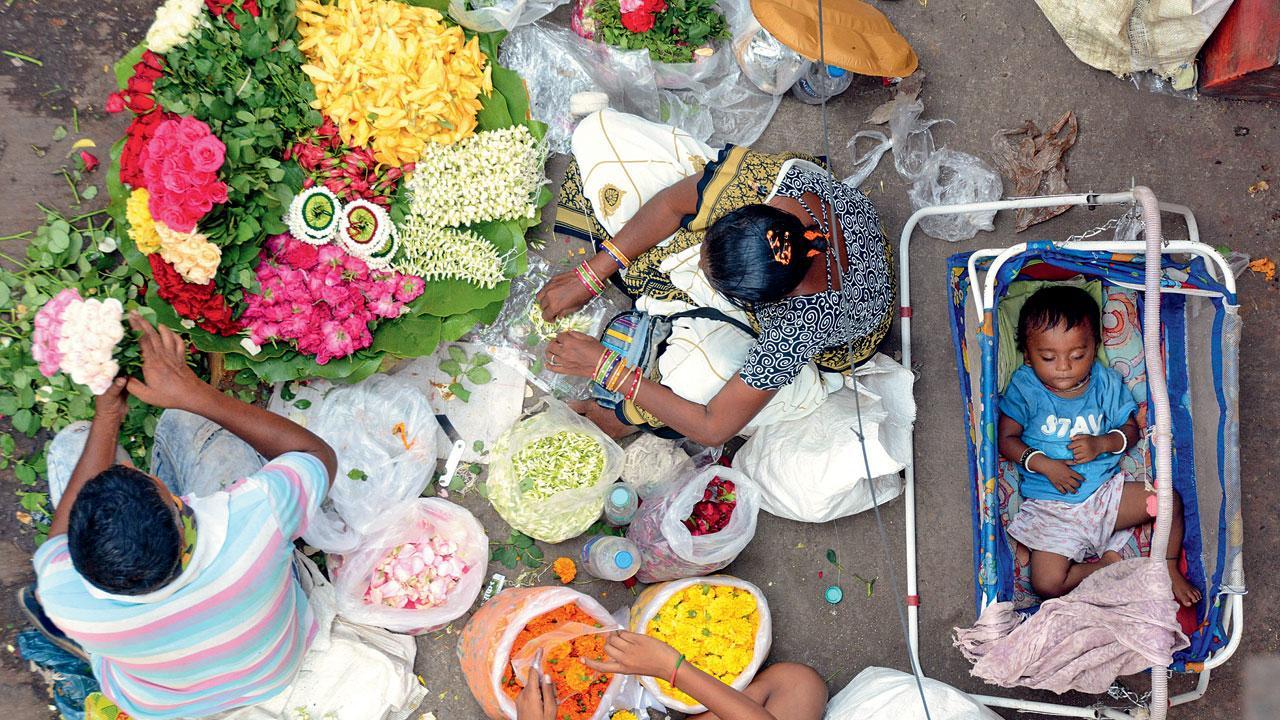 Pic/Satej Shinde
Flower Child
An infant sleeps peacefully as its flower-seller caregivers go about their daily routine on SV Road, Borivali. 
ADVERTISEMENT
Big little world
The Children's Museum Contest is an annual feature of the Children's Museum at Chhatrapati Shivaji Maharaj Vastu Sangrahalaya (CSMVS). The theme this year is, 'The world through my eyes', and the museum is inviting kids to send in their perspective, be it through paintings, sketches, photographs, comics, videos or any other form of expression. Vaidehi Savnal, assistant curator, international relations, and in-charge, education, shared that the world itself that children inhabit is constructed mostly, for and by adults. "We are very aware that it is a bunch of adults running the Children's Museum. And adults often tend to assume things from a child's point of view. We have made conversations with kids a regular and important part of the process of planning the activities of the Children's Museum. Through the theme, we want to understand how children perceive the world and their unique experience of it," Savnal elaborated. Head to their social media handles to check out the steps of the contest. Let your little one's imagination soar, and send in their entry to education@csmvs.in by May 20.
Anthem for our times
There's no denying that the political rallies and religious festivals such as Kumbh Mela held recently actively contributed to the traumatic second wave that India's battling now. Lashing out at the government's lack of political will to put things in order and capturing the tragedy that's unfolding every day is The Super Spreader Anthem, created by Varun Grover, Rahul Ram and Sanjay Rajoura, that's gone viral. Set to the tune of the Lata Mangeshkar classic Main chali main chali, the hilarious and stinging lyrics are accompanied by a creative, Mario-style video game visual. Ram, who's sung the song in his inimitable style, shared, "In India, this happens a lot with folk songs, where one tune is adapted in various ways to suit the current situation. We had done a version of this after demonetisation, too. With the rising numbers [infections], struggle for survival and the stupidity around us causing so many deaths, there's a lot of anger and rage — but that doesn't get you anywhere. So, all we can do is write and sing."
Safe state of mind
Concurrent to the Covid-19 pandemic is an epidemic of mental illness, as millions of Indians grapple with stress, loss and anxiety. Of these, there are several who also lack the financial means to avail of professional counselling services. This realisation led artist Nupur Saraswat to incept The Therapy Fund. "I started out with only Rs 20,000 that I had collected from my friends and family members, which funded 10 to 11 therapy sessions. Today, we have over 250 applicants and have matched 20 per cent of them with a trusted counsellor," she explained. To donate to the fund or seek help, visit @nupur_speaks on Instagram.
Bridge the plasma gap