The city - sliced, diced and served with a dash of sauce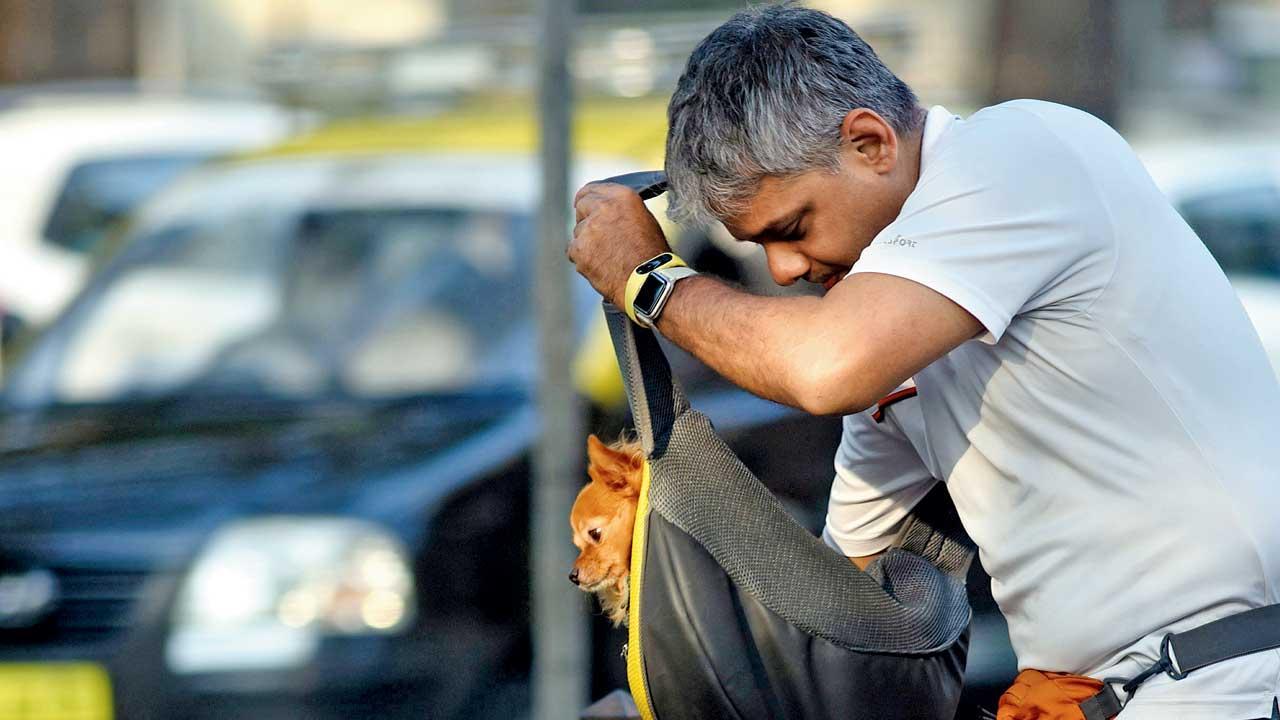 Pic/Pradeep Dhivar
Pup's in the pouch
This pet parent ensures his canine is comfy in his carrier at Wadala on Friday.
What's up with the vaccine?
ADVERTISEMENT

Representation Pic
It's a question we're still asking, even though vaccine production and distribution has kicked off globally. That's what a panel of experts will discuss next month with a comparative analysis of the available vaccines. A session called The Great Vaccine Race is being organised by Columbia Global Centers (CGC), Mumbai, on February 8 and features two faculty members from Columbia University - Wafaa El Sadr, professor of epidemiology and medicine, and Nischay Mishra, assistant professor in epidemiology - and Sandra Albert, director of the Indian Institute of Public Health in Shillong. Dr Ravina Aggarwal (in pic), director, CGC Mumbai, told this diarist that the conversation will address concerns and challenges connected with the vaccine and dispel myths.
They will also touch upon ethics involved in the process and highlight how countries can ensure equitable distribution. "The COVID-19 outbreak resulted in a detrimental effect on healthcare systems with a ripple effect on every aspect of human life. Today, when we look back at the last year, we realise that there are many lessons learned as members of the global scientific research community," she added. The session will be conducted on Zoom and registration details are available on globalcenters.columbia.edu/mumbai.
Verse gets framed

One of the photographs from Dear Melancholy
While city-based photographer Parizad D is known for her multidisciplinary visual skills, she has been writing poetry for much longer, mostly scribbling in her journal. At the same time, she had several visuals from half-developed projects lying around with her, including shots from her first solo trip to Gokarna in 2020. So, when the lockdown began, and Bandra and SoBo-based gallery Method reached out to her for their online exhibition Pause, the verses in her diaries and pictures from the trip fit together, like pieces of a jigsaw puzzle. The result is a photobook, titled Dear Melancholy, being released by the gallery on Sunday. "All the pictures are shot on the analogue medium. The pictures and the poetry, although created at different times, come from the same state of mind, and contextualise each other. The title might sound sad, but the book is actually about growth," she said.
Judge a book by its cover
The sixth edition of the Oxford Bookstore Book Cover Prize is being held this year, and the longlist for it was announced recently. The award honours titles that have stunning covers that command the reader's attention when perched on shelves. The 18 nominees for this year include Hemendra Kumar's Calcutta Nights, designed by Pinaki De, and Manu S Pillai's The Courtesan, The Mahatma and the Italian Brahmin, designed by Priya Kuriyan. The jury members included politician Shashi Tharoor, and authors Kunal Basu and Namita Gokhale. Speaking about the awards, Tharoor shared, "It's an overdue initiative to show some recognition and appreciation for the extraordinary creative and design talents of our publishing industry." Watch this space to learn about the nominees who make it to the shortlist, and the winner, who will be announced next month.
No place for anger, only music
Tomorrow, aspiring hip-hop performers will convene in Thane to pit their skills in a rap battle. The event is being helmed by Omkar Narkar (aka Verse Theory), a Thane resident. Narkar told this diarist that as one of the early pioneers of Thane's underground hip-hop scene; he wants to encourage young rappers to not view the art through the lens of negativity and aggression that it is often associated with. "Performers have even punched others in the face on stage, during battles! The idea behind Curse Free is for performers to use music as a means of liberating themselves from the curse of frustration and anger," he explained to this diarist.
A poetic face-off online
Every year, city-based Team Vision Foundation (TVF) organises Lantern, a cultural event helmed by visually challenged artistes to showcase their talent. Because of the pandemic, they're taking it online this year and on Sunday will put together Kaavya Sandhya, a poetry competition for these artistes. Explaining the agenda, founder-member Sandesh Bhingarde said, "We didn't keep a theme and didn't have any age restrictions, but the poems will be performed only in Marathi, Hindi and English. Nearly 37 artistes from across India have approached us, and we've been conducting auditions. So, in the finale, we'll have about 15 pieces being performed." Head to TVF's channel on YouTube to see who wins.
"Exciting news! Mid-day is now on WhatsApp Channels

Subscribe today by clicking the link and stay updated with the latest news!"
Click here!