The city - sliced, diced and served with a dash of sauce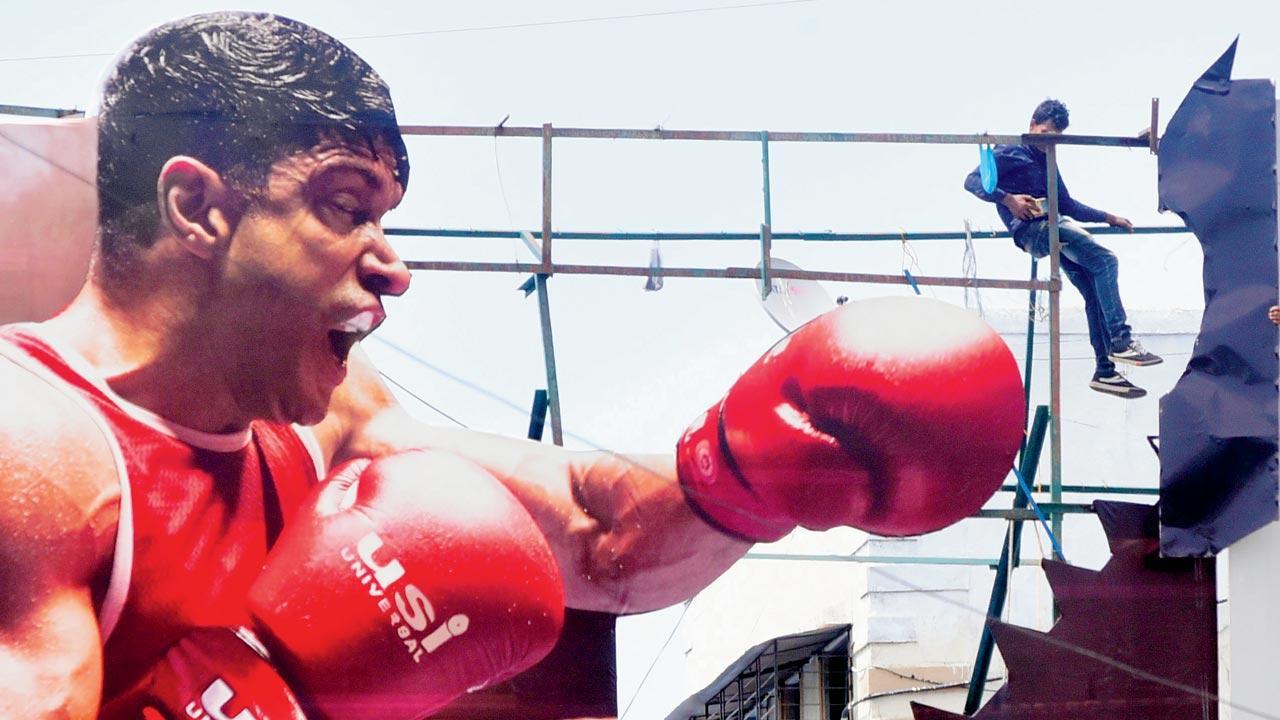 Punch perfect: A worker fixes a hoarding for an upcoming film in Mahim. Pic/Shadab Khan
Woof, what an idea
ADVERTISEMENT
Director Salil Jason Fernandez is all set to release his latest documentary feature, titled The Tails of Boo-Boo & Cuddly Poo, with the aim of creating awareness on issues such as animal cruelty, abandonment, rescue and care for rescued animals. The feature is a collaborative one,  with several organisations and individuals joining hands pro-bono. It also stars actors Shraddha Kapoor and Jim Sarbh, and has been produced by Vandana Sethhi, founder, Water Communications️ & Earth Films. "There is a lingering lack of awareness about the plight of stray animals, which surfaced during the lockdown. I then decided to use my skill set to shed light on this issue with a hope to educate and inspire people," shared Fernandez. The trailer will be out on July 14 on www.instagram.com/booboocuddlypoo.
Shraddha Kapoor
Bhanu's legacy
The textile collection of renowned costume designer, the late Bhanu Athaiya (extreme right), is a fascin-ating testament of India's rich textile heritage. Auction house Prinseps, which has been consigned with the estate of the designer along with her collection of heirloom textiles, is set to host an interesting Instagram Live chat about the same with Maharani Radhika Raje Gaekwad of Baroda. Director Indrajit Chatterjee said, "We're documenting [Athaiya's] sarees and shawls from 1850. That's what the discussion will focus on. We're excited to have discovered a pristine collection of textiles from over a 100 years ago."
Breathe again
Haute couture fashion week began in Paris on July 4, with a new Indian name on its roster. Vaishali Shadangule is the second designer after Rahul Mishra to be invited by Fédération de la Haute Couture et de la Mode (FHCM) to showcase her brand's couture collection at the prestigious event. Her show, titled Shwas (Breath), took place live on the last day of the couture week calendar at the Lycée Victor Duruy, a historical landmark on the left bank in Paris. It took its inspiration from Mother Nature and its flow of energy, combining tailoring techniques with India's indigenous weaves to create 30 demi-couture looks. There was Merino wool woven in Maheshwar, Khun from Karnataka and Chanderi from Madhya Pradesh, which the designer married with her signature cording — long hand-rolled cords made from textiles — to not only outline but also give her silhouettes a purpose of weightlessness and transparency. The key to achieving this feat was the intricate mesh-like cutwork mixed with micro-pleats, cording and appliqués. Outfit after outfit was draped or wrinkled open to form a trellis that veiled the female form below. Shwas struck a note of restraint, which felt most resonant with the mood of the moment.  
A model in a Vaishali S ensemble showcased as part of the PHCW 2021
Arty escape in Lonavala
City slickers keen to unwind have a new getaway to drive down to. Le Sutra Great Escapes Villas, a conceptual art holiday home will come up later this month in Lonavala with their first villa called Geometrica. Rahul Bajaj, founder, Out of the Blue, who helmed the project, told this diarist, "The idea was to create a space where Mumbaikars can rejuvenate, away from the bustle of the city. It follows the SLO approach — sustainable, local and organic. The idea behind the restaurant [at the property] was to elevate local food with a European twist."