The city - sliced, diced and served with a dash of sauce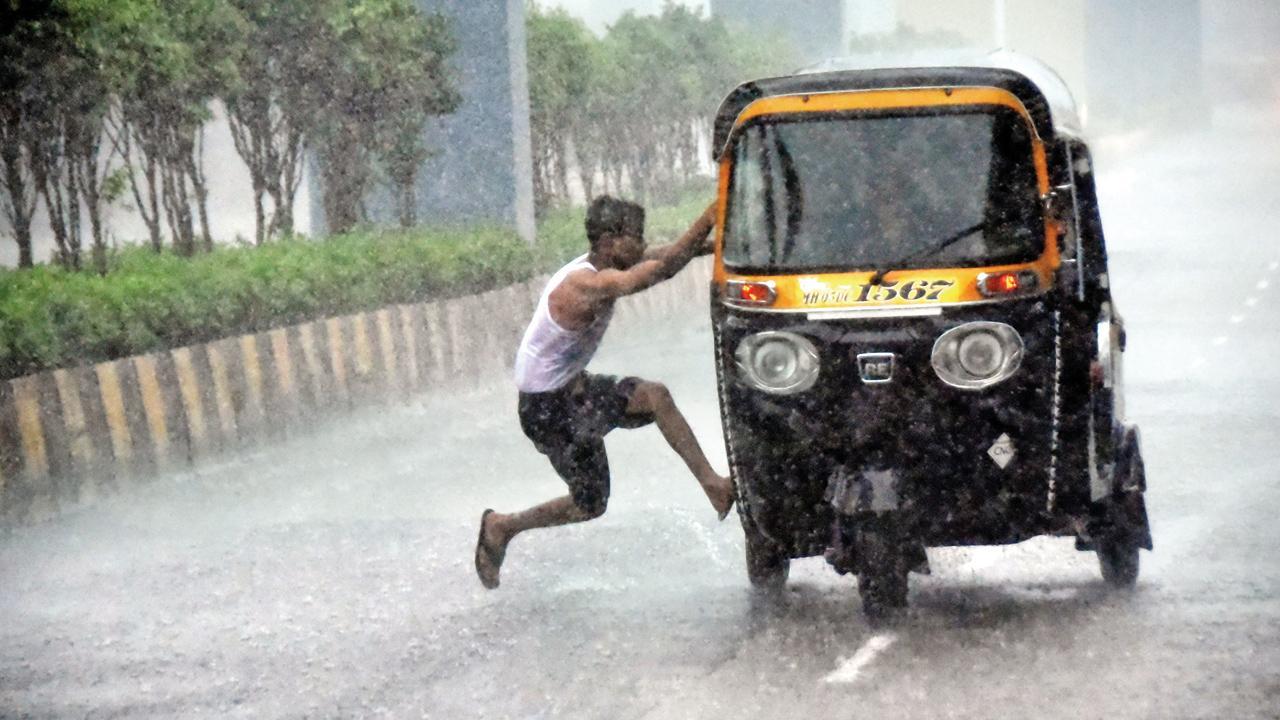 Pic/Pradeep Dhivar
Rain man
A senseless daredevil attempts a stunt, while trying to get into an auto-rickshaw, amidst the heavy downpour in Sion on Saturday morning. 
ADVERTISEMENT
Up-and-coming visuals artists, this one is just for you
Artists from all over India can apply till June 30 for Space118's fine art production grant of Rs 15,000 to Rs 1,00,000 for their new and ongoing projects. The grant is part of Space118's continuing attempt to support visual artists and art-making. A jury comprising art collector Lekha Poddar, gallerist Mortimer Chatterjee and artist Shilpa Gupta will choose the grantees, who will also be able to participate in mentorship and review sessions with a senior or mid-career artist. The recipients will get to exhibit their work through a 'Virtual Open Studio day' accessible on Space118's social media handles and receive regular updates on art and cultural events across India. "This is a very important starter grant for those struggling to be a part of the art world, we have a fine jury and mentors," says Saloni Doshi, director of Space118. The names of the grantees will be announced in August.
It's a golden time for Reds!

Reds Perriera
Indian cricket is celebrating 50 years for their first-ever Test series win in the Caribbean, achieved by the Ajit Wadekar-led Indian team in 1971. It's also the golden jubilee year of the then unprecedented win in England. When we say Indian cricket, we mean the cricket lovers and media of this country and not the BCCI since they have yet to announce anything in terms of celebration and felicitations. Joseph Reds Perriera is another cricket lover who is celebrating a golden jubilee—50 years of cricket commentary. Reds started describing international cricket action behind the microphone in the Guyana Test of that famous 1971 series and is still at it, performing his radio commentary role in the ongoing West Indies v South Africa Test at St Lucia. At 82, Reds is probably the oldest cricket commentator in the world. He is also sharp as a knife; only recently questioning certain selections made by the WI selectors. Reds toured India for the Test series involving Clive Lloyd's men in 1983 and our in-house cricket nut then wondered why he was seeing quite a few magazine interviews of the West Indies players when they did not grant too many interviews. He then noticed the byline at the end of each interview—Reds Perreira.  A man of contacts, goodwill and of course knowledge, our friend Reds sure is.
When a desi travels the globe