The city - sliced, diced and served with a dash of sauce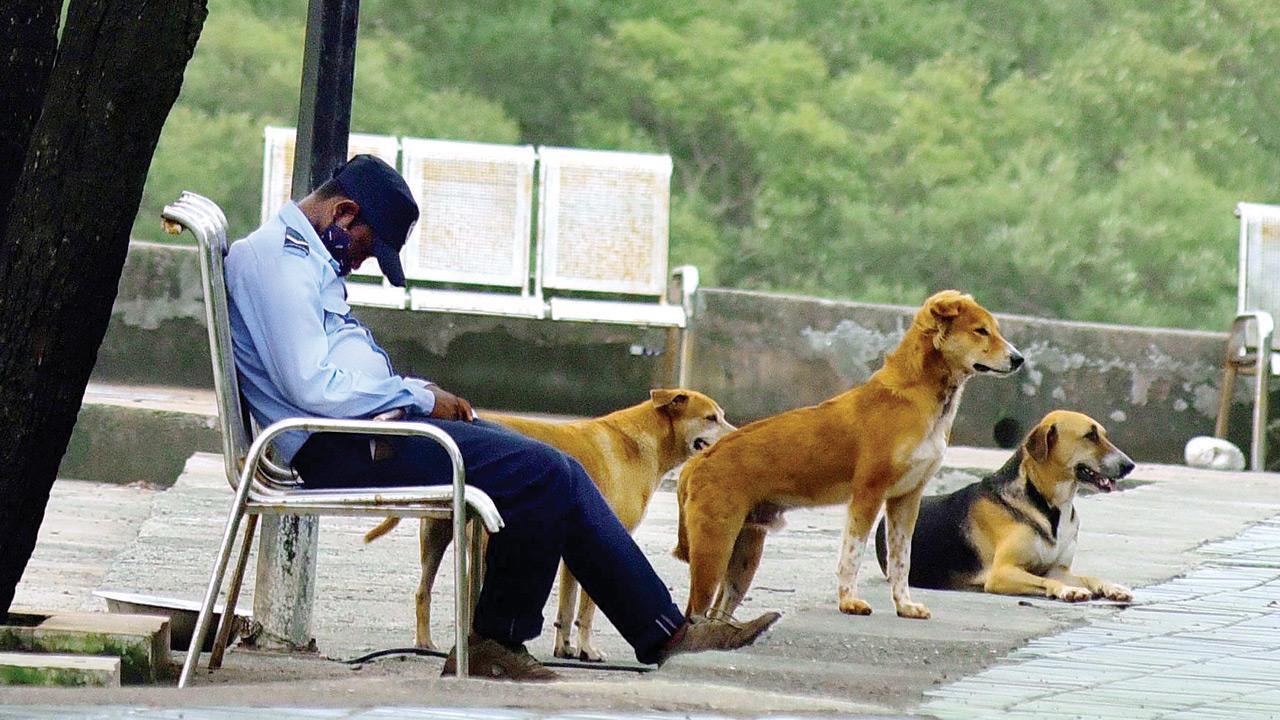 Pic/Atul Kamble
Man's best friend on duty
A security guard naps as stray dogs keep vigil at Carter Road in Bandra on Saturday. 
ADVERTISEMENT
Thank you, one last time?
WE know that bookstores in Mumbai and across India, have been struggling to keep afloat during the pandemic. So, when Crossword Kemps Corner announced a "Thank You" sale on Saturday, social media was abuzz with news about the landmark store shutting down. While sources said it is on the cards, no such announcement has been made as yet. The 90 per cent sale on select merchandise, the bookstore said was their way of "expressing gratitude to all those keeping the corners of Kemps Corner warm and cozy since 2004". This diarist had launched her debut novel in this venue, just a few months before COVID-19 turned our lives upside down, and we have only fond memories of this place, especially its cafe Moshe's, where we've done many interviews. It's our hope that all bookstores stay, and that readers, one and all, visit them over ordering online.
A face armour
As we all know, masks are the first line of defence against Covid-19. The poor quality of surgical masks propelled Amit Jain, director at Keeo Life Pvt Ltd, a health startup, to come up with a mask that could not only filter the germs, but can also kill the virus. The Keeo Pro+ Self Sanitising N95/FFP2 mask is for adults and kids. "These marks were born out of necessity. We used techniques from our years of experience in the textile industry and applied principles of Ayurvedic medicine," says Jain. The USP of the product is the anti-microbial coating, made using natural organic extracts. The mask variant for children, comes with four layers of protection. They are also the first Indian company to get Emergency Use Authorisation (EUA) certifications from the Food & Drug Association (FDA) for its N95 respirators and surgical masks, along with CE certifications for all the European Economic Area (EEA) for 13 of its products.
Today's girls, tomorrow's leaders
Back in 2018, Varsha Adusumilli had written a book titled Wonder Girls, which was a collection of inspirational stories about everyday Indian girls. Three years on, she has launched the Wonder Girls Student Leaders Fellowship, which is a first-of-its kind all-girls programme for adolescent girls between Classes VIII to XII. The 60-hour transformational programme is aimed at nurturing ambitious young girls into future leaders. The team and advisors behind the programme come from prestigious institutions such as BITS Pilani, Harvard Business School, University of Oxford, and Columbia University, and have spent hundreds of hours interviewing students, parents, educators, and industry leaders to understand their needs. "There is a strong need to tie in adolescent leadership experiences and exposure to long term 
success for girls. We have created a platform to do just that," says founder Adusumilli. Some of the leaders participating in the programme are Radhika Piramal (Vice chairperson, VIP Industries Limited) and Chiki Sarkar (Publisher, Juggernaut Books). The programme can be taken online and  and the deadline for applications on the website (https://www.wondergirls.academy/) closes on September 15.
Israel embassy's artsy new boss