The city - sliced, diced and served with a dash of sauce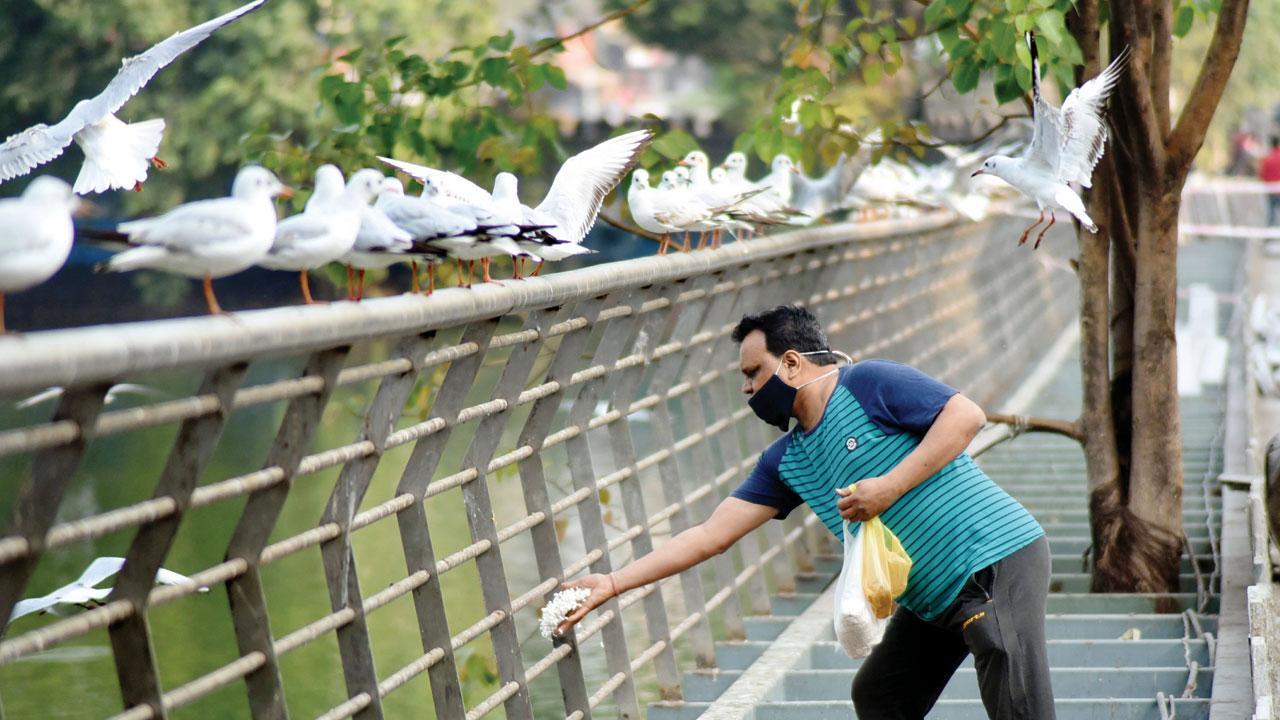 Pic/Sameer Markande
Pecking order
A man feeds a pack of seagulls resting at Masunda Lake in Thane West on Monday.
ADVERTISEMENT
India is in their thoughts
Help is arriving from Down Under to assist in India's fight against Covid-19. Gary Mehigan (inset), George Calombaris and Matt Preston, former judges of MasterChef Australia, the popular TV food show, are organising a 12-hour live event on June 19, where they will be cooking food and donating the money collected from the tickets for pandemic relief work in India.
"Some of our great friends will be joining us, including [celebrity British chef] Heston Blumenthal," Calombaris (below) shared. Visit eventbrite.com to buy a ticket and catch these food wizards in action.
Notes to learn
Here's your chance to get a leg-up if you are considering a career in Western music. Only six days are left to apply for the BA Music (Western Contemporary Music) programme at Narsee Monjee Institute of Management Studies' (NMIMS) School of Performing Arts. Bassist Sheldon D'Silva, who teaches at NMIMS, shared that the different instruments that are taught as part of the course are drums, guitar, keyboards and vocals. "It's a professional course meant for people who want to take up music as a career. The applying musicians have to be of a certain standard already and not hobbyists. Apart from their instruments, the students will also be taught subjects like music theory and production," he told this diarist. 
Food for thought at arts fest

Based out of Goa, Serendipity Arts Festival is an annual event
Even as we remain in isolation during the pandemic, food is one thing that has provided a lot of people with succour, whether through content shared by home chefs on Insta, hosting virtual dinners, or experimenting with new recipes in the kitchen. That's the idea that the folks behind Serendipity Arts Festival had in mind when they decided to announce Food Lab, an upcoming residency programme. For it, they are calling on culinary arts students, chefs, food critics, food historians, environmentalists who work closely with food sustainability, artists who work with food and food designers to send in applications. The residency will cover subjects including food origins, sustainability, food policy, and nutrition. "We welcome anyone with a project idea, within this area of inquiry, to apply for this residency by June 30," informed SAF director Smriti Rajgarhia. Head to serendipityarts.org for details.
Staying strong
In these times of uncertainty, a group called the Indian Network of the Diaspora for Essential Aid and Relief (INDEAR) has come forward to offer free psychological and mental-health support for healthcare professionals, journalists, bankers, teachers, police officers, Covid-19 relief volunteers, and mental-health professionals themselves in the form of individual and group therapy sessions. Started by Boston-based psychologist Dr Uma Chandrika Millner and Pune-based psychologist Dr Radhika Bapat (in pic), the sessions last 30 minutes and are available in 23 regional languages. To book a session, check out indear.org.
Awadhi calling