The city - sliced, diced and served with a dash of sauce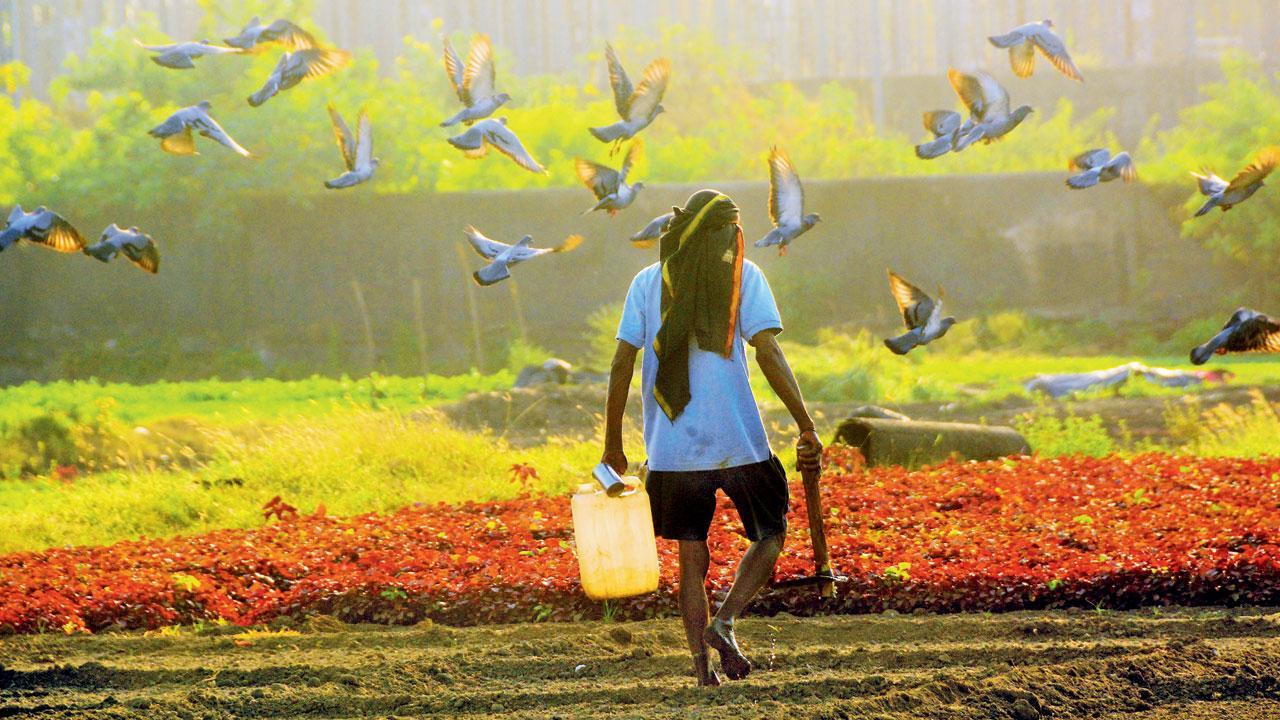 Pic/Satej Shinde
The solitary reaper
Birds disperse as a farmer arrives to water his crops near a railway yard at Thakurli
ADVERTISEMENT
In the house of the master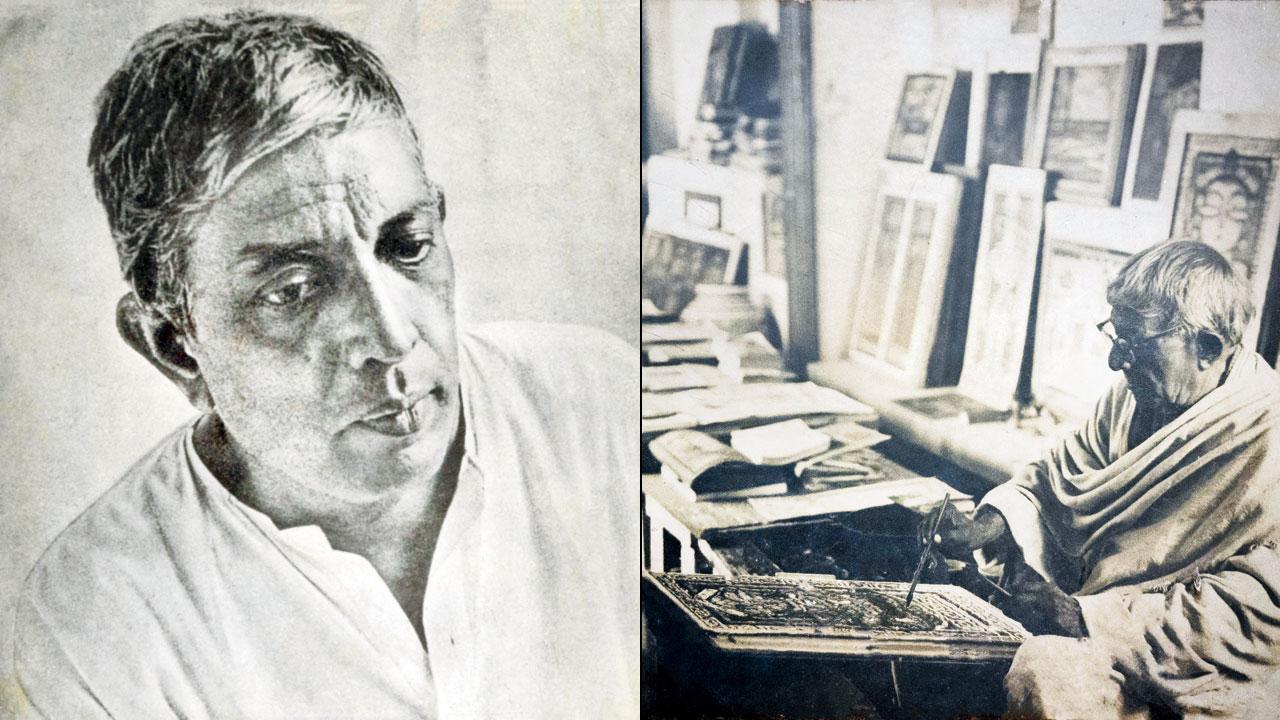 Jamini Roy (right) the artist in his study. Pics Courtesy/DAG
DAG (Delhi Art Gallery) has acquired the Baghbazar house in Kolkata that belonged to artist Jamini Roy and will turn it into a private art museum of the artist. The Jamini Roy House Museum will host a permanent collection of the Bengali modernist's works, as well as space for rotating exhibitions. The 75-year-old residence will be restored by conservation architects before its transformation. "This is the single-most important project undertaken by DAG in its three decades," said Ashish Anand, managing director of DAG. The artist's great grand-daughter, Arkamitra Roy told mid-day, "We, "We are delighted that DAG is sharing the legacy of his house with the people of Bengal and art lovers. This is the ideal way to pay homage to him."
Simbly said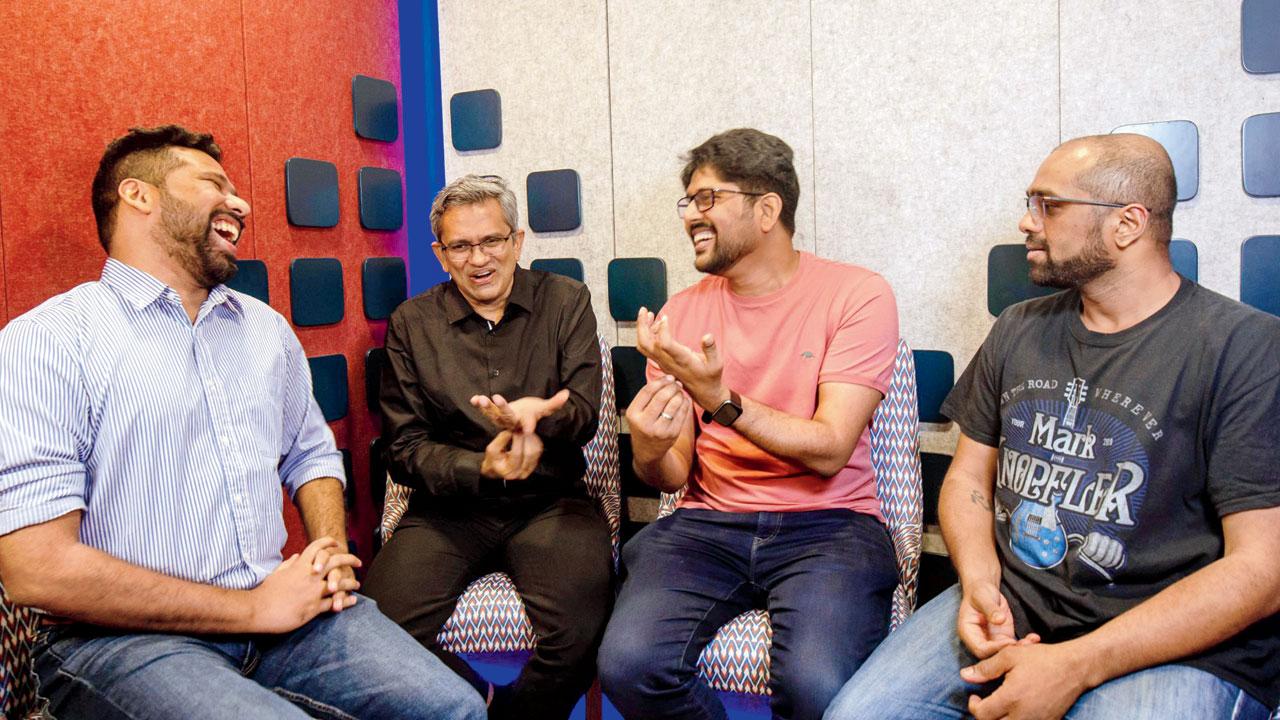 (From left) Tony Sebastian, Narendra Shenoy, Srikeit Tadepalli and Deepak Gopalakrishnan
If you ever thought hangout sessions with your gang could be a great podcast, a quartet of friends from Mumbai will beat you to it. Simblified, a podcast where four friends pick a topic that interests them and simplify it for our benefit, has hit its 300th episode. Co-host and city resident Tony Sebastian shared, "The show has grown with us, it's a conversation that's driven by each of our perspectives and plenty of jokes." Co-host Deepak Gopalakrishnan, with a laugh, added, "It's an excuse for us to hang out, really."
Also Read: Mumbai Diary: Tuesday Dossier
Karwaan arrives in Bandra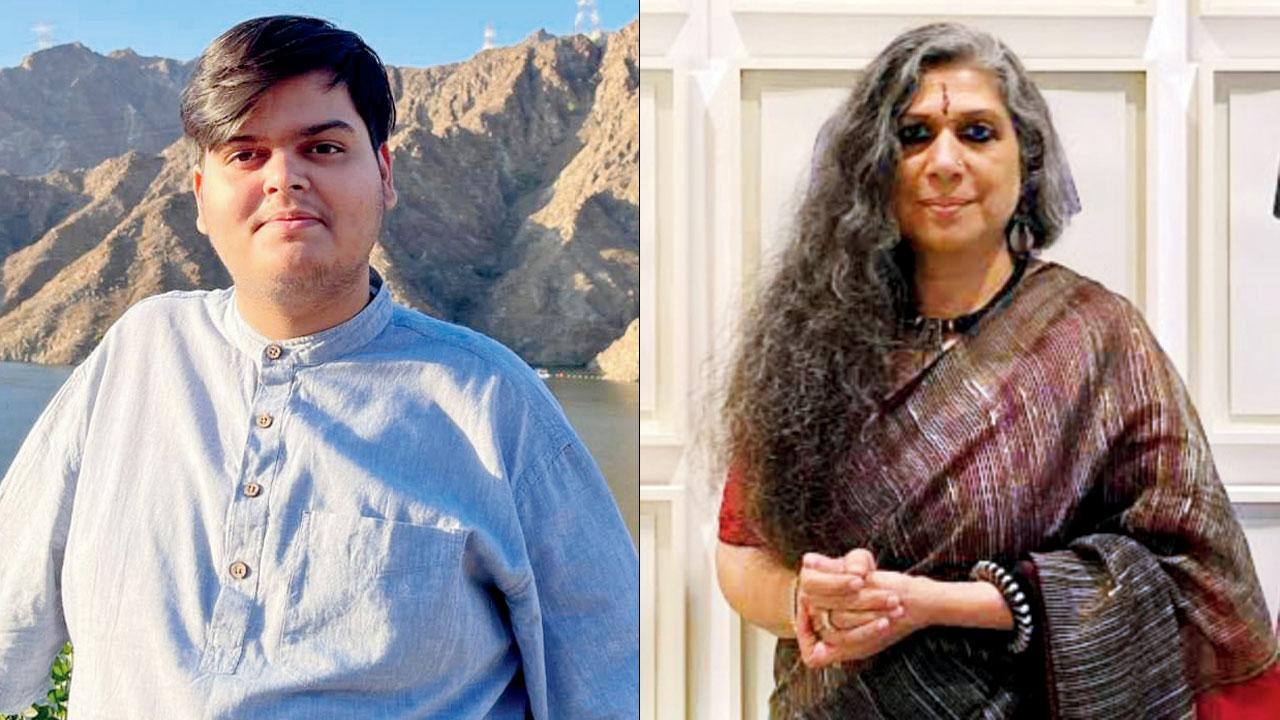 Eshan Sharma and Rekha Rodwittiya
We previously reported on this page that the Delhi-based heritage exploration initiative of Karwaan plans to expand their base to Mumbai. Now, Eshan Sharma (in pic), its founder, has confirmed that the first event is set to take place in April. "We are planning to host the first event on April 15 in Bandra," Sharma told this diarist. Gallerist Ayesha Parikh's neighbourhood art hub, Art and Charlie, will play venue to the debut event. Sharma added, "We have a long line-up of events planned for the series, and the gallery was the perfect space to host it." Keeping with the theme of art, the opening session will see Sharma join artist Rekha Rodwittiya to speak about the themes and role of feminism in Indian art. "We hope to talk about art and, especially, the feminist discourse in art. Rodwittiya is a prominent feminist thinker and painter. It is the perfect way to start our journey." The venture plans to host an event every month, Sharma added, "The conversations will be about the things that should matter to us, especially how we see and perceive art in society." Readers can check the Art and Charlie website for details.
Tree of hope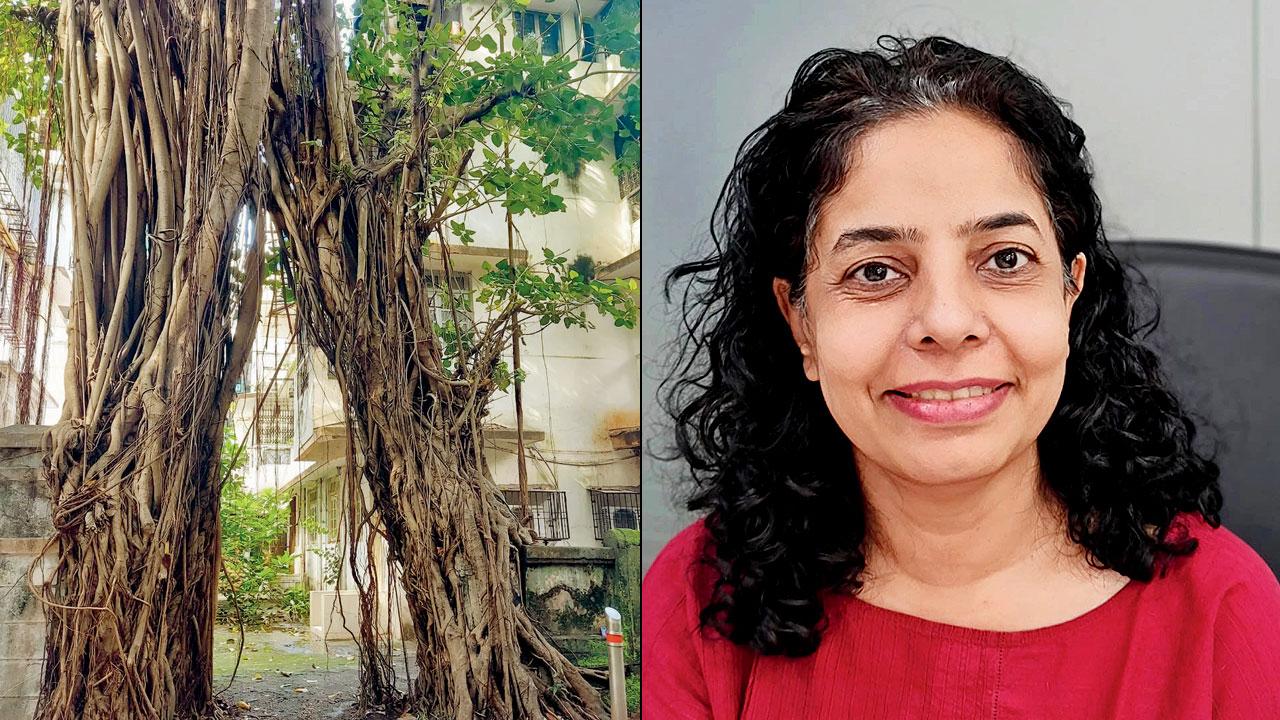 Pic Courtesy/Instagram
In a find that can be deemed rare for this concrete jungle, Mumbai Musafir, a social media page run by Preeti Bhardwaj (inset), found it nothing less than a wonder to have discovered an old banyan tree that has formed an archway around the entrance of an even older housing society. What she found interesting was how steady the tree stood even as the surroundings around it were phased out in the name of development. "My friend and I were walking near Five Gardens, when we spotted this beautiful giant banyan tree. It struck me how this tree and the building facade seemed seamlessly attached to each other. At a time when such trees are being cut down, it was a relief to see this one flourishing," she said. Bhardwaj, who also conducts nature trails around the city as a passion project, mentioned that it was extremely important to see such frugivorous trees in the neighbourhoods. "These trees provide fruits for animals all year through, and are great sources for fresh air," she added.
How to unravel this cine mystery?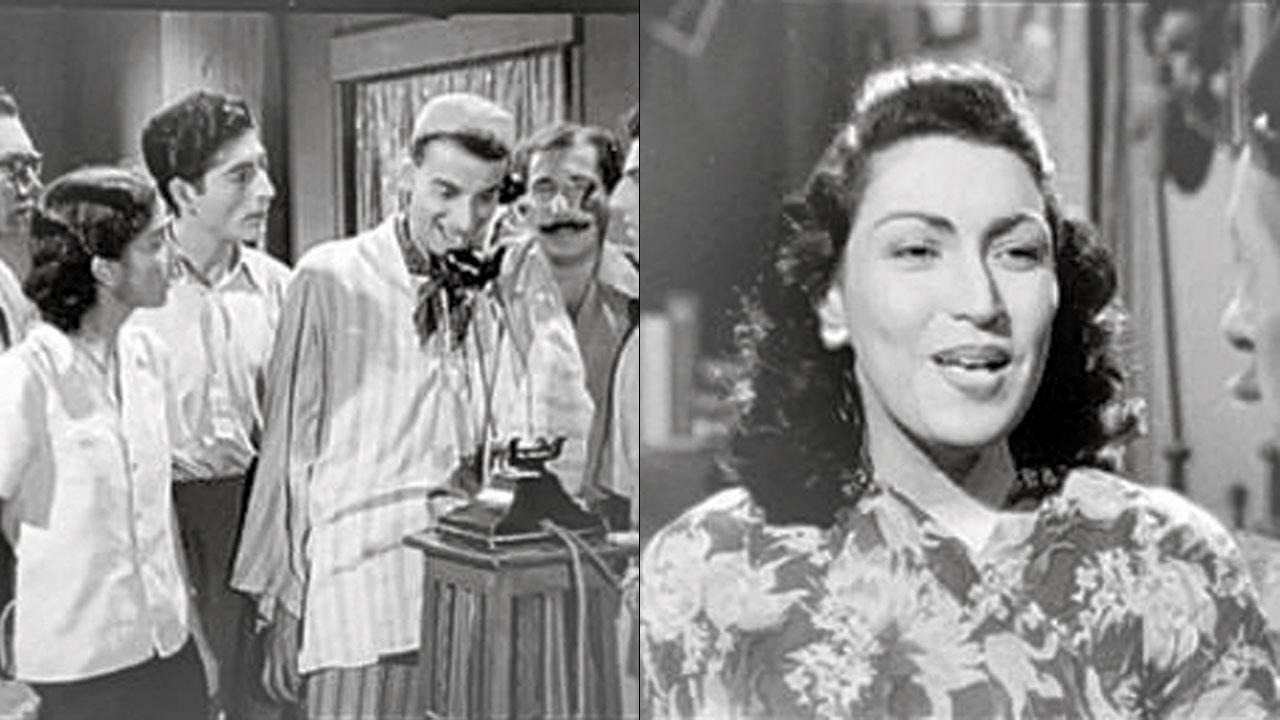 A moment from the reels of Pastailo Pappo. Pics Courtesy/FilmHeritageFoundation
The long history of the Parsi community in the city has another interesting page added to its chapters. The Film Heritage Foundation (FHF) recently recovered a lost 1951 film, Pastailo Pappo, from scrap dealers. "The film dates back to 1951, and was a Basant Pictures production," said Shivendra Singh Dungarpur, founder, FHF. But its discovery has only added to the mystery of the story. As rare as a film of that vintage can be, its Parsi cast and production adds to its exclusive status, Dungarpur said. "Not many Parsi films of the era have survived. We have no documentation or information about the film so far," he admitted. The team has already posted on social media, requesting if people can come forward to help in identifying the cast or crew. "One person reached out to suggest that one of the actors in the pictures could be Pheroz. But we would appreciate it if others could help," Dungarpur said. Readers can write to us at mailbag@mid-day.com or DM @filmheritagefoundation on Instagram with details.