The city - sliced, diced and served with a dash of sauce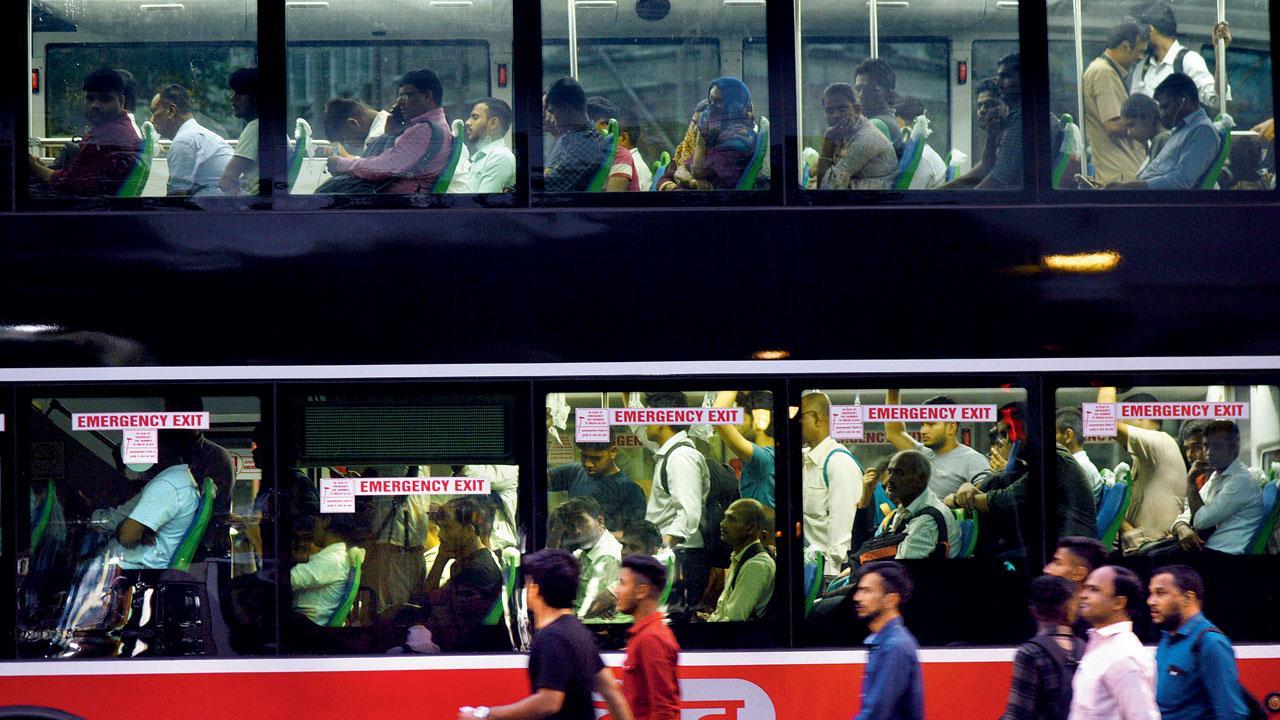 Pic/Satej Shinde
Listen to this article
Mumbai Diary: Wednesday Dossier
x
Besties forever
Pedestrians walk past a commuter-packed double-decker AC bus near Azad Maidan
ADVERTISEMENT
Poonawalla's here-I-come moment for horse Chindit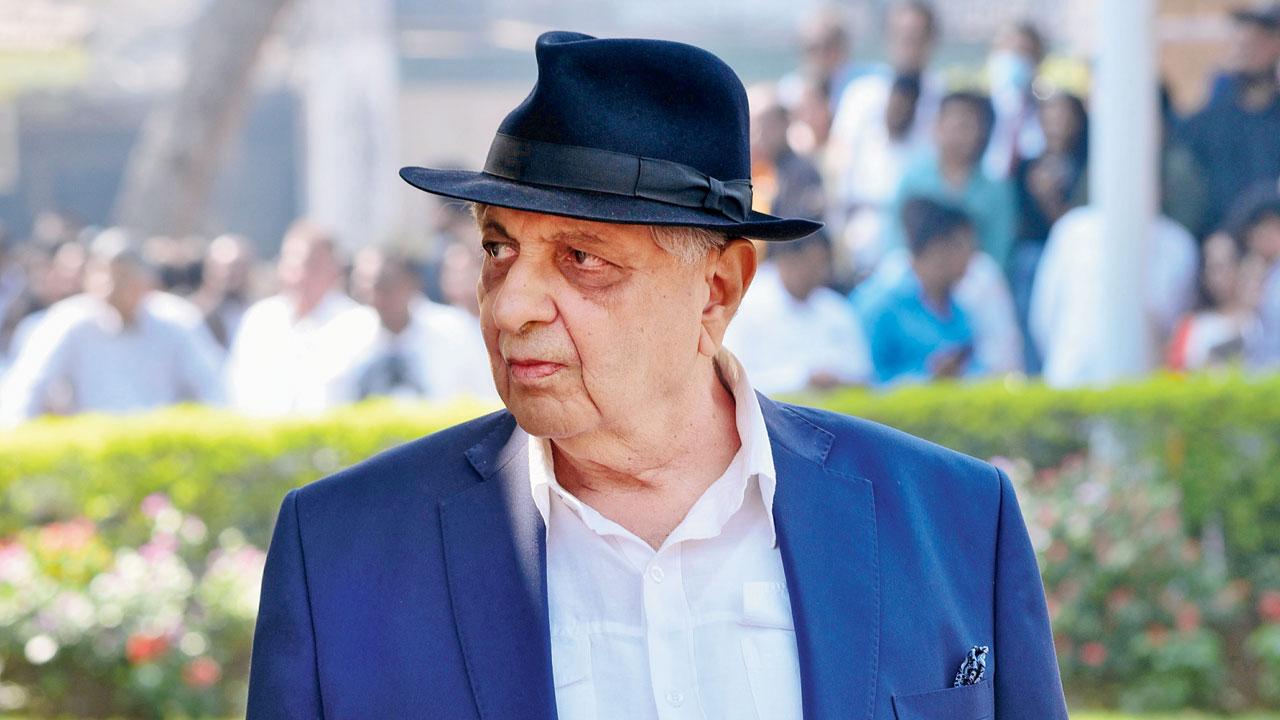 Ask Dr Cyrus Poonawalla if buying and racing horses in England is an "old man's hobby" for him now, and he takes it as an affront. "Old man? How can you call me an old man if I can take a 10-hour flight to London just to watch my horse run a race in England," he retorted to our racing correspondent Prakash Gosavi. Recently, Dr Poonawalla, all of 82 years, made a quick and short return trip (Pune-London-Pune) only to watch his horse Chindit run and win a listed race at Sandown Park. "I must confess I get a kick out of this. Racing in England has been a passion for me, and one feels energetic and young when one travels to pursue one's passion. Age doesn't get in the way," he added.
Artists, assemble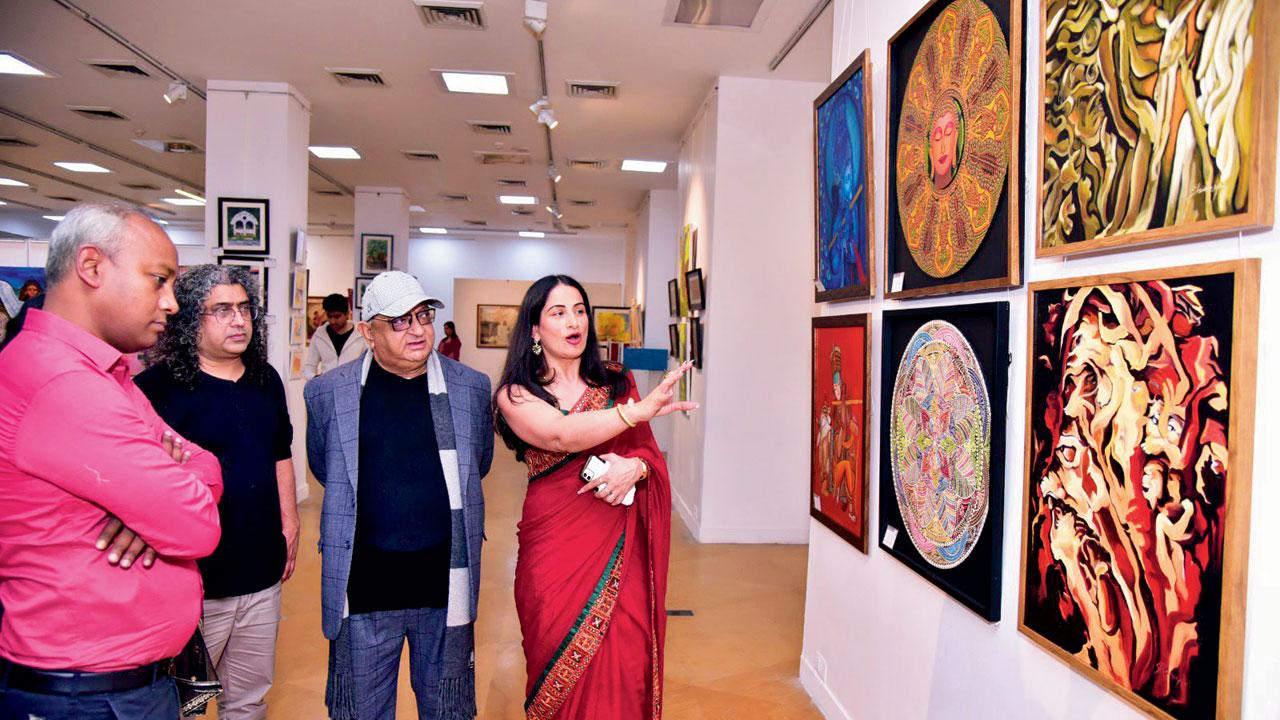 At a previous edition of the art fest in Delhi
Delhi's popular Awadh Art Fest is coming to the city in a grander avatar on February 22 next year. "It is called the India Art Meet," art advisor Rashi Paliwal informed us. Explaining why it was named thus, founder Arka Pradhan (inset) said, "Awadh Art Festival is a smaller event with select artists. This one, however, will be a full-fledged four-day art fair, where artists from across India will gather and attend the various events we've planned."
The events include exhibitions in five to 10 galleries, art walks, art talks, awards and special sessions by city's art experts and connoisseurs. "We are currently accepting applications by artists, and plan on selecting over 100 of them. We're expecting nearly 10,000 people over the course of four days," he added. Those keen to participate, call 9833839951.
Now showing: Picture in picture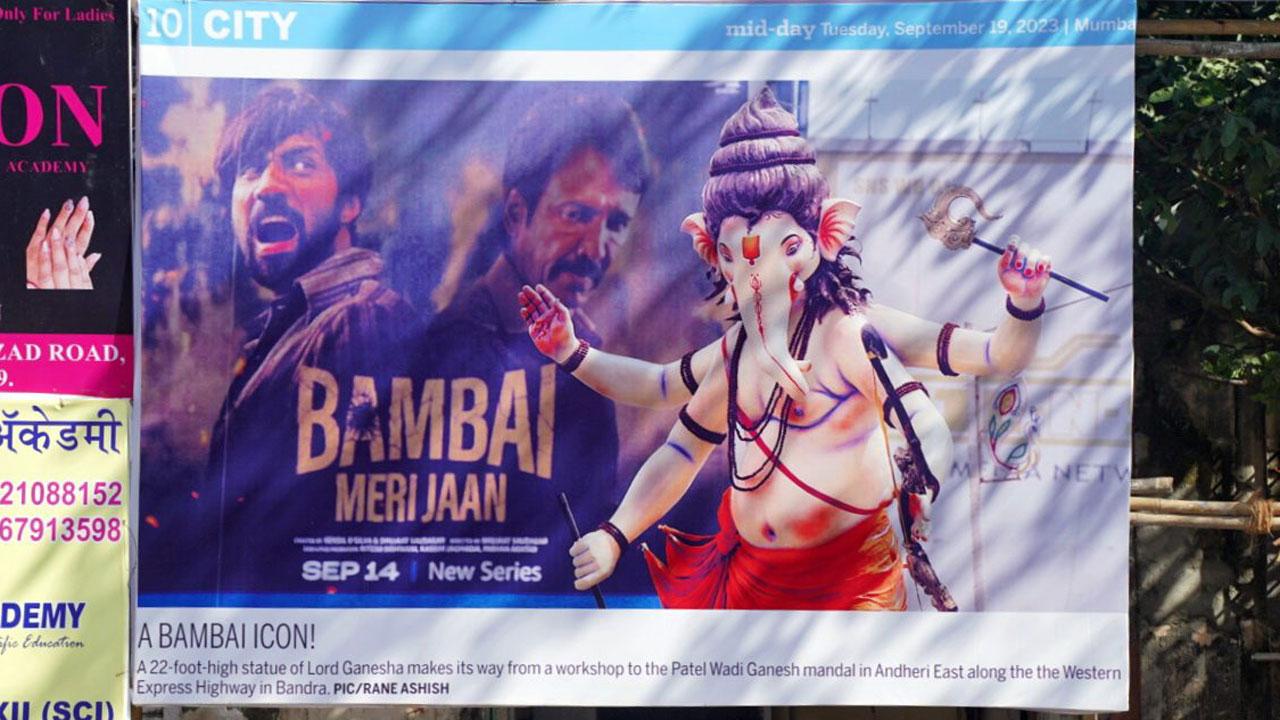 The poster near Chinai College in Andheri East. Pic/Aishwarya Deodhar
Picture in picture was once an oft-used term for TV model ads. This newspaper had featured a well-composed photograph of a 22-feet-tall Ganesh idol the backdrop of a popular web show's poster in its September 18 edition, echoing the city's favourite festival. Recently, we spotted a blown-up avatar of the same image on a poster near a Ganpati pandal in Andheri East. Show-stealer, this.
New tech up their sleeve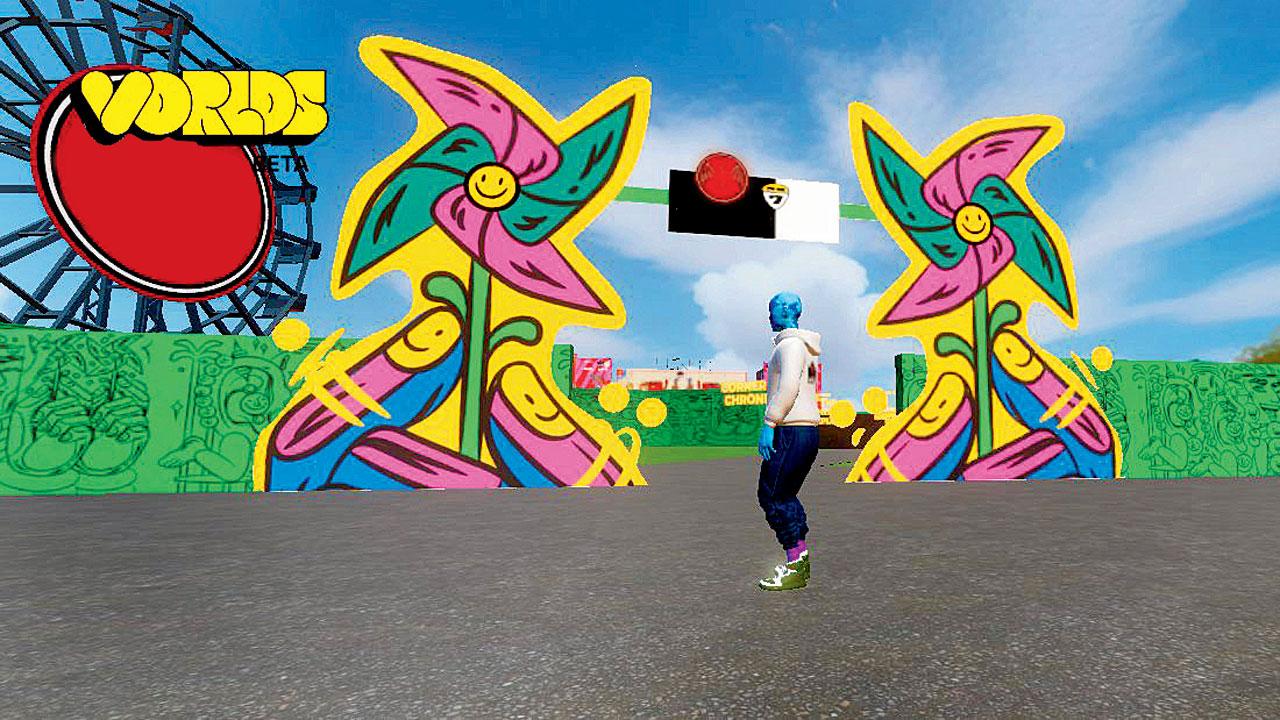 A glimpse of the virtual reveal of the artiste line-up. Pic Courtesy/vorlds.com
The latest announcement of international music comes from NH7 Weekender that will open in Pune this December. The platform announced their first list of artistes through a unique virtual walkthrough on vorlds.com that allowed fans to wander through the venue discovering headline acts. With British rapper and producer MIA headlining the event, the line-up includes prominent names such as the British jazz group, Ezra Collective and the Belgian hardcore ensemble Bear, among others. But the heavy-duty Indian contingent also stands out with the pop band Euphoria, which is set to celebrate its 25th anniversary at the festival. And yet, this diarist was happiest seeing a strong Mumbai connection with The Fanculos, Second Sight, Corner Cafe Chronicles and The Lightyears Explode representing the city's music scene. "The festival is pushing itself this year. I believe there is more to come," Chinmay Patkar, vocalist for Corner Cafe Chronicles, told us. While the familiar city names promised a fun reunion, Shalom Benjamin of The Lightyears Explode shared, "I am most excited about MIA. I have been a huge fan of her music."
Leopard's city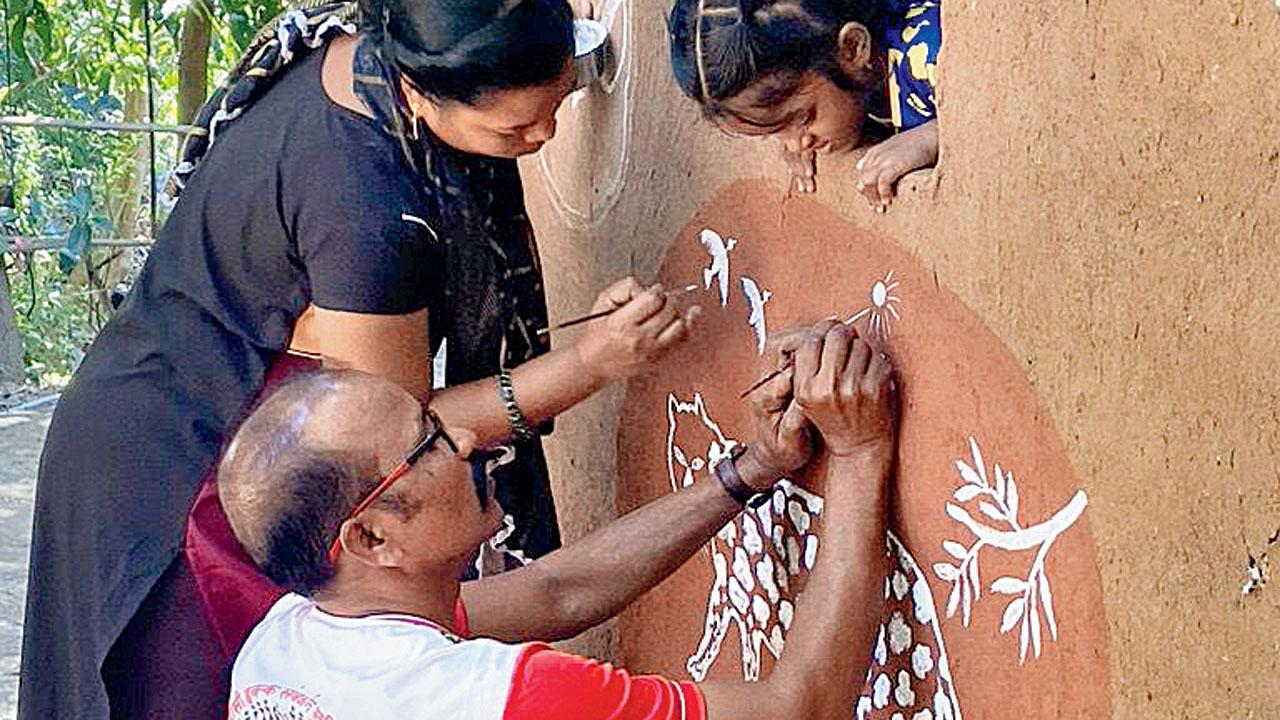 A still from the movie
The city's shrinking forests have presented problems like reduced green cover, human-leopard conflicts and threat to the forest-dwelling communities. Highlighting these issues is The Leopard's Tribe (2022), a documentary that will be screened on Friday at Vikalp@Prithvi (screens movies for free at Prithvi Theatre and online every month). The story is about an Adivasi family that's at the centre of a battle to protect the Aarey Forest. "When I met a few people from the community, I was amazed how they live so closely with nature, and the fact that they even worship the leopard," revealed director Miriam Chandy Menacherry, adding that the story is relatable due to the tree felling for various projects.
"Exciting news! Mid-day is now on WhatsApp Channels

Subscribe today by clicking the link and stay updated with the latest news!"
Click here!