Not just the coronavirus pandemic, other circumstances such as schools being located far away from home, lack of public transport facilities, and poor economic conditions, are also a few of the reasons why children from marginalised communities in Mumbai skip going to schools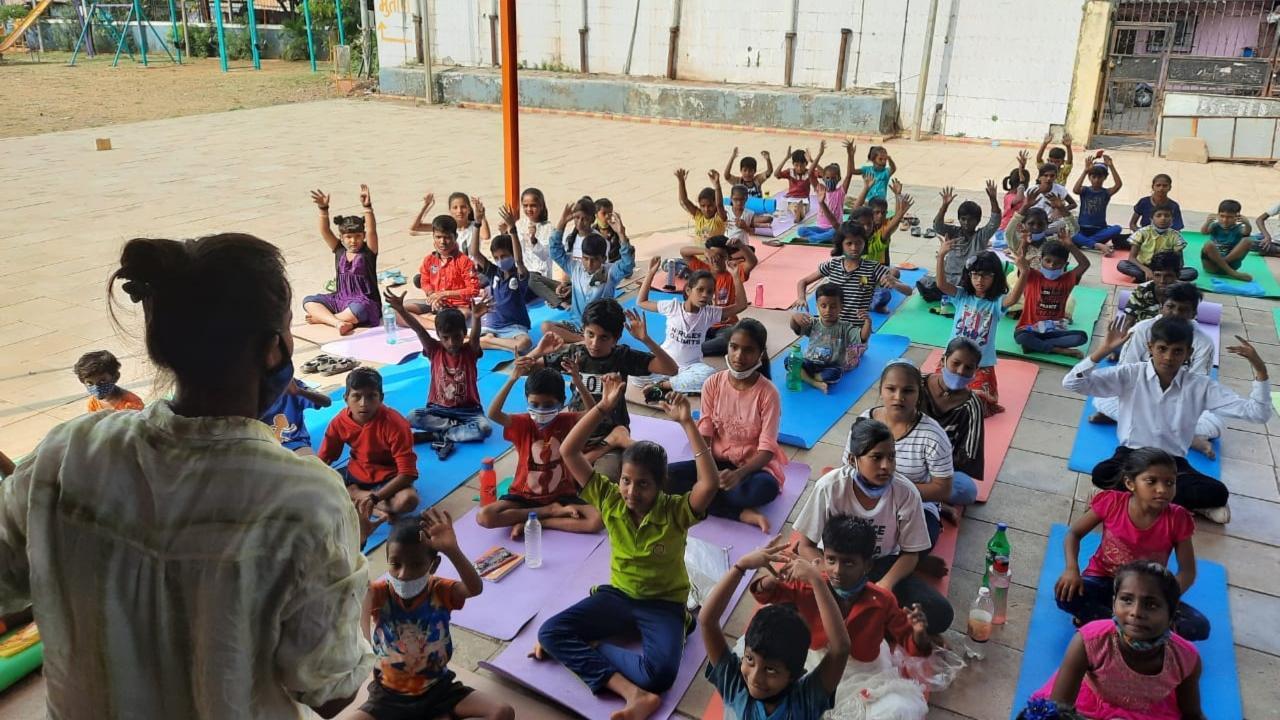 Students studying under 'Mera Sapna' campaign. Pic/Durga Gudilu
When schools shut down due to lockdowns, Siddesh Vasnik tried to attend online classes by using the mobile phone of his neighbour. After a few months, as the neighbour shifted to another house, the 10-year-old missed out on attending online classes. Residing in a small house within an Adivasi pada (tribal hamlet) of Aarey Colony, Vasnik hardly attends school now as he does not have money to travel to school daily which is around 2-3 km far.
"My mom works as a housemaid and to help her, I too go to work on a nearby rice farm. They pay me around Rs 30-Rs 50 depending on the hours of work. During the farming season, rather than going to school, I prefer going to work. I never wanted to leave my education, I love to study and that is why I enjoy attending a community learning school where I can study with my friends. We are all of the different age groups but we study together," says Vasnik, who dreams of becoming a police officer in the future.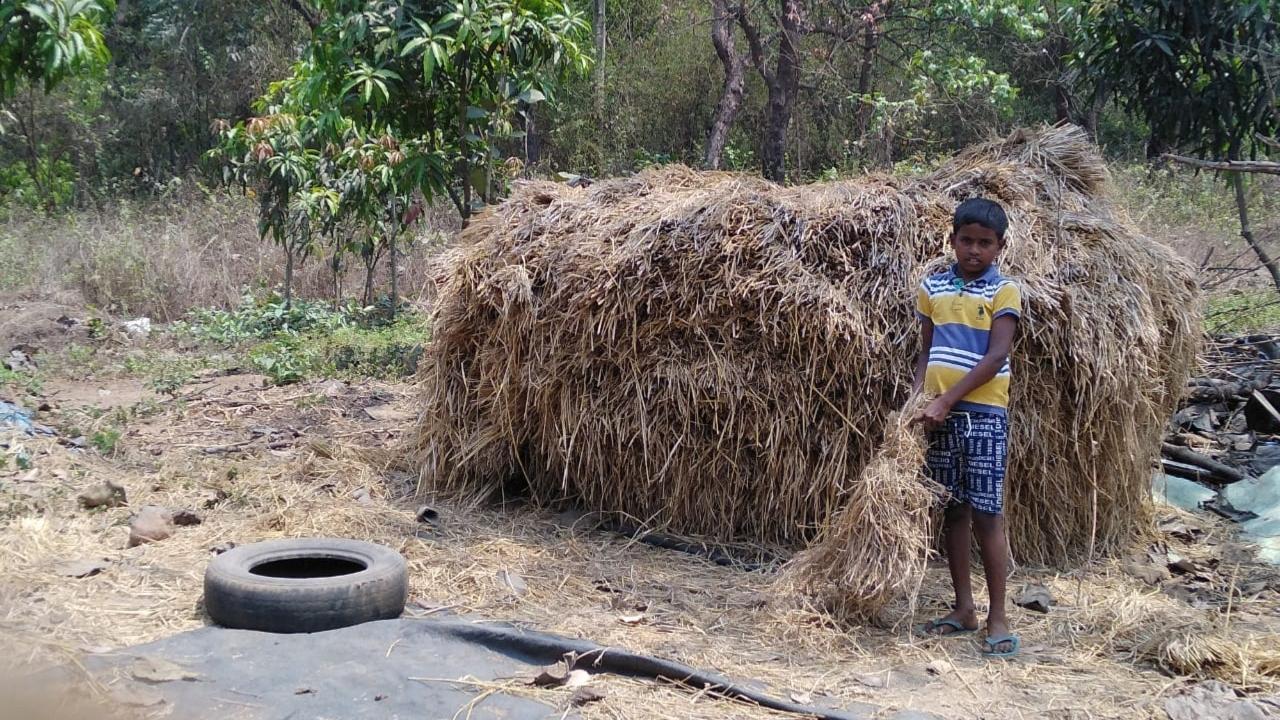 Siddesh Vasnik, 10, resident of Aarey Colony. Pic/Anagha Sawant
A study published three months ago by IIT Bombay Professor Gopal Patil also observed that accessibility to schools is not uniformly divided in Mumbai. There is a gap in public transport due to which schools are not easily accessible to many children in the city. It also highlighted that secondary schools are less accessible than primary schools in some parts of Mumbai.
Not just the coronavirus pandemic, other circumstances such as schools being located far away from home, lack of public transport facilities, and poor economic conditions, are also a few of the reasons why children from marginalised communities in Mumbai skip going to schools. They prefer to study in a community learning atmosphere near their house, where young volunteers visit their area daily to teach them in an open space environment.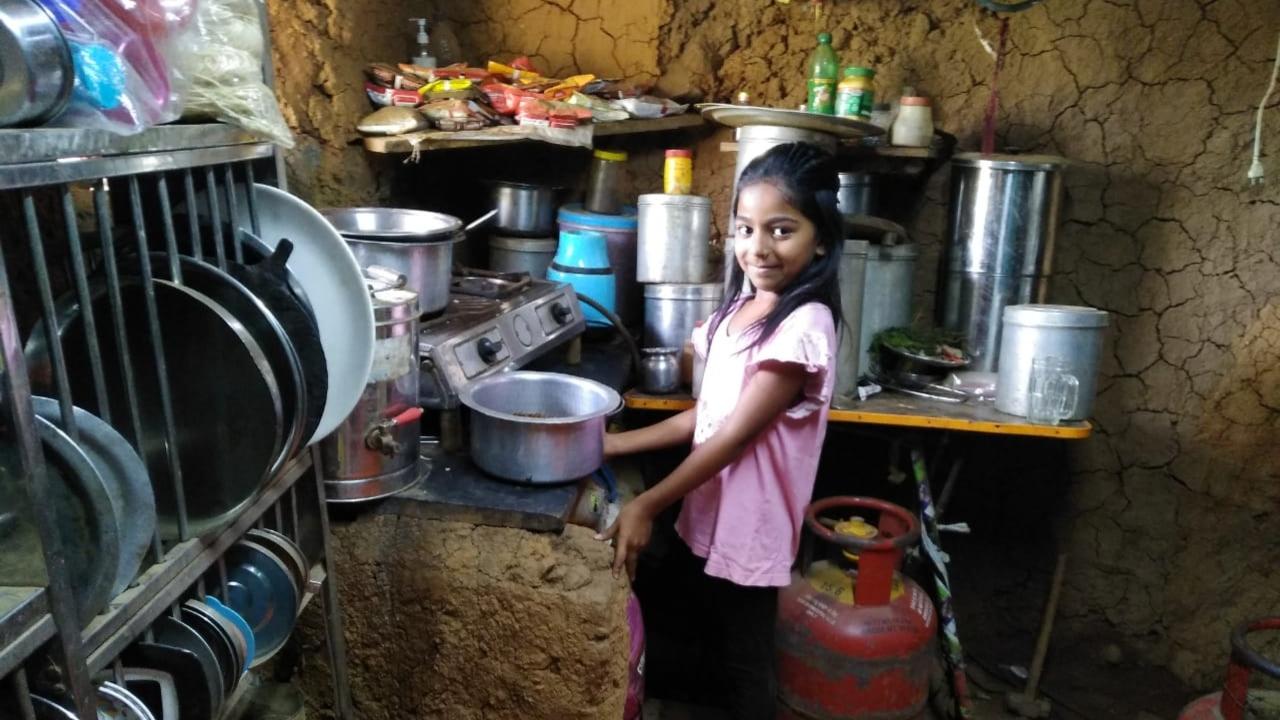 Joya Nadaf, 8, cooking food at home. Pic/Anagha Sawant
An 8-year-old, Joya Nadaf, has a similar story to narrate. A resident of Vanicha pada, rather than attending school, Joya prefers to stay back home and cook food so that her parents go to work on time. "A community learning school is just next to my house. So after completing my house chores, I attend the lectures. The teachers teach us in a free environment and they teach us in practical ways for better understanding."
Around 158 students in the Adivasi padas (tribal hamlets) of Aarey Colony and over 300 students from marginalised communities in Jogeshwari are a part of community learning schools as they can't afford to go to school.
Durga Gudilu, a social activist from the Mumbai-based Vaidu community—a scheduled tribe community—is running a campaign 'Mera Sapna' to encourage students not to drop out of school. Gudilu along with a few youth volunteers is conducting classes for the marginalised community students so that they don't miss out on education. The young volunteers who conduct classes for these students are trying to raise funds to admit them back to school.
Gudilu says, "Many students are involved in child labour. Due to poor economic conditions, the children don't have any option but to work and earn money. In the pandemic, most of the parents lost their jobs. So from the children's perspective helping their parents and earning a livelihood is more important than attending school."
In 2021, according to the state education department's survey, Mumbai recorded the highest dropouts in school amid the pandemic. The survey found that out of the 25,204 students who dropped out, over 8,000 are from Mumbai.
In March, the Maharashtra government issued a Government Resolution (GR) to form a 'Sakhi Savitri' committee across schools in the state to ensure that students are able to resume their education which was hit during the pandemic.
Gudilu adds, "In the upcoming academic year, we are trying to enrol the students back at schools and reaching out to people to raise funds for the students' educational needs and fees. Last year we managed to enrol 80 children back at school by paying their fees through various CSR funds. Overall we have 450 students and we are trying to enrol them back at school in the next academic year."