Around 250 residents have already signed up for a peaceful protest which will be held at 90-feet road on Sunday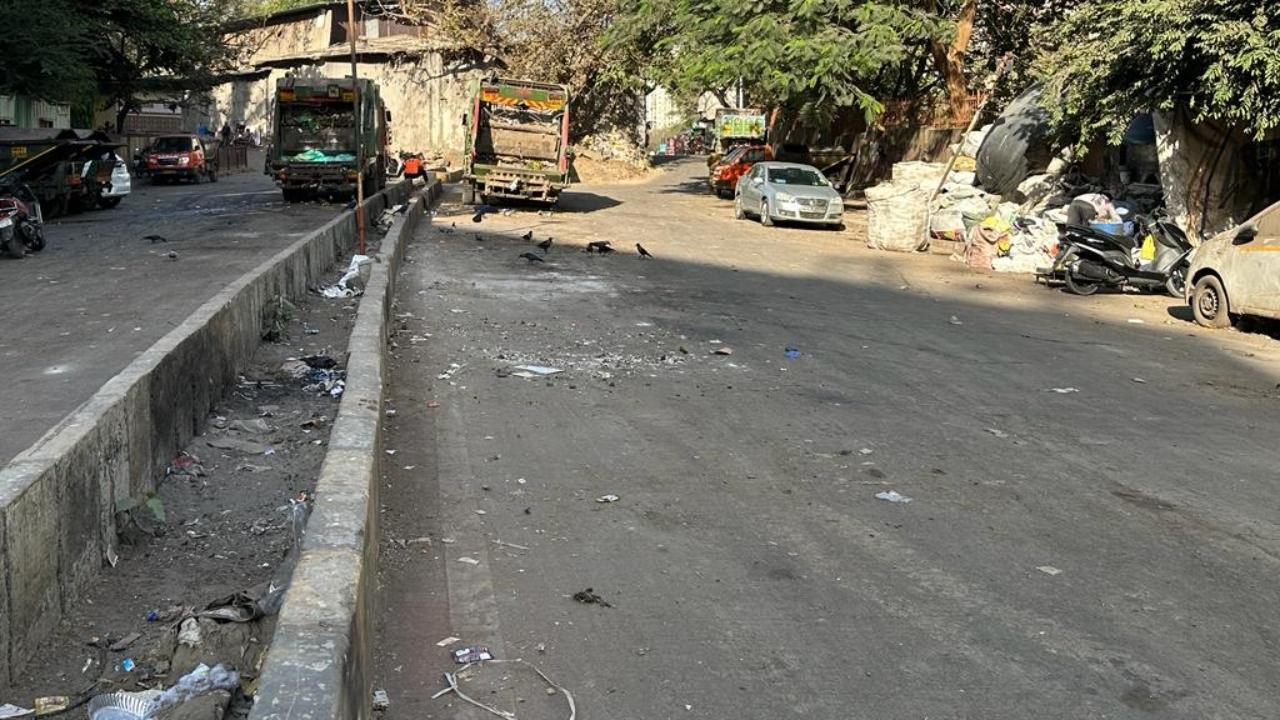 The road in poor condition
Tired of writing emails and approaching Brihanmumbai Municipal Corporation (BMC) for their demands of better roads and pedestrian-friendly footpaths, the Chandivali residents have now decided to stage a peaceful protest on February 12.
One of their demands- the completion of the 90-feet road which will connect Chandivali Farm Road to the Jogeshwari-Vikhroli Link Road (JVLR), is allegedly unheard by the civic body as yet, the residents claimed, saying that rather than showing us the way, we have been asked to enquire at different BMC offices.
Around 250 residents have already signed up for the peaceful protest which will be held at 90-feet road on Sunday.
Earlier, the resident association of Chandivali had also sent an e-mail to Additional Municipal Commissioner P Velrasu with regards to the roads in their area. The e-mail also mentioned that an immediate action on this matter will give some relief to the citizens from the growing traffic problems in the locality.
According to the residents, the proposed 90-feet road in the Development Plan connects Saki Naka and Chandivali Farm Road, it also joins JVLR near Powai.
While the 90-feet road is shabbily maintained, another road - DP Road 9, barely has any footpath to walk on and allegedly has garbage spilled all over the footpath. 
"It is supposed to be a two-lane road, presently only one lane of the road is open for two-way traffic. Moreover, it is encroached on by residents, shopkeepers, and parked vehicles," said Mandeep Singh Makkar, a founder of Chandivali Citizens Welfare Association (CCWA).
Also Read: First AC double-decker e-bus to hit city roads next week, 200 more in March
Speaking about the condition of the 90-feet road, Mandeep mentions that a few months ago, the civic body had constructed the road partially and then stopped the work. Presently, the road has become narrow, there are few shops and garages which started their business and to add more to the problem, it is being used as a free parking space."
He added, "Crores of taxpayer money is spent on building this incomplete road which can be utilised only after full completion of the work."
Highlighting the encroachment issue, another local resident, Pramod Chavan said, "If the road is well maintained by the BMC and made encroachment free, there will be less traffic congestion and a good road connectivity can be built between Saki Naka to Chandiwali to JVLR."
Chavan further added, "Currently, there is hardly any access to footpaths as they are blocked and encroached by residents and shopkeepers. Rather than making the road wider, these roads are getting narrower due to poor maintenance by the civic body."
mid-day.com tried to reach out to BMC authority for comments. But, Additional Commissioner (Projects) P Velrasu was unavailable for a comment.
Besides good infrastructure, the residents demand a single-window grievance system to register civic complaints. While the digital complaints via WhatsApp bot messages and emails are unanswered, the residents feel that a one-point system to file a complaint will make the process easier for citizens. Will the newly created special police commissioner post help Mumbai with better policing?