Thane Raas Rang has roped in Dholi Taro Dhol... composer for its event after long hiatus, as current reigning stars are all fully booked in Mumbai's suburbs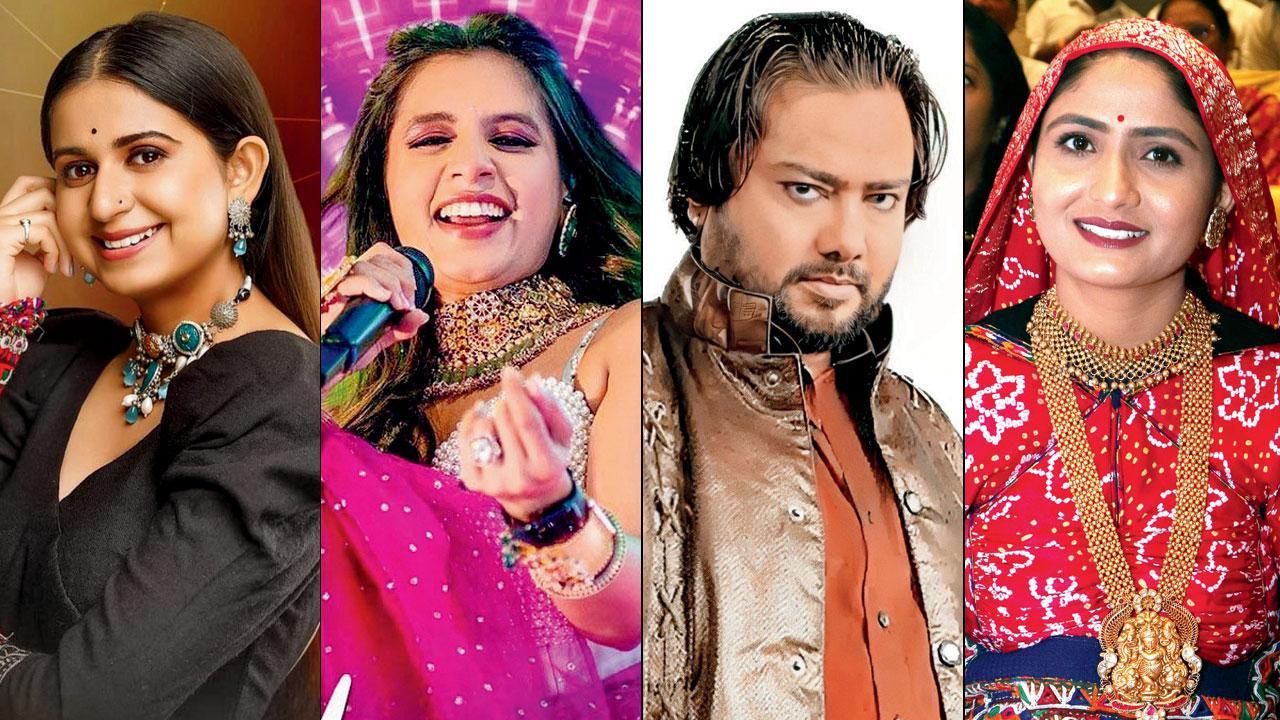 Kinjal Dave, Aishwarya Mazmudar, Ismail Darbar and Geeta Rabari
Listen to this article
Mumbai: Garba jam in Western suburbs gives Ismail Darbar second wind, in Thane
x
Ismail Darbar is set to make a grand appearance at the Ras Rang Navratri in Thane
Darbar is usually selective when it comes to event appearances
In the western suburbs of Mumbai, a total of eight Navratri events will take place
This year, organisers of Navratri celebrations have announced a line-up of renowned artistes who will entertain at venues in the city's suburbs. In addition to the regular big stars, Ismail Darbar—a revered figure with 35 years of experience in raas-garba and dhol—is set to make a grand appearance at the Ras Rang Navratri in Thane.
Big names like Falguni Pathak, Kinjal Dave, Geeta Rabari, etc., Aishwarya Majumdar, Bhumi Trivedi, Preeti-Pinky, Nilesh Thakkar and Tushar Sonigra usually light up the stage with their raas-rasaiyya dance performances. This trend seemed to dominate the Navratri scene in the western suburbs until news broke of big names in the central suburbs of Thane preparing for Navratri. Joining Durbar will be 'Dhol King' Beldi Hanif-Aslam, ensuring that Gujarati communities from Ghatkopar to Kalyan will revel in the Garba festivities this year.
ADVERTISEMENT

Beldi Hanif-Aslam
Jitendra Mehta, the president of MCHI and an experienced Navratri organiser for the past 25 years, has been at the helm of Raas Rang Navratri in Thane for the past five years. This professional Navratri event is the only one of its kind in the central suburbs this year, with six Navratri celebrations planned for Borivali in the western suburbs, and one each in Andheri and Mira-Bhayandar. The music group, led by renowned dhol artist Naitik Nagda, has been entertaining attendees at Ras Rang Navratri for the past five years. However, this year, Mehta did not deny Chief Minister Eknath Shinde's MP-son Srikant his request to have Nagda perform at Dombivli's Navratri. Mehta and his team recently met with Darbar to discuss his participation. 
Darbar, the composer of the hit song 'Dholi Taro Dhol Baje' from the movie 'Hum Dil De Chuke Sanam,' is usually selective when it comes to event appearances. However, he agreed to be a part of Thane's Raas Rang Navratri this time. As a result, the biggest Navratri in Mumbai will be hosted in Thane. The event will take place at the Modela Mill compound in Thane. Artists Nirav Barot, Divya Kumar, Falguni Brahmhbhat, and Rupali Kashyap will set the stage on fire, ensuring an unforgettable experience for their fans.
Also read: Mumbai Diary: Wednesday Dossier
This will be a rare instance that Darbar will host Navratri festivities in Mumbai. He has previously hosted successful Navratri festivals in Surat and Ahmedabad in 2005 and 2007, respectively. Despite receiving numerous invitations to celebrate Navratri in Mumbai and abroad, he is known for being selective and prioritising quality over monetary gains.
Regarding Thane's Ras Rang Navratri, Darbar told mid-day that he always received offers to go on musical world tours, including in Mumbai, but he cannot say yes right away. "However, when the organisers from Thane approached me two days ago, I accepted their request. I felt that this time, we should deliver something better, so I began preparations immediately. People enjoy good music and performers, and I have often collaborated with Hanif-Aslam's music band. So it was only fitting to have his band accompany me for this event. I do not see myself as competing with actors who have been performing at Navratri events in Mumbai for years. We are all part of the music industry and are loved by the people. I hope the people of Thane and the surrounding areas will enjoy our Navratri celebration," he said.
In the western suburbs of Mumbai, a total of eight Navratri events will take place. Falguni Pathak will perform at Chikuwadi in Borivli, Aishwarya Rai Majmudar at a ground near Link Road, Kinjal Dave at Kutchi ground, Bhumi Trivedi at AC Dome, and Nilesh Thakkar and Tushar Sonigra at the Kora Kendra Ground. Additionally, Geeta Rabari is scheduled to perform at BJP leader Murji Patel's Navratri event in Andheri, and Preeti-Pinki will entertain attendees at Shiv Sena MLA Pratap Sarnaik's Navratri celebration in Mira Road. 
"Exciting news! Mid-day is now on WhatsApp Channels

Subscribe today by clicking the link and stay updated with the latest news!"
Click here! Are you going to attend Bandra Fair this year?