The Mumbai Metro One closely works with ADAPT and over the years, they have conducted various programmes in association with them including teacher Training sessions, vocational training of young adults with cerebral palsy, autism, mental retardation, multiple disabilities and learning disabilities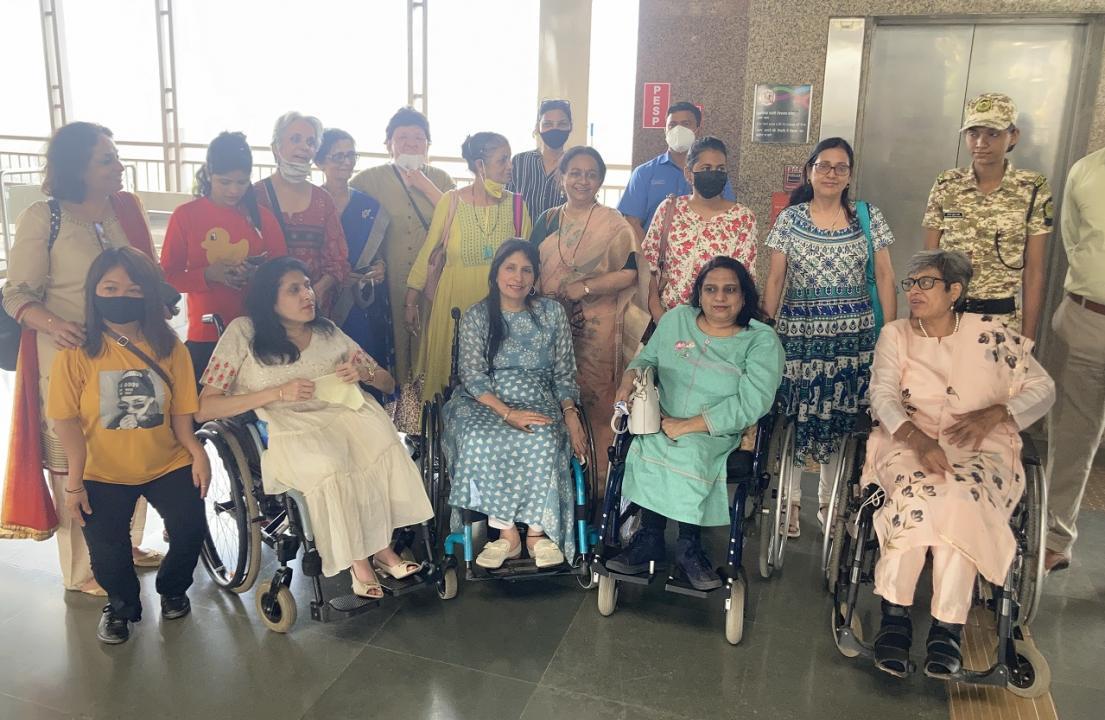 Members of Able Disabled All People Together (ADAPT)
Members of Able Disabled All People Together (ADAPT), formerly the Spastics Society of India, expressed satisfaction with the disabled friendly services of the Ghatkopar-Versova Mumbai Metro Blue Line 1 during a recent visit and tour by the train.
 
"During the Metro ride from Versova to Ghatkopar and back, including refreshments at Azad Nagar Metro station, a group of ladies from ADAPT were hosted at Versova Metro station and made aware of the various facilities Mumbai Metro One provided to specially-abled commuters. The group was astounded to see such the facilities being provided in public transport service in the city. After the awareness session, the group enjoyed the joy ride from Verosva – Ghatkopar and expressed satisfaction seeing the facilities inside the train. A special celebration was arranged at Azad Nagar metro station where Mumbai Metro One CEO, Colonel Shubhodoy Mukherjee interacted with the group over refreshments and felicitated each one in the group on the occasion," a Mumbai Metro spokesperson said.
Also Read: Mumbai: Dussehra rally parking now cause of chaos with Shiv Sena factions
The Mumbai Metro One closely works with ADAPT and over the years, they have conducted various programmes in association with them including teacher Training sessions, vocational training of young adults with cerebral palsy, autism, mental retardation, multiple disabilities and learning disabilities.
 
Headed by Padma Shri Dr. Mithu Alur, the founder chairperson of NGO, the Spastic Society of India – now rechristened as ADAPT – Able Disable All People Together also works in the field of advocacy and awareness and offers support to parents and other professionals.
 
Alur has been a pioneer in the care and education of people with Neuro-Muscular and Developmental Disabilities, like cerebral palsy, autism, Down syndrome and mental retardation. After her daughter, Malini Chib, was diagnosed with cerebral palsy, she realized that the care of people with conditions like her daughter was non-existent in India. Hence, she trained in England and started the Spastics Society of India (SSI) in 1972 and recognizing the work and Dr. Alur's contribution towards the society, in 1989 the Government of India awarded her with the Padma Shri Award. Do you think AC local trains have been a hit with commuters on the western suburbs?