Families hit by job loss, salary cuts in pandemic are ditching private institutions refusing to reduce fees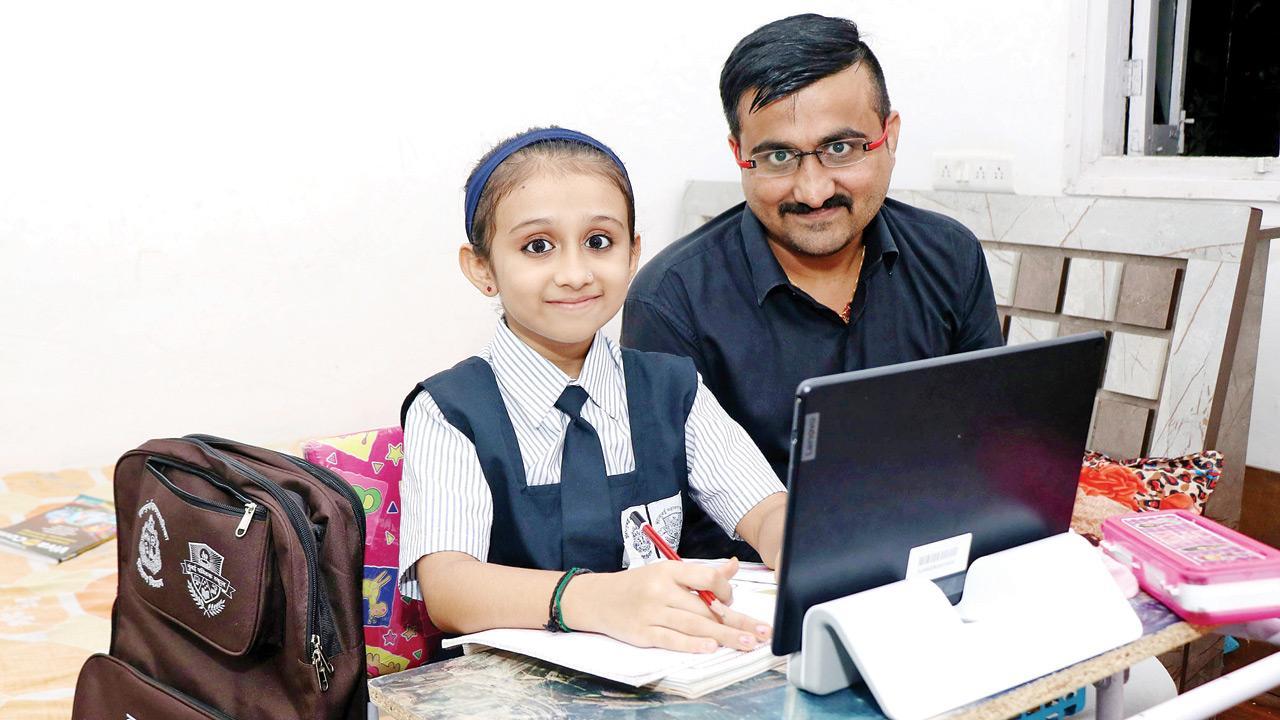 Mulund resident Prahlad Singh Jadeja who has admitted his daughter Bhavyata, 9, to Mumbai Public School in Dadar. Pics/Rajesh Gupta
The row over school fees that started amid the pandemic has taken a surprising turn in the city. Tired of constant pressure and humiliation from private schools, several parents have transferred their children to institutions run by the BMC, which offer free education, scholarships and other benefits. Parents said they are happy, not just because the public schools are free, but they are also providing quality education.
Because of the pandemic and the subsequent lockdowns, thousands of families were hurt financially and many lost their jobs. Though the restrictions in the state have been mostly lifted, many families are still struggling. Parents had been repeatedly seeking relaxations in fees, considering schools did not have to pay for many expenses, like bus. However, their appeals were ignored, and many schools went ahead and hiked the fees.
Most parents had a common perception of public schools -- dirty and lacking good education. However, they visited the civic-run schools in their area and met teachers and other staff, which helped change their outlook.
Prahlad Singh Jadeja, 35, a resident of Mithagar Road in Mulund East, had enrolled his nine-year-old daughter at a private-run CBSE school. She studied there till Std III, but due to Covid-19, Jadeja had to shut his mobile shop for a long time, and his income completely stopped.
'Paid Rs 52k yearly before'
"The school had a yearly fee of Rs 52,000 which I managed to pay last year. But I was worried about what to do this year, as my income has dried up. I heard about this new BMC-run CBSE school coming up just near my house. I discussed this with the parents of my daughter's classmate and they also agreed to shift their children. It has been three months now and I am very happy with the education there," Jadeja said.
Dinesh Pawar from Mulund works a private job and he recently shifted his child to Mumbai Public School (MPS). "Many of my relatives asked why I shifted my child from a 'good' private school to the BMC school. My child's previous school did not have a playground, but BMC school has it along with a lot of other facilities," he said.

Sachin Shinde moved his two daughters out of a private school and enrolled them at MPS, Mulund, after the elder child was blocked from online classes over delayed payment of fees
"Next year, when results of public schools are announced, more parents will transfer their children to corporation schools, not just because they are free, but they have quality education," Pawar added.
'70 kids on wait list'
Amol Deshmukh, headmaster of Mumbai Public School at Mithagar, said, "We really had a good response from parents. Currently, we have a waiting list of 70 children for admission. Though the admission process ended in June, we continue to receive requests. Each and every teacher here is giving their best and that's how its popularity has gone up in the area. Moreover, students are getting a lot of benefits, like free articles and scholarships. We have many parents who have shifted their children from topmost private schools. It's a big responsibility on our shoulders to prove their trust."
"I am a teacher, but still can't afford a CBSE school for my children. In June this year, when I heard about these schools, I immediately took the chance and shifted my son, who is in Std VI, to Mumbai Public School in Chikuwadi. The standard of education here is excellent and their personalised learning is also helping him," said Devansh Dubey.
'50 made move in Bhandup'
In Bhandup alone, 50 parents have already moved their children to public schools. One of them is Shwetha Pawaskar, who shifted her daughter, a Std VI student, to MPS Bhandup. "The last school hiked the fees to Rs 3,100 from Rs 2,900. I was not facing any monetary issues, but the way the school was treating parents was awful. The school blocked students who didn't pay fees. I couldn't take it. So, I moved her to public school."
"I have no regrets, as the education is wonderful and my daughter is enjoying it. Many parents think children will get spoiled in public schools. They need to change their mentality," Pawaskar added. Amol Rane, a resident of Datar Colony in Kanjurmarg, said his daughter, who just passed out from Std IX, was studying at the same school from where he had passed out. "But the way the school used to treat parents for non-payment or delayed payment of fees was awful. I shifted my daughter to the public school and it has been only a month, but I am happy with her progress. Time has come for everyone to rethink the definition of a 'good school'," he added.