Borivli housing society complains to MHADA and police about local school gobbling up huge public playground for its own private use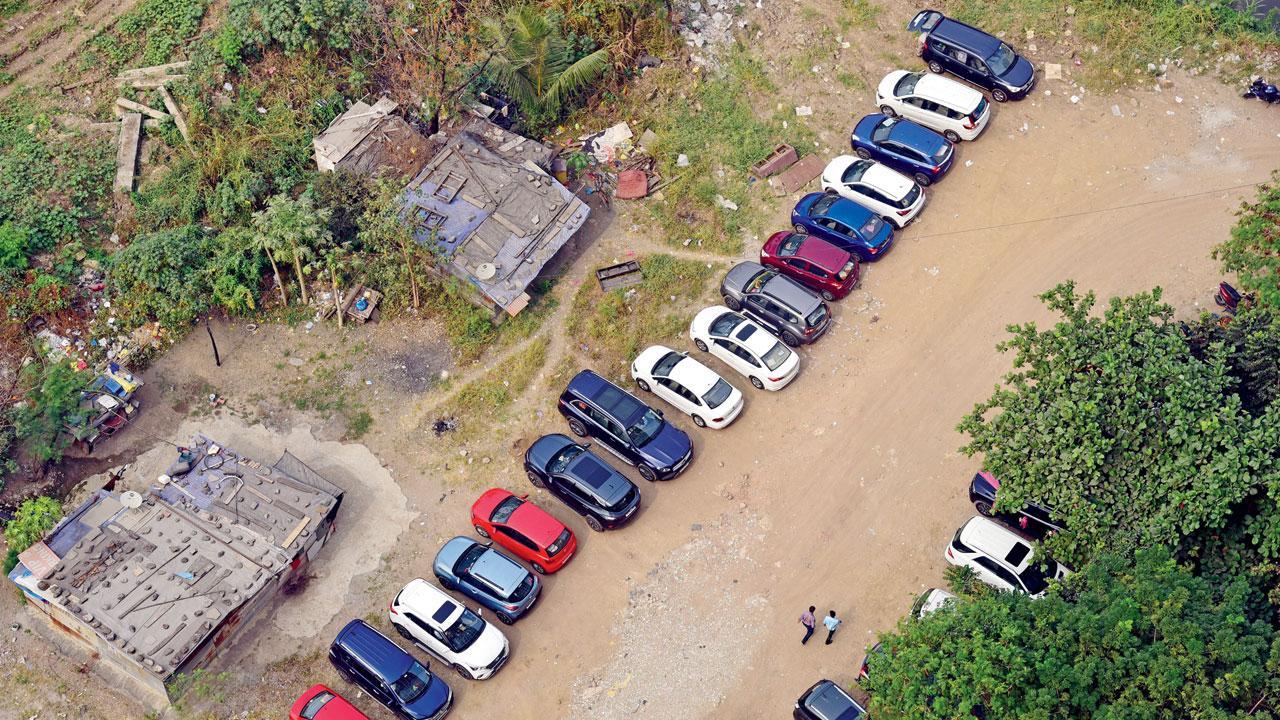 The ground that Witty International School is using as a parking space. Pic/Nimesh Dave
A Borivli society has accused Witty International School of using a reserved sports ground as a parking facility. Society members alleged that the school has also erected a gate at the ground, locked it and has deployed security personnel and valet as well. School authorities accepted that they sometimes use the ground to park vehicles. They added that the gate was installed for security purposes, as some miscreants allegedly consume alcohol and drugs there. Residents of Paradise Heights, a Maharashtra Housing and Area Development Authority (MHADA) society, have also sent a copy of their complaint letter to local politicians. mid-day has a copy of the letter.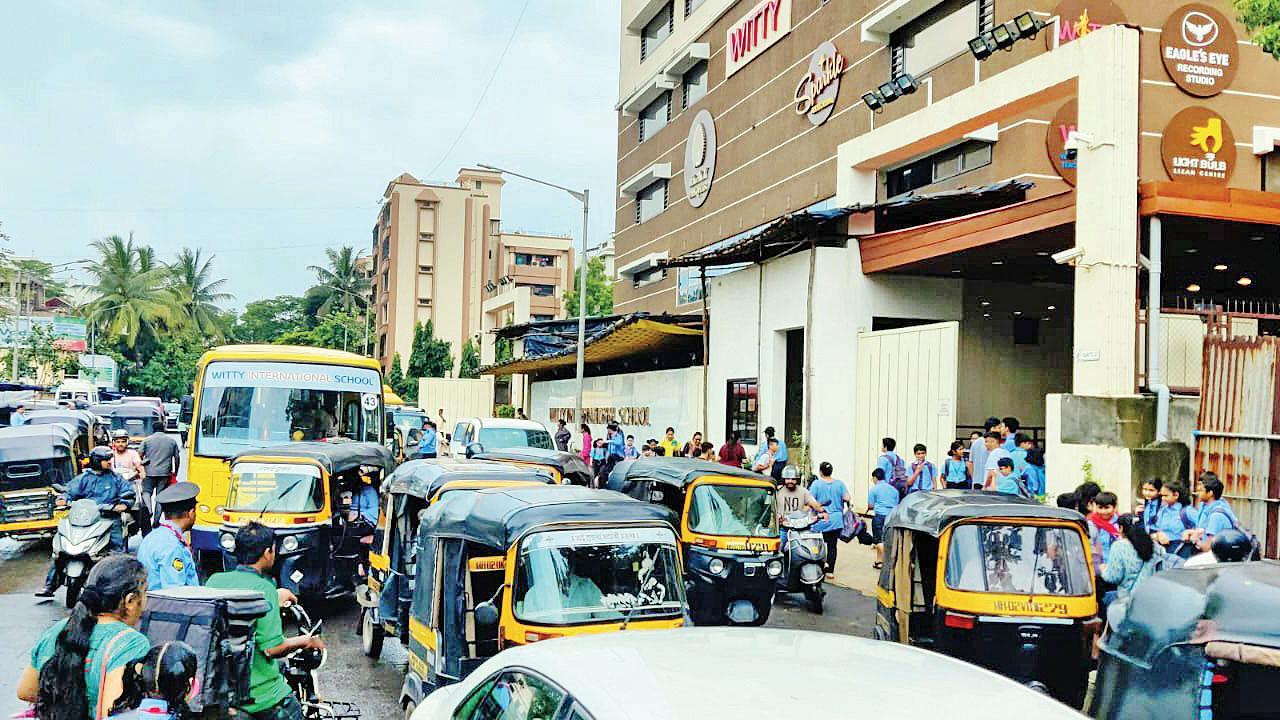 Traffic congestion outside Witty International School
The plot in question measures around 48,000 square metres and is adjacent to the society in Chikuwadi. Residents also alleged that the school which lets out its hall for banquets also uses the ground to park not just their own vehicles but also of the guests during such events.
Also Read: Mumbai: Illegal office in Malad's tallest high-rise razed
Illegal takeover: society
Society member Rohan Kantak and his wife Sanchita Kantak told mid-day, "The school authority has taken over the land which used to belong to MHADA and was handed over to the Taluka Krida Adhikari Kurla in 2012. The school is also blocking the road leading to the ground, which is also the road we need to take from our society to the main road. Our kids face difficulties in getting their school buses because of the traffic congestion. The school authority also intentionally targets us and our cars if they are ever parked on the road. These illegalities should be dealt with and the land should be used for its actual purpose. So, we have written to MHADA, traffic cops and local politicians."
Shreedhar More, 49, a resident of Paradise Heights, said, "This ground has been for a sports complex, but Witty International School has been using this land for parking vehicles for over two years. They behave like they own the land and don't even let us enter the ground."

Security guard and valet posted by the school near the gate of the ground. Pics/Nimesh Dave
Dharmendra Jadhav, society secretary who wrote the letter, said, "The school encroached this land and is using it for parking vehicles despite having parking space in their own premises. They are also using the public road, leading to congestion which is creating nuisance for us, the society members. This plot is meant to be a playing ground. If MHADA or Taluka Krida Adhikari Kurla don't need it, they should let us maintain it and use it for the purpose it was meant for."
Society committee member Devang Turakhia said, "This is a school zone area but they are not managing traffic properly. We have written to traffic police and the police station earlier, too, but did not get any response. As this land belongs to the sports authority, it should be reserved only for that purpose. MHADA should intervene in the matter."
'Didn't take permission'
When mid-day contacted the school, Sourabh Jain for Witty International School said, "We use this ground only sometimes, not regularly. We know this plot belongs to the Taluka Krida Adhikari Kurla and have not taken any permission from them. But we installed the gate, as many used to consume alcohol and drugs here, which is clearly visible from the school. It was impacting the students and many parents also complained to us. We have locked the gate for safety purposes and are not allowing any suspicious people inside."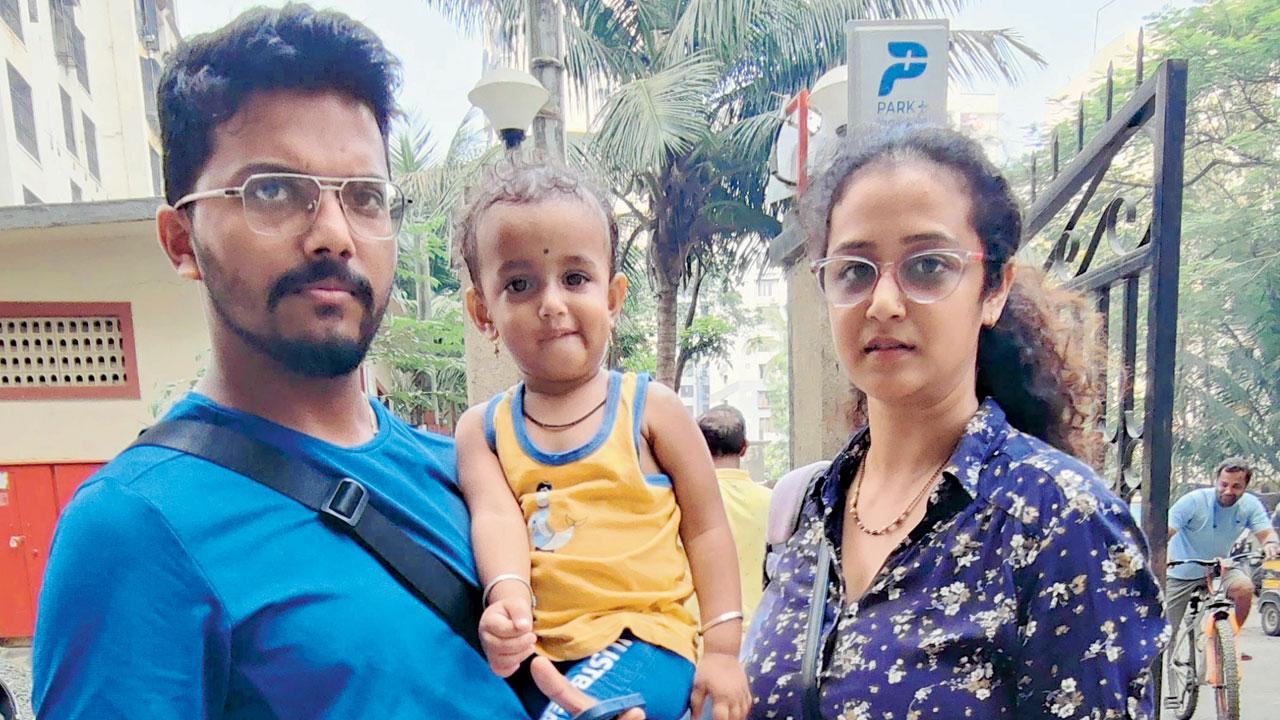 Rohan Kantak, a society member
Speaking on the issue of traffic, he said, "We kept around 25 security guards outside our school for this purpose and to manage the traffic. We are not creating traffic nuisance. It is the society residents who are making traffic nuisance by parking vehicles in front of the school. We even spent money and created speed breakers outside school for safety purposes."
However, Vinay Jain, owner of the school, said that they do not use the ground for parking. "We are not using this ground for parking vehicles, but we kept security guards at the ground so that nobody uses this ground for any bad purpose such as consuming drugs and alcohol. We want our kids to be safe inside and outside the school. Students' safety is our priority. The residents are giving false information and are complaining about us falsely."
MHADA speak
Amol Chaudhari, deputy chief engineer of MHADA Borivli division, said, "This plot, which is around 48,000 square metres, used to belong to MHADA but we handed it over to the Taluka Krida Adhikari Kurla in 2012 to make a sports complex for the public. It can be used to make a stadium, play grounds, running tracks, Kabbadi or any other sports."
As per information, the land was handed over to Taluka Krida Adhikari Kurla on August 27, 2012. There was supposed to be an open auditorium, 400-metre running track, Olympic-size swimming pool, astro turf hockey ground, different courts such as handball, kabaddi, kho-kho, volleyball, long tennis, as well as kids playing ground and club house.
MP Gopal Shetty had, on November 31 this year, written to the state sports and youth welfare minister asking that the work for the sports complex be started soon as the land had been lying unused for eight years. The MP had also mentioned that this land should not be encroached upon by anyone by erecting walls or boundaries. mid-day has a copy of the letter. mid-day's attempts to reach Shetty went unanswered.
2019
Year since when the school has allegedly taken over the land Do you think the Maharashtra-Karnataka border dispute can be solved anytime soon?