Evicted last year, many are rendered homeless while others struggle to pay rent for new rooms, as there's no progress in redevelopment of their old GTB Nagar homes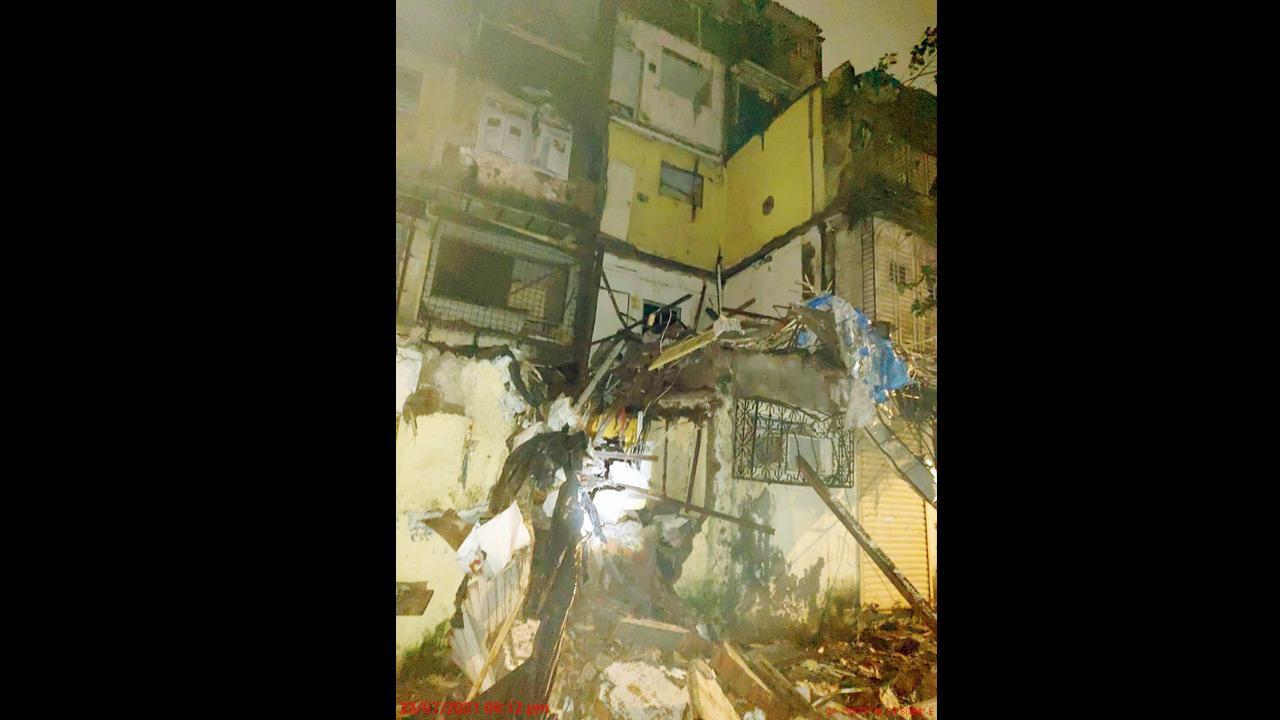 A collapsed extension of a building
It was a second exodus of a kind for nearly 1,200 families from 25 buildings at Guru Tegh Bahadur (GTB) Nagar, built post-partition for refugees from West Punjab (now Pakistan), when they had to leave their dilapidated homes last year. With no progress in the redevelopment plan, the evicted residents of 25 buildings are now struggling to find shelter.
Their houses were declared unsafe several years ago and the residents started to leave last year. However, 125 of them returned later after failing to find an affordable place to rent. They lived in their old homes despite the threat to life, and even though water and electricity connection were disconnected. Last week, authorities visited the site and finally removed those people and started tearing down extended portions of the buildings. mid-day had in the past carried a series of articles, from the time the buildings were first declared unsafe nearly 20 years ago till the authorities started warning the residents of 1,200 flats.
ADVERTISEMENT
Unable to afford rent
Harbachan Kaur, 88, and her four unmarried daughters, who lost their jobs as tuition teachers during the pandemic, shifted to Kamothe, a remote location near Pavel, as they couldn't "afford a minimum rent of Rs 20,000 and a hefty deposit in Mumbai."
Rajni Tandon, 63, who shifted to Tilak Nagar, Chembur, around nine months ago said she along with other women had begged the BMC officials to make alternate arrangements for the poor families, many of whom are of taxi drivers.
Also read: Mumbai local trains for all? Not yet, says Uddhav Thackeray


Workers demolish an extended portion of a building last week
Widowed in 2012, Rajni took up sewing to support her 23-year-old son's education and her mother-in-law. Her son was in his final year engineering course when they had to vacate their house. Parvesh, 58, said his family had seen the worst time when his late father suffered a huge loss in the taxi business and he helped his blind grandmother deliver milk at doorstep. "The situation improved drastically when I got a job in a suburban five-star hotel and later in London. I would send lakhs of rupees to the family to renovate the house then. Now, I can't even send pocket money to my daughter, who is studying to be a teacher. No one had expected that I, the sole breadwinner, would be jobless and under a debt of nearly Rs 6 lakh, and borrowing from friends and family." The family is struggling to meet the daily expenses and pay a monthly rent of Rs 25,000 for their room in Tilak Nagar, said his mother Sunita Gawri, 80. "The landlord may soon ask us to leave." The situation of many of these residents are too bad. While speaking to this reporter, one of the evicted residents requested if his family could stay with him if he had a room to spare.
Failed redevelopment plans
Baldevraj Chona, 49, said since 2001, nearly five builders had come forward for redevelopment and some even distributed up to R1.25 lakh to 800 families so that they could obtain a sanat, which indicates a clear title over their property. But, they're yet to make any progress.
"We cannot totally blame the builder lobby, as there is a lack of consensus among the members. The redevelopment is only possible if the state government intervenes and formulates strict guidelines to give a positive solution to nearly 10,000 residents rendered homeless," said Chona.
Seeking MHADA's help
Sunil Vigian, a resident, said the first step forward would be to regularise their buildings, so that they can form a federation of societies of GTB Nagar. "In March, I had received a response from MHADA stating they have appointed an architect who presented survey and feasibility report of all our buildings to the executive engineer."

The BMC notice about the building having been sealed
Prashant Dhantrak, executive engineer, MHADA (city), told mid-day that they had appointed an architect to prepare a basic feasibility report for redevelopment. However, "it's a lengthy process. If we are entrusted with the responsibility of redevelopment, the land has to be first transferred in MAHADA's name. The state government will have to first decide and subsequently give us special permissions for cluster development or any other suitable mode of operation." 
Local MLA Captain R Tamil Selvan said, "Today, there is a total disarray as builders are coming and going. A solution has to be found fast."
Ganesh Billale, the assistant commissioner of F North ward, confirmed that the building had come under C1 category, which makes them beyond repair and need to be demolished urgently. "We are duty bound to ensure that the buildings are evacuated after disconnecting the water and electricity, and the same was done last week. The rehabilitation of the families does not come under our preview, as the state government has already given permission to all building to form individual societies and redevelop them with any builder of their choice".
1,200 - No. of families evicted from 25 buildings in GTB Nagar