To empower girls in rural India, IIT Bombay's WiSE programme creates opportunities in STEM education, organises a 5-day mentorship programme for 160 Std IX girls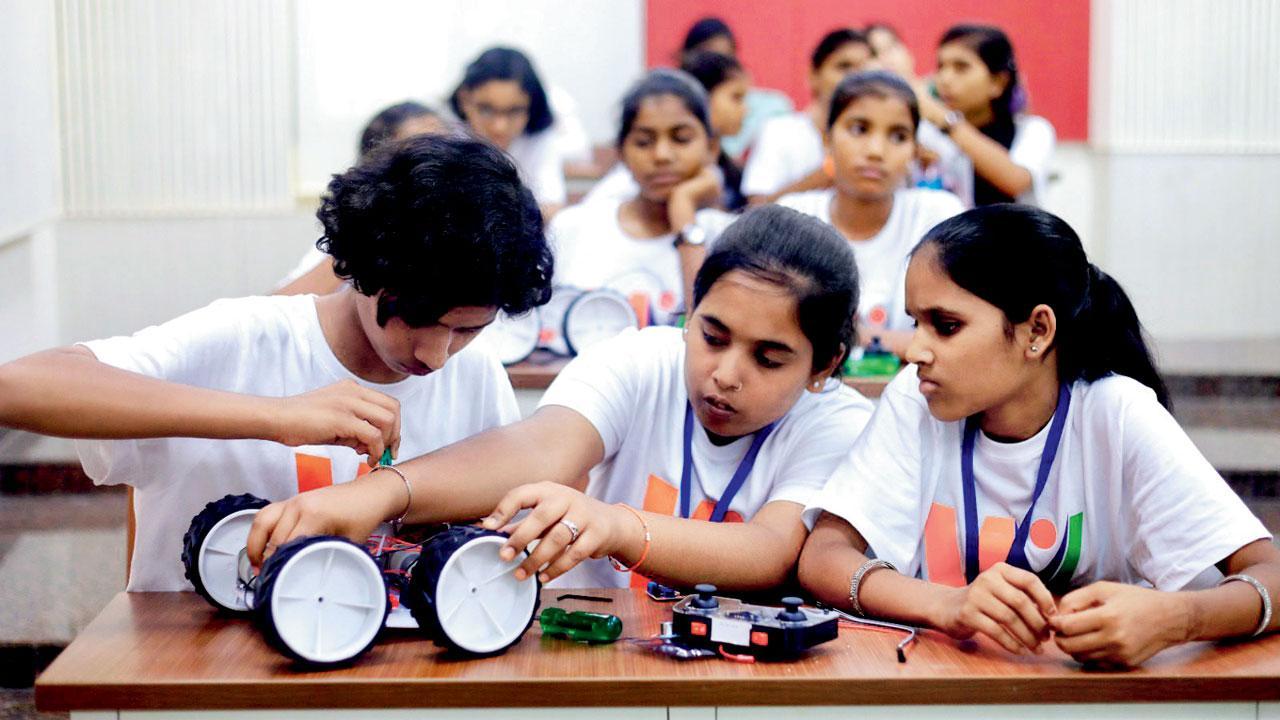 The ninth-grade girls building rover robots
A persistent gender gap has existed for years in science, technology, engineering, and mathematics (STEM) disciplines worldwide, affecting all levels. To address this issue and encourage more girls to pursue STEM, Professor Rajesh Zele of IIT Bombay, along with a team of student volunteers, initiated the Women in Science and Engineering from Rural Parts of India (WiSE) programme.
During the five-day mentorship programme held on the IIT-B campus, 160 Std IX girls from rural areas of Maharashtra, Bihar, and Odisha had the opportunity to engage in a range of hands-on activities. IIT-B launched the programme to inspire girls from rural India and generate enthusiasm for STEM subjects. The programme includes mentorship from accomplished women achievers and academicians.
ADVERTISEMENT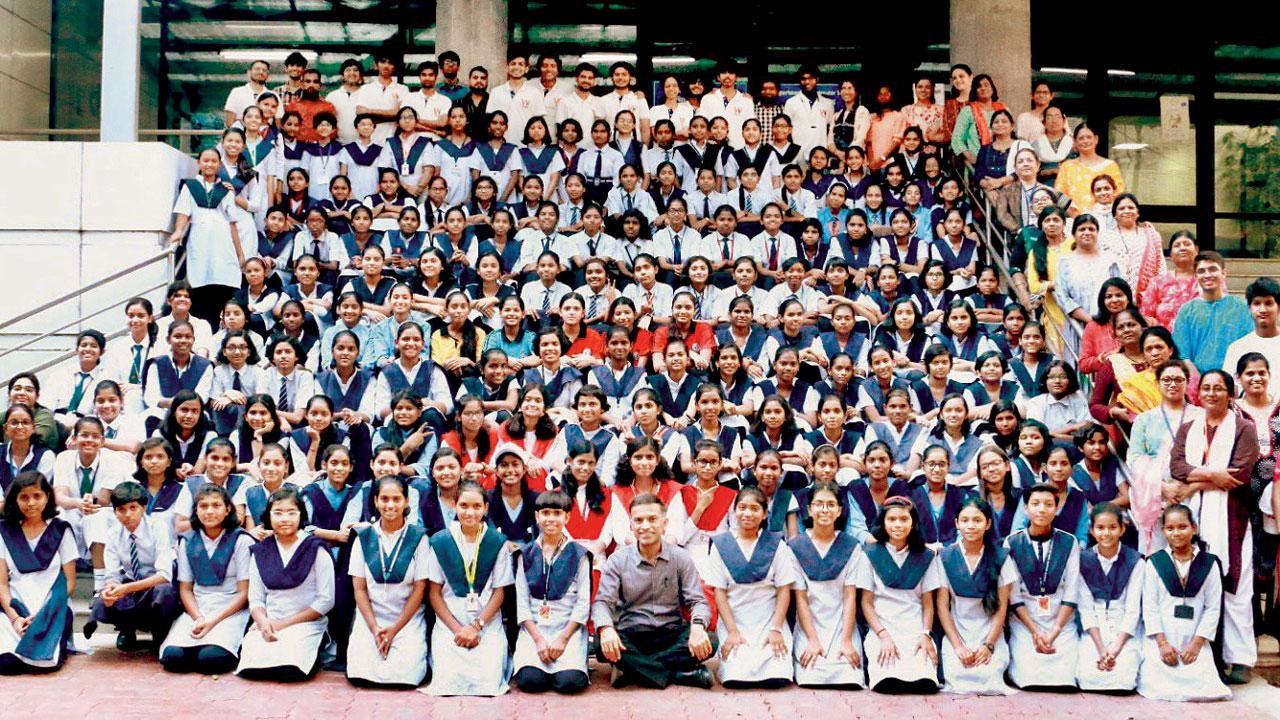 The 160 girls who participated in the five-day WiSE programme organised at the Indian Institute of Technology Bombay
In the week of May 22, 2023, 160 girls from 40 schools, accompanied by their science and maths teachers, arrived at IIT-B. Out of the 40 schools, 34 were from Maharashtra. Professor Rajesh Zele from the Department of Electrical Engineering at IIT Bombay shed light on the programme, stating, "The girls experienced campus life at IIT-B by staying in Hostel 15 for five days. 
During this time, they followed an intensive schedule from 9 am to 7 pm, engaging in various activities. Over 70 student volunteers from IIT-B ensured the flawless execution of the entire programme. Each day started with interactive discussions with women inspirers from diverse backgrounds and professions."
Flying high
The programme allowed each girl to participate in exciting hands-on experiences using kits developed at the aiCAS (Artificial Intelligence Circuits and Systems) Lab. They progressed from building simple light bulb circuits to more complex FM radios in the first two days. Subsequently, they constructed circuits controlled by microprocessors, introducing them to programming. On the fourth day, the girls built remote-controlled rover robots from scratch. The grand finale involved building small drones that each girl had the opportunity to fly. Professor Zele expressed the joy of witnessing the girls' excitement as they flew the drones they had built themselves. Additionally, the girls learned how to solve the Rubik's Cube, with the majority achieving success within five minutes.
The women inspire
The programme included interactions with women inspirers who shared their stories and experiences. Savita Dakle, a pioneering woman spearheaded the organic farming movement among women, narrated her journey from being an SSC dropout to leading a million farmers across India by providing insights online. Sneha Kulkarni, the first woman air force helicopter helicopter pilot, shared gripping tales from her flight experiences. Psychologist Dr Minal Joshi addressed mental health issues faced by adolescent girls in a detailed Q&A session.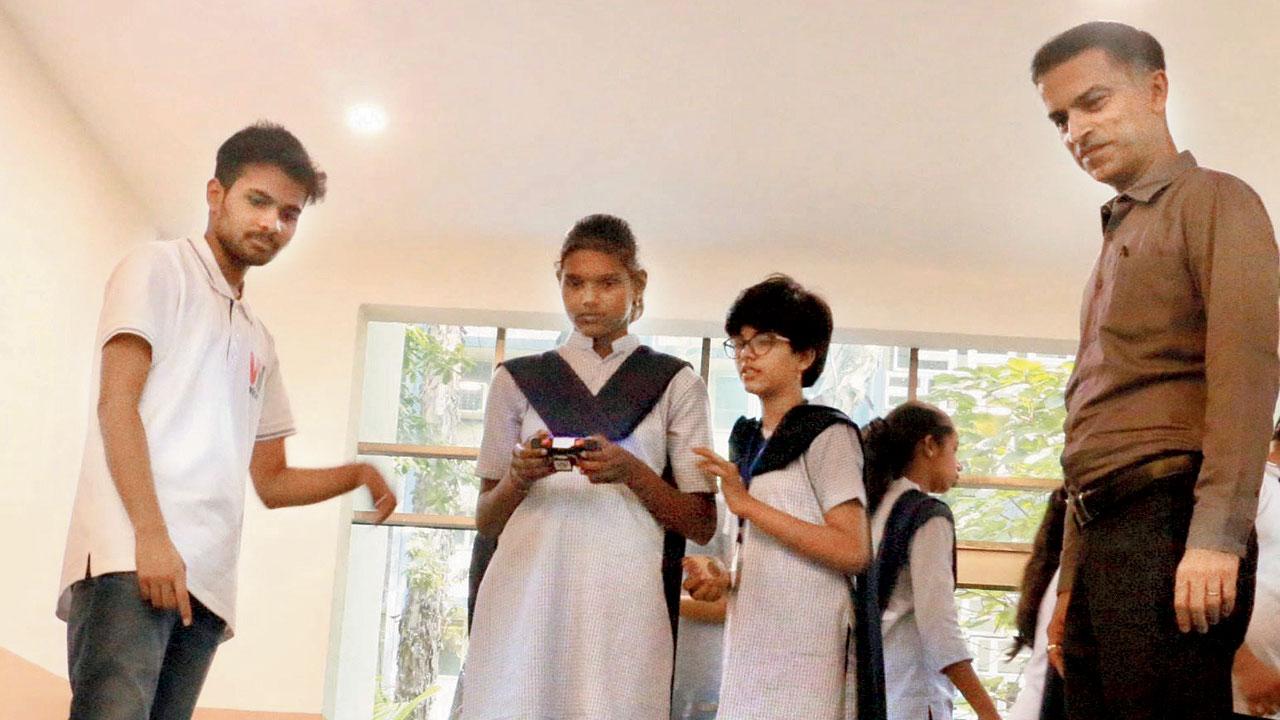 Participants attempt to manoeuvre small drones
Microbiologist Mugdha Belwalkar conducted enlightening chemistry experiments, while Manisha Giri shared her poignant journey of making career sacrifices to become a successful Super 30 primary teacher. Maths wizard Professor Sivganga Udhan highlighted how her love for math sustained her through challenging times. Professors Sandhya Sreekumar and Supriya Poduval Pal broke the stigma surrounding menstruation and encouraged young girls to speak up about this issue. Dr. Zehra Husain, the first woman neurosurgeon in a male-dominated field, shared her experiences and also showed a recorded brain tumour removal surgery. Valentina Grieco, who came from Milan, Italy, shared her life experiences, offering the girls exposure to a foreign culture.
Professor Zele said, "There are multiple factors that led to this initiative. The science and engineering disciplines in India are known to be male-dominated. While there is almost equal participation from men and women in K-10 education, higher education in rural areas heavily favours men. Cultural expectations and societal pressures often lead women to give up on further education and careers, prioritising early marriage and starting a family. While working and teaching at IIT-B, I observed that only around 10-15 per cent of research students were women. I wanted to make a difference."
He added, "During the pandemic, I was invited by Navodaya Vidyalaya Samiti to give a talk to Std IX students from one of their rural residential schools in Mysuru. It was an eye-opening experience. It made me think about what I could do to guide and support these girls." Professor Zele approached the commissioner of Navodaya Vidyalaya Samiti with his idea, and the Samiti, instead of selecting the top-performing students, chose those who faced academic challenges and lacked support. This marked the beginning of the initiative.
"These 160 girls and their teachers, who participated in the sessions, will now return to their villages and share their experiences and knowledge with other students in their own and neighbouring schools. They have learned about electronics, biology, design, and more. We plan to conduct online sessions for these girls every quarter," he said. Professor Zele encouraged students at IIT-B to mentor and support these girls academically in the long run. If any of the girls face financial difficulties during their academic journey, IIT-B will provide assistance to ensure their education continues uninterrupted. 
160
No of girls who participated in the WiSE programme at IIT
"Exciting news! Mid-day is now on WhatsApp Channels

Subscribe today by clicking the link and stay updated with the latest news!"
Click here! Will you take intranasal vaccine as a precautionary dose?