They were told to mail their concerns regarding the underground parking lot below a part of Patwardhan Park by today, which BMC has assured of replying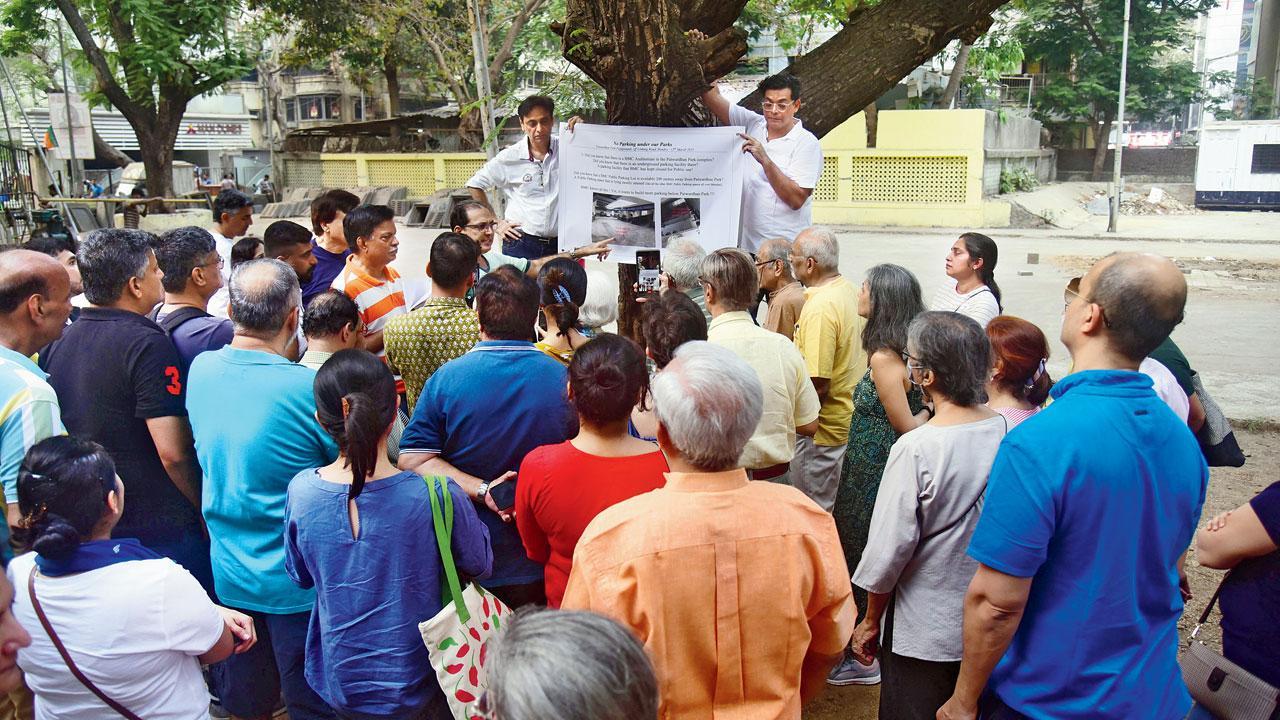 Residents of Bandra meet regarding the BMC's underground parking project at Patwardhan Park. File pic
Bandra residents and activists again raised their concerns and objections regarding the construction of a parking lot under Patwardhan Park during a pre-bid meeting on Thursday. Initially, BMC officials were not ready to involve the residents, as the meeting was only for bidder. But then they were allowed to speak and asked to email their concerns by today. BMC officials have assured them of a reply to their queries by email.
The Brihanmumbai Municipal Corporation (BMC) has floated a tender worth Rs 75 crore for an underground parking lot for 228 cars beneath a part of Patwardhan Park in Bandra west. Though a few people support the parking lot, others oppose any construction under open spaces. The BMC held a pre-bid meeting - where interested bidders could get a detailed idea of the project and could solve residents' doubts - on Thursday and 13 representatives from the group of residents opposing the lot attended it. Vivek Kalyankar, deputy chief engineer, traffic and Sanjay Jadhav, executive engineer, conducted the meeting. Initially, the BMC officials were not ready to allow local residents in a meeting held for bidders for three underground parking projects and were ready to hold a separate meeting. But residents were allowed to put their side before prospective bidders later.
ADVERTISEMENT
Also read: Patwardhan Park: Key meeting put off a second time
BMC may modify plan
"We had already raised our objections to the BMC through email but we wanted to put them in front of the prospective bidders to know what they are going to do," said one of the participants. Activist Zoru Bhathena pointed out that the Development Control and Promotion Regulation (DCPR) doesn't allow 3-level underground parking as shown in the drawings in the tender document. Officials from the BMC said that they are ready to modify the plan.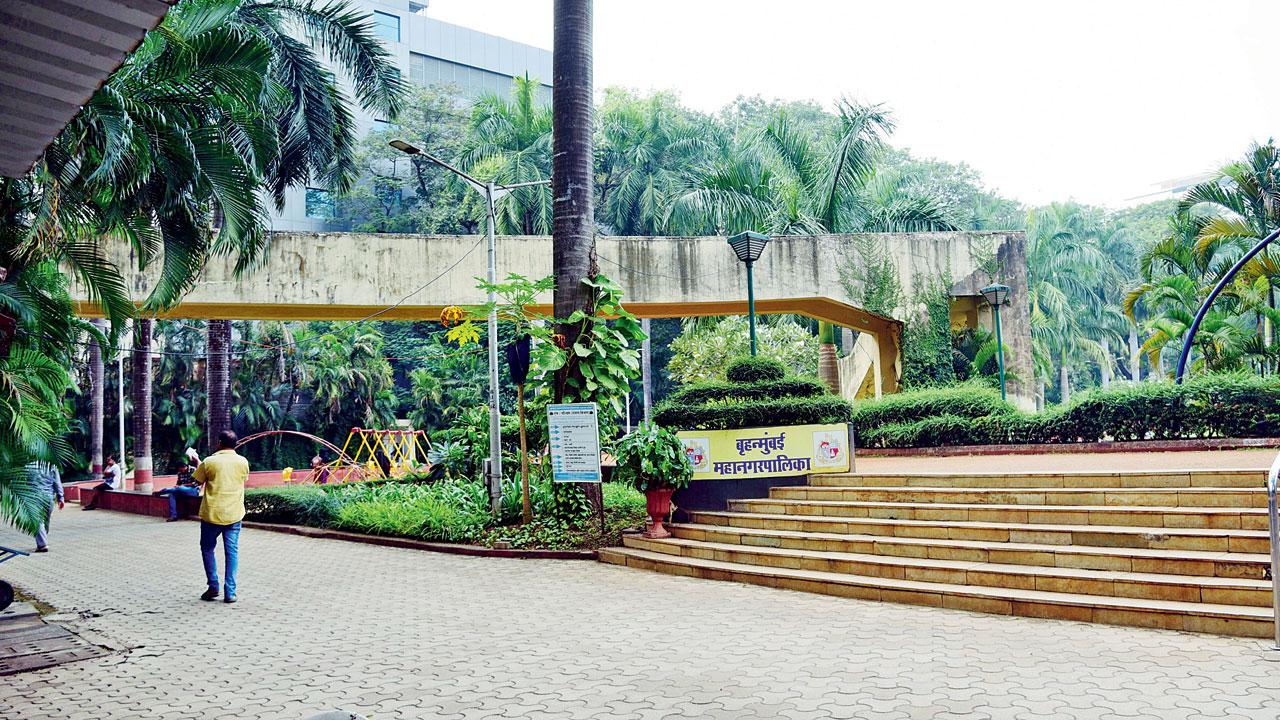 The parking lot is to come up beneath a part of Patwardhan Park in Bandra west. File pic/Pradeep Dhivar
The residents also objected to the 100 per cent use of surface area and removal of full grown trees, while the DCPR permits only 10m width of park to be used for ingress and egress of cars. "We will keep three metres side strips for a Miyawaki forest and the affected trees on the plot will be transplanted. There is even a plan for a rooftop garden. The rooftop will be 1.8 metres in height from the ground," said an executive engineer from the Roads and Traffic Department.
'Parking already available'
Sumontro Roy, one of the participants, said that the BMC is planning for a lot for 228 cars but there are almost 400 car parking spots available in the vicinity and people are not aware about them. Even a car lift in a neighbouring mall was misused and encroached on by other shops. BMC officials say that they will look into this and asked residents to send suggestions/objections on official email ID by Saturday 5 pm. They have assured that they will reply to them.
"If the BMC proceeds with the tender we shall definitely challenge the decision and we have invited them to visit Patwardhan Park to see first hand what we are trying to explain," said Bhathena. The BMC had similar plans for Pushpa Narsee Park in JVPD. But following stiff opposition from the residents, the BMC is considering other options and hasn't floated a tender for it as yet.