He later found from traffic cops that it was an unauthorised parking lot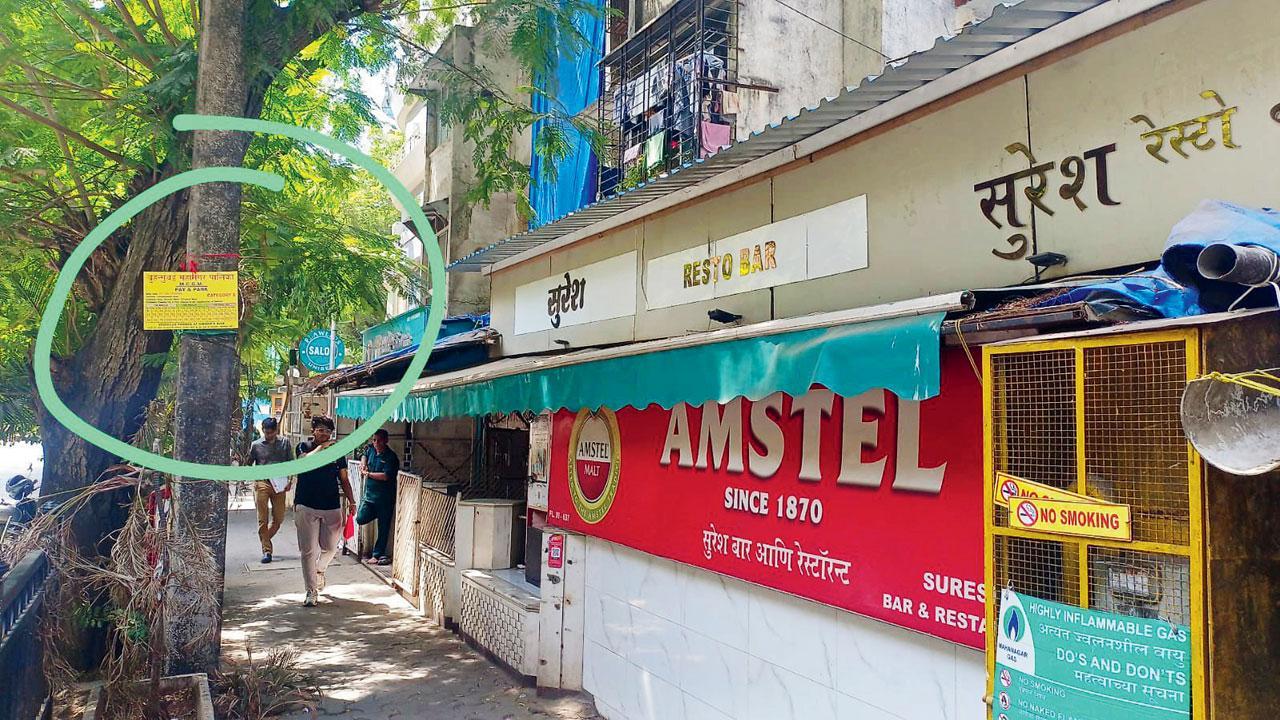 The pay and park at Chandavarkar Road, Borivli west with a BMC board where Amit Sedani parked his bike and later learnt it was unauthorised
There seems to be no rein on the pay and park mafia in the city, which has been blatantly operating with fake signboards and even receipts. On Thursday a biker received an e challan from the Borivli Traffic Division, after they  towed his bike from a 'pay and park' lot outside Borivli west station, where he had paid the charges, and also received a receipt. The biker was later told it was an unauthorised parking lot.
Amit Sedani, a resident of Gorai at Borivli, is a projector screen and sound equipment supplier. Sedani parked his vehicle outside Suresh Bar & Restaurant at Chandavarkar Road in Borivli west on Thursday, after seeing a pay and park signboard of the BMC hung on a tree there, complete with rules and parking rates. He was even issued a receipt in the name of Hari Om Enterprises, located at Chandavarkar Cross Road, R/Central Ward, Borivli West.
ADVERTISEMENT

Sedani shows the receipt he was issued at the parking lot
Speaking to mid-day, Sedani said, "I parked my bike at this pay and park as I wanted to go to Byculla. I paid Rs 20 to a person with a receipt book but when I returned at noon, my bike was gone. When I checked, I found it had been towed by the traffic police and I also received a message about it. The man who had issued the receipt was long gone."
Also Read: At 12, she helped eight students pass SSC exams
Sedani then went to the Borivli Traffic Division. "I requested the officials to look into the matter and showed them the receipt. They told me that there used to be a parking zone there but the BMC terminated the contract. Left with no option, I paid a Rs 736 fine and took my bike. If there is no parking zone then why is there still a BMC pay and park board stuck on the tree?" Sedani asked, adding there was another person at the traffic division who had been similarly cheated.
Senior Inspector Sachin Pardeshi of Borivli Traffic Division said, "We only tow vehicles from no parking zones and he must have parked in such a place. The person should bring the man who gave the receipt to him to park the vehicle. If he parked his vehicle in a parking zone, he will get his full refund. If he was cheated, he can register a police complaint."