In the second such instance in the last five years, an ambulance driver carrying a patient's oxygen cylinder in his hands gets trapped in the scanning room, survives thanks to presence of mind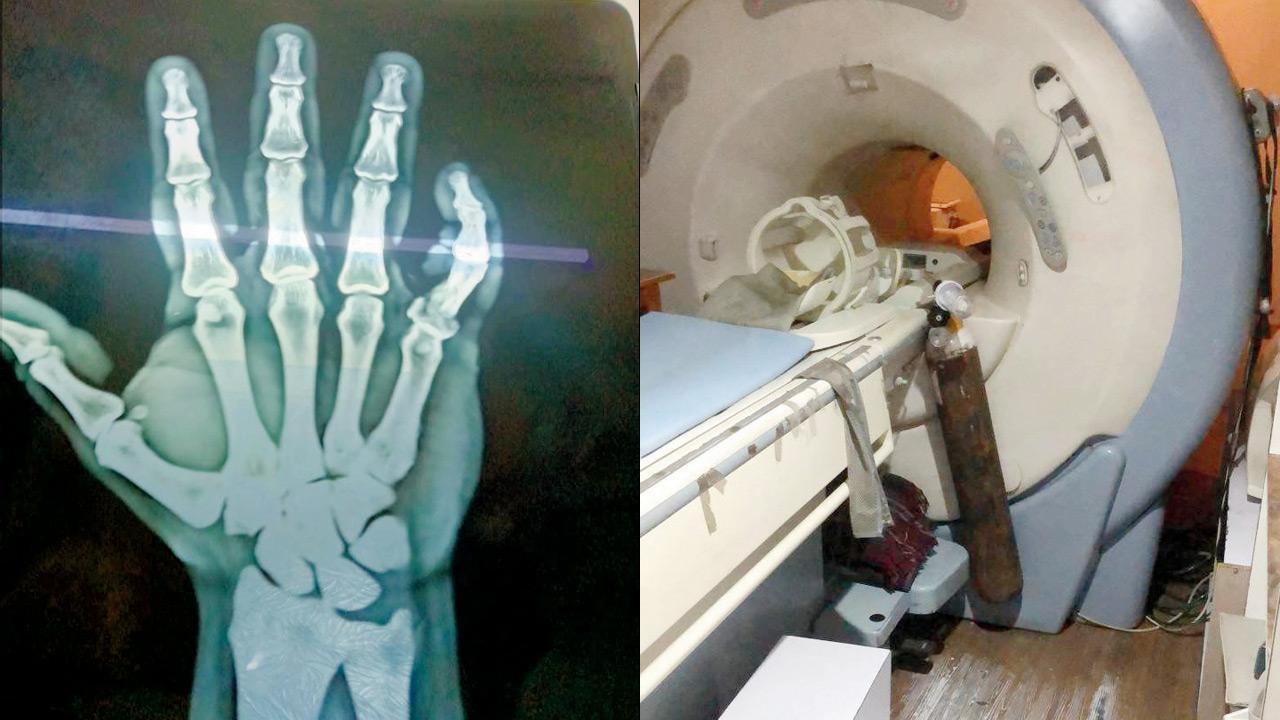 An X-ray shows Vikram Abnave's right hand with the broken little finger; (right) the MRI machine at Pratham MRI and CT Scan centre. Pics/Hanif Patel
An ambulance driver carrying an oxygen cylinder got stuck in a Magnetic Resonance Imaging (MRI) machine in Bhayandar while escorting a patient on Friday. Fortunately, the 40-year-old escaped with a fractured little finger on the right hand. The incident took place at Pratham MRI centre on Wednesday. The owner of the MRI centre, Dr NG Chauhan, denied that the incident took place. Chauhan told mid-day, "Nothing has happened at our MRI centre as such, nobody got injured."
Chauhan said, "Only a small piece of metal got stuck in the machine and it was removed successfully." But the radiologist at the MRI centre, Dr Dilip Pawar, after initially denying the incident, said, "One person got a minor abrasion in his hand and he is okay now."
ADVERTISEMENT
How did accident happen?
The victim, Vikram Abnave, however, told mid-day, "I brought one male patient to the MRI centre in the ambulance for the scan. He was on oxygen support. So, after getting him out of the ambulance, I carried the oxygen cylinder to help him."
"The door of the MRI was opened and when I tried to cross the MRI room, I felt being pulled in after a severe jolt, like an electric shock. I lost my balance and got stuck in the MRI machine while the oxygen cylinder was in my hand," Abnave said.
"My palm was stuck in the machine. Somehow I managed to remove my hand and ran out of the room. I was bleeding and in incessant pain. It was a shocking incident for me as I never knew that the machine could pull me in like this," Abnave said.

The Pratham MRI and CT Scan centre. Pic/Hanif Patel
Hearing the commotion, the centre's staff rushed to help Abnave and administered first aid. "After administering the first aid, I was taken to a nearby private hospital where surgery was conducted and a small rod was inserted in my little finger which got smashed in the accident. The hospital staff told me that the incident could have been fatal but luckily I am alive," he said.
Sources at the MRI centre told mid-day that the centre is running with a limited workforce. 
Limited staff at centre
"Abnave would drive an ambulance only at night. He started working a few months ago. But there is no driver in the day shift so he has been covering it for a week," the source said. 
"The limited staff members have not been made aware of the dos and don'ts of MRI machines," the source added.
Abnave said, "I am a poor person and have to run my house. I am the only breadwinner in my family of four, including two sons and wife. One of my sons is a specially-abled child." "After my surgery, the doctor has suggested I rest for at least two months to recover fully. How will I work with a broken finger? I don't know if my job is secure," Abnave added.
2
No. of months that the victim has been advised rest by the doctors