The books of these 44 teenagers, students of the Dawoodi Bohra community's MSB Educational Institutes from India and abroad, take the readers to faraway places to meet new characters and experience thrills, chills and laughter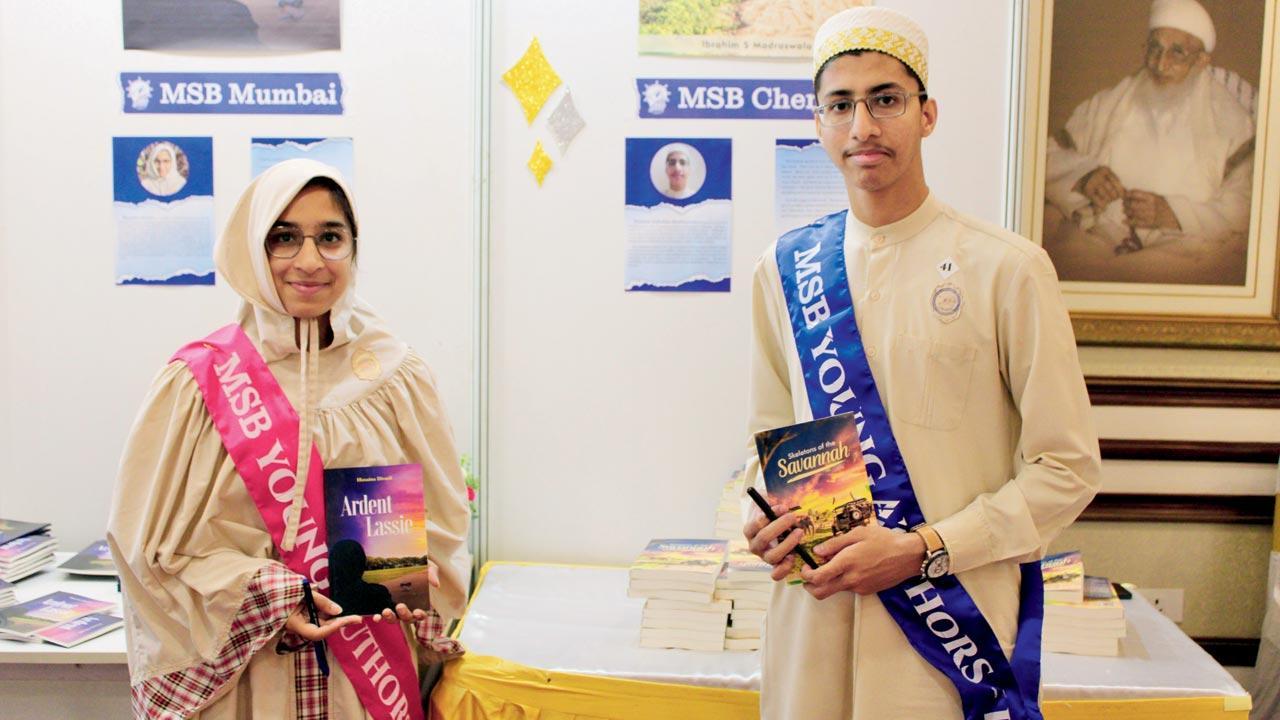 Hussaina Divasli and Ibrahim Madraswala at the launch event
Hussaina Divasli, 15, a Std X student at MSB school, has always had the goal of becoming an architect. But a mentorship programme for novel writing in school led her to fall in love with words. At an event where their books were launched on Saturday, Hussaina and 43 other budding authors, aged 13 to 18 years, shared their journey of transforming their thoughts into stories.
The books of these 44 teenagers, students of the Dawoodi Bohra community's MSB Educational Institutes from India and abroad, take the readers to faraway places to meet new characters and experience thrills, chills and laughter.
ADVERTISEMENT
'Passion for writing'
The book writing programme is part of the 'Young Authors' initiative by the MSB school headquartered in Mumbai. The objective was to enhance the literary skills of young students who have a passion for writing. Young Authors was originally organised by MSB Chennai twice before on a very small scale. This year, students from MSB schools in India and from their branches in countries like Kenya and Tanzania took part.
Also Read: Mumbai: How many times will they break our campus wall?, ask students
"The idea is to offer young students national and international recognition, to transform budding writers into established authors. The primary goal here was to enhance their literary skills. However, after the completion of the 18-month programme, the outcome was much more than what we expected," said Rashida Mustafa, a teacher at MSB Chennai and mentor for 
Young Authors. 
The programme offered students insights into the art of writing fiction and non-fiction, supported by workshops to enhance their skills.
The MSB department teamed up with renowned author Neil D'Silva and children's book author Lubaina Tyebji to mentor the students through their 18-month journey.
'Just some guidance'
D'Silva said, "I spoke to them about the structure of stories, how characters are built, etc. These teenagers needed some hand-holding and guidance. From the start of the programme to now when their books are launched, I see they are much more confident. Many want to continue writing. I made them autograph their books for me." 
The books will be available  on Amazon.in. Money from their sale will go to the authors.
The budding authors
Hussaina Divasli, 15, resident of Mazgaon
Book title: The Ardent Lassie
The story of a hijab-clad athlete, who aspires others to excel in sports in the national and international arenas.
"This has been a mesmerising experience. I could actually complete my book, and I got such a good response from the visitors. I wanted to pursue a career in architecture and interior design. But now I wish to continue writing. Writing will always be part of my life," said Hussaina.
Ibrahim Madraswala, 18, resident of Chennai
Book title: Skeletons of Savannah (SoS)
It is the story of five friends who take time off their hectic lives to explore wildlife at Masai Mara.
Ibrahim said, "From time to time, I was reluctant about many things. But I completed my book successfully. My parents are very proud. Now my mind is bursting with ideas and I can't wait to write another book."
Insiya Ezzi, 16, resident of Tanzania
Book title: The Royal Mystery - The mysteries of the Moon Lamp
The book revolves around a boy's quest to obtain the titular lamp which is believed to have powers to heal the sick. 
"From childhood, my mother used to tell us mystical stories, which inspired me to write this story. Also, I have always been curious about moon lamps. I have had moments of self-doubt, where I used to ask myself, 'Will I be able to do it?' I am so happy I was able to overcome all that and finish my book," said Insiya.