Top cop promises action after computer engineer and brother complain that Phoenix Market City in Kurla barred entry and insulted them for having arrived in their own auto-rickshaw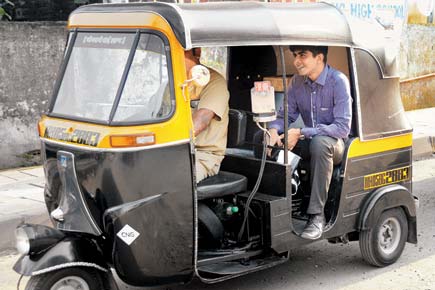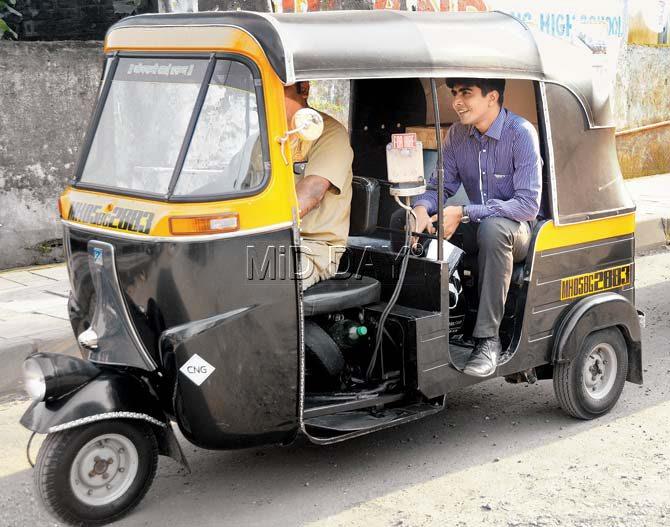 Vikas Tiwari's family had to go home and hire another auto to drop them to the mall. Pics/Satej Shinde
Rickshaw drivers ferry hundreds of people to shopping malls every day, but when they want to go in themselves, their vehicles aren't considered posh enough. This is what a 28-year-old from Dombivli discovered when he and his family went to a Kurla mall in his brother's auto, only to be told that they could not park in the mall premises.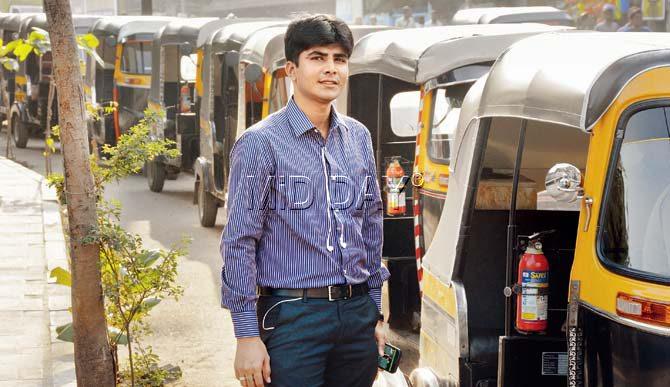 Vikas Tiwari took his family to the mall in his brother's auto, but they were turned away when they got there
Vikas Tiwari, a 28-year-old software engineer, had wanted to take his family for Diwali shopping, and decided to head to Phoenix Marketcity in Kurla (W) in his brother's auto rickshaw last Sunday.
Vikas and his wife were accompanied by his brother Santosh and his wife, along with their kids, but when they arrived at the mall, the security guard began shouting at them, saying the mall did not allow parking for rickshaws.
"I was shocked to hear about this new rule. Frustrated, I got down from the auto and asked the guard where it was mentioned that autos were not allowed in the parking lot. At the same time, I began to shoot a video of the confrontation. He then took me to the security cabin in the parking area, where four other guards asked me to stop shooting," said Vikas, who refused to switch off his camera.
Disrespect, intimidation
After a while, the supervisor, Raju S, turned up and took Vikas into another room, where he was immediately surrounded by 7-8 uniformed sentries. "I got scared at first, but decided to keep the video on for my own safety. I asked the supervisor the same question about the parking rule, but even he had no answer," he recalled.
The argument stretched for over an hour, until the mall management called the police. But even the cops didn't know how to react, except to laugh at the absurdity of the situation. The cops eventually offered to register a complaint and left when Vikas refused.
"I considered filing a police complaint but decided to keep quiet because my family was with me and I didn't want to put them to trouble. Then the mall manager came and told me that their internal policy stated that parking is not allowed for auto rickshaws. But he was very rude throughout and didn't even bother to look up at me even one. Instead, he kept playing on his phone," he added.
Why this prejudice?
"My brother drops hundreds of people at the mall but we were not allowed to go there in our own auto. Since when has there been a rule against parking autos in malls? Does that mean we cannot go to the mall unless we buy a car?" questioned Vikas.
His brother, Santosh, said, "The authorities keep talking about making Mumbai a smart city with new technology and rules, but the common man is still treated badly. I felt so humiliated when they stopped me from going in. I bought the auto with my hard-earned money. It is not just my bread and butter but also my own vehicle in which my family and I travel. I drop so many passengers at the mall in this same auto, but when I tried to go there myself, I was treated so badly."
Ordeal continues
Eventually, Santosh went home and parked his auto, before flagging down another auto to return to the mall. Meanwhile, Vikas continued to reason with the mall authorities, and asked them to put up a notice board to inform people about the parking rules. The guards finally allowed him to leave after he deleted the video, but the software engineer was smart enough to shoot it on the Facebook Live mode, so it had already been uploaded online. Several of his friends responded to the post and offered their sympathies. Tech-savvy Vikas also tweeted to Mumbai Police and the Commissioner of Police about his ordeal, but is yet to get a response.
"I asked them what we should do in such a situation – should the auto driver park in the no parking area and sit alone while his family shops?" said Vikas.