X-ray of 56-year-old at the Railway Hospital reveals 75 pins in his throat, hands and legs; while he has no recollection of how this happened, Mumbai doctors are still fumbling for a solution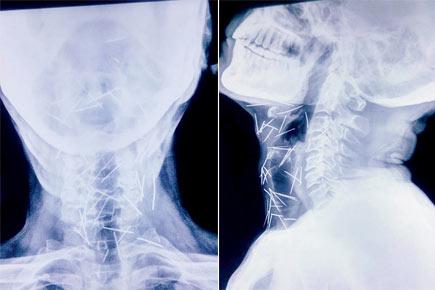 Badrilal Meena was found to have 75 pins lodged in him, with no clue how they got there
In February, when 56-year-old Badrilal Meena of Rajasthan underwent a surgery at Kota for a toe infection, he thought his troubles were done. Then came the can of worms, or in his case, pins, as a follow-up X-ray in the second week of April revealed a one-of-its-kind ailment; all this while, he had been living with 75 pins lodged inside various parts of his body. More astonishing: He has no idea or memory of how they got there.
However, ever since the revelation, the family has been running pillar to post to get him treated, but are instead being shunted hospital to hospital.
Discovery of a lifetime
Following the discovery of the pins in his feet, Meena, a railway employee in Rajasthan, was referred to Mumbai's railway hospital. On April 24, Meena then came to the Jagjivan Ram Hospital at Mumbai Central where further investigation and X-rays exposed the problem to be much larger in scale. There were over 75 pins - 40 pins stuck to his throat, 25 in his right leg and two in both of the arms. Then, the doctors at the railway hospital referred him yet again to Nair Hospital for consultation on whether to proceed with a surgery or not, but the back and forth has allegedly led to a delay in treatment and thus, led to Meena's health deteriorating further.
According to his son Rajendra, after Meena constantly complained of pain in his feet for over four months, he underwent a surgery in Rajasthan, which then led to the pins being found in him. "We got so scared after seeing the pictures. We don't know how the pins got inside his body. I have asked him several times, but he has no memory of it," said Rajendra.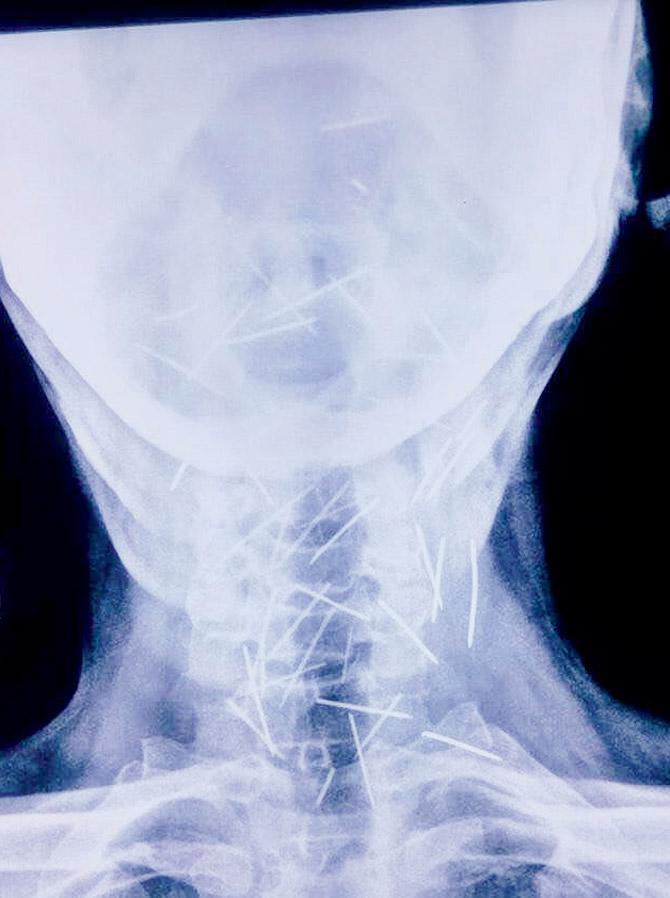 X-ray of Meena's throat
Doctors huddle up
Interestingly though, doctors at the railway hospital have said that the pins haven't affected any of his internal organs that could have proved fatal. "It is impossible for a person to intake so many pins in a conscious state of mind. To remove the pins, we have to operate on him. But he is also a diabetic, so that increases the risk of another surgery. On Saturday, we referred him to Nair Hospital for several ENT tests to get a clearer idea of his medical condition. We haven't yet decided on what the next course of treatment should be," said a senior doctor from the Jagjivan hospital.

Meena's son Rajendra
However, Rajendra has blamed the hospital that even after five days of running between the two hospitals to determine a concrete plan of action, no treatment has been administered to his father. "Two days ago, my father could at least speak. But now he has stopped eating and drinking water as he is reeling in pain and also has trouble breathing," claimed Rajendra. When mid-day tried to talk to Meena, he was unable to speak due to the pain.
Delay in treatment
Meanwhile, another hospital staffer said that Dr Sachin Nikam, head of the General Medicine Department, was apparently out of town and would return only after Tuesday.
Despite repeated calls, mid-day was unable to reach Dr Nikam. "At a time when my father is struggling so much, there is no doctor to treat him. At the time of admission, he was kept in the general ward and then shifted to the surgery ward, but after that, there has been no further development," said Rajendra.