Three First Year students wear women's clothes on International Women's Day, to try and break stereotypes about male and female dressing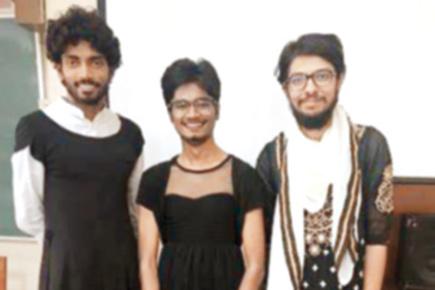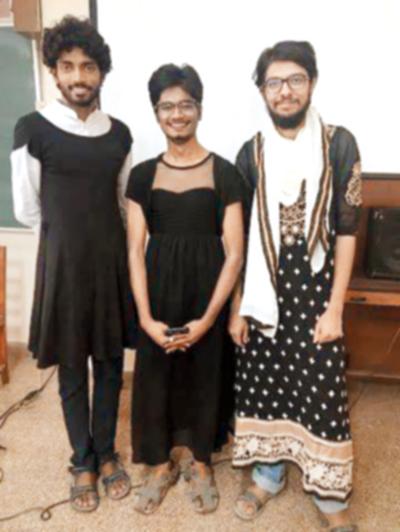 Madhusudan Bandar, Yash Jain and Jay Vyas in women's clothes.
Some students of Nirmala Niketan College celebrated International Women's Day in a unique way yesterday. Three boys from the First Year of Masters of Social Work (MSW) dressed up in women's clothes, to create a dialogue about breaking gender stereotypes. The idea belonged to Madhusudan Bandar, Jay Vyas, and Yash Jain.
"It's not just about girls wearing boys' clothes or vice versa. It's also about people being okay with girls wearing boys' clothes, but looking down at men who wear girls' clothes," said Jay Vyas, who wore a salwar kameez.
Society rules
Explaining the 'unwritten rules' of society, Vyas said, "People are so conditioned to believe that girls are supposed to wear certain attire, that some people gave reactions like "Ladki jaisa kyun kar raha hai?" I want to question this mindset. Why do people never ask this to a girl when she dresses like a boy? Because women dressing up like men is completely okay. But it's not okay if men dress up like women."
There were no extreme reactions from people, but some did have a good laugh, the students explained. "When we went out for lunch, there were some office going men who had a big laugh. We are hoping to take the initiative outside the campus as well," Yash said.
The boys had borrowed clothes from their female class mates. "While it was liberating at first, after a while it got very uncomfortable because of the quality of the dress. It was too tight. It made me wonder what all girls have to be careful about," said Yash.
Jay, who was also wearing a dupatta, added, "I couldn't do so many things freely. Also, there were no pockets, which is really inconvenient."
Good initiative
Girls welcomed the idea. Roma Makati, a student said, "I loved the initiative. It was nice to see people trying to break the social structure."
Aaina Maheshwari, also from the First Year, said, "There are 50 students in our class and more than half are boys, so it was nice to see at least three of them doing something so thoughtful. They didn't care what others would say or think."
While some appreciated the move, some felt it was only symbolic. Priyanka Iyengar, from second year MSW said, "It was a good way to break gender roles but I felt it was only symbolic."