MMMOCL has announced trip passes, which will cost Rs 80 for a daily ticket and Rs 200 for three days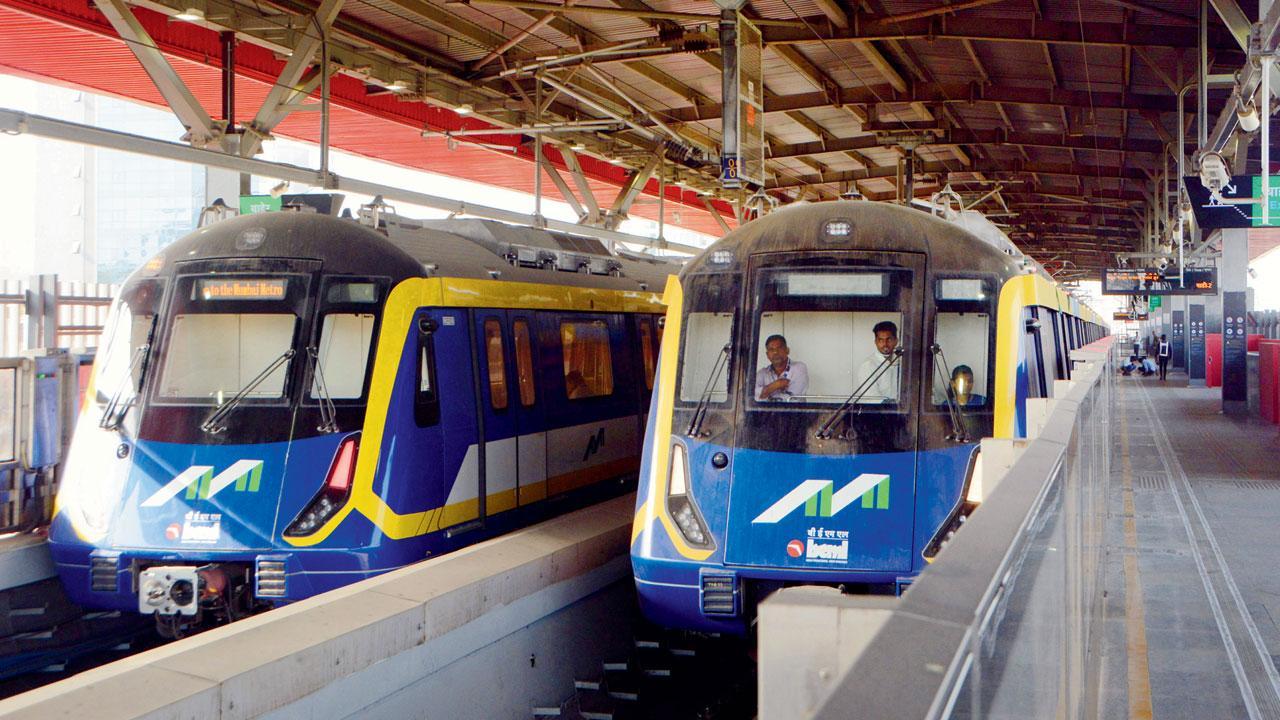 Metro trains at Aarey Metro station. Pic/Satej Shinde
Citizens can take unlimited trips on the new Metro lines at just Rs 80 for a daily tourist ticket and Rs 200 for three days. The new Maha Mumbai Metro Operation Corporation Ltd (MMMOCL), on Thursday, announced various special trip passes for Mumbai Metro commuters. The two Mumbai Metro new lines are being used by 1.6 lakh commuters daily.
MMMOCL has come up with an unlimited trip pass for people visiting Mumbai or are on a day trip. People frequently travelling on Metros and using the Mumbai 1 card can now avail a special 15 per cent discount on 45 trips and a 20 per cent discount on 60 trips. All these trips shall be prepaid with a validity of 30 days.
ADVERTISEMENT
S V R Srinivas, metropolitan commissioner, MMRDA & CMD, MMMOCL, said, "These travel plans will go a long way in easing the ticketing process, will save time and benefit people with discount options as well. We want to encourage people to use the Mumbai 1 National Common Mobility Card."
Also Read: Maharashtra: Bus depot stall fined Rs 1,500 for levying Rs 5 cooling charge on water bottle
New Metro lines
Two new lines will open in 2023. Srinivas said parts of Line 2B between Chembur and Mankhurd and Line 9 phase one, which is an extension of Red Line 7 beyond Dahisar, will open for a few stations in Mira Road this year.
Line 9 has further been extended by a few kilometres to Uttan, where there will be a car shed to avoid the earlier location where there were disputes and opposition. The Line 6 car shed will be at Kanjurmarg itself and work will begin soon.
"We are now building footover bridges at almost all stations on Red Line 7, which passes on the Western Express Highway for easier connectivity. We found that commuters were finding it difficult to cross the highway. Hence, the footover bridges are being built," he said.
Key features of passes
>> 45 and 60-trip pass valid up to 30 days from the date of purchase
>> Unlimited tourist passes: Rs 80 (valid for one day) Rs 200 (valid for three days)
>> One trip = one single journey
>> Origin and destination will be fixed. Commuter can travel on the stations between
>> Rs 100 replacement fee if the card is damaged/not working
>> If lost, the card is not refundable or replaceable
>> These trip passes are valid only on the Mumbai1 National Common Mobility Card