Hundreds of fishing families say unpredictable late-monsoon showers have meant that they haven't been able to dry their catch, most of which has spoiled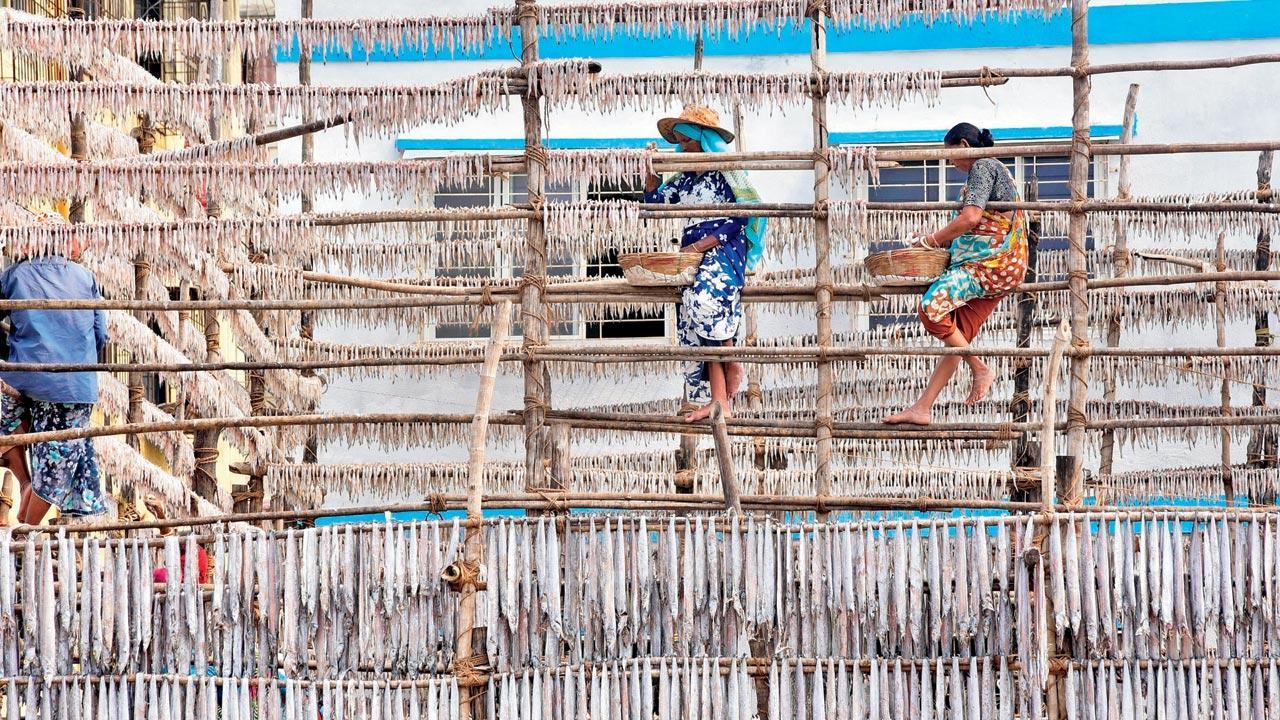 Fisherfolk hang Bombay duck to dry at Versova beach on Thursday. Pic/Shadab Khan
Unseasonal showers have not only impacted beleaguered farmers but also fisherfolk in Mumbai. Fishermen are claiming that 60 per cent of their output has been damaged due to frequent rainfall.
Rajhans Tapke, the Maharashtra head of the National Association of Fishermen and a resident of Versova Koliwada—one of the city's largest fishing villages, told mid-day, "Around 300 families here are in the dry fish business. Each family earns more than Rs https://www.mid-day.com/search/versova-all20,000 per month. Most of the fish are dried in September and October because the catch is good in this period. But this year, all is lost due to rainfall. There were no profits to be made. On the contrary, fish that was kept out to dry got damaged in the rain."
ADVERTISEMENT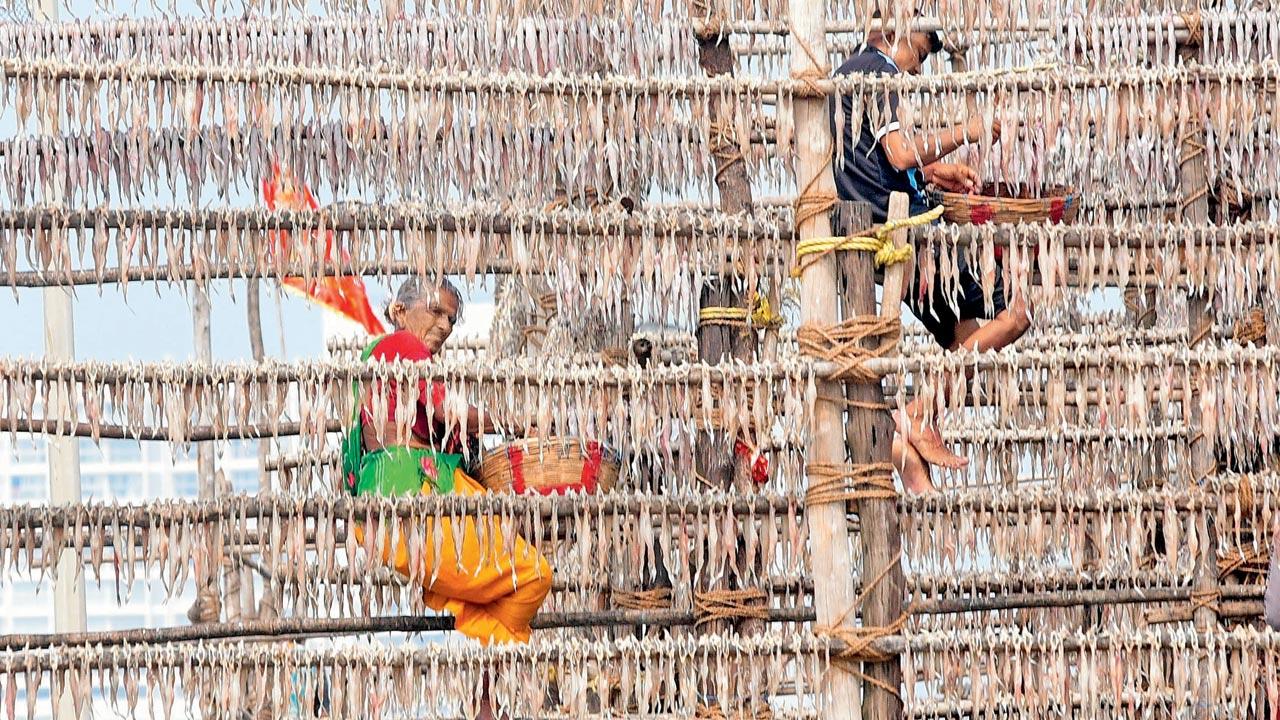 Fisherfolk hang Bombay duck to dry at Versova beach on Thursday. Pic/Shdab Khan
From September to October, Versova village alone produces 100 tonnes of dry fish. This year, however, the figure has decreased by 60 per cent," 
Tapke added.
Also Read: Mumbai: BJP, NCP in face-off over permission for performing Chhath Puja in Ghatkopar
Rajashri Bhanji, a dry fish seller, said, "Fish need at least four days to dry. But while the villagers were going about their work, it rained at least six to seven times. Even I was badly impacted. As this is happening continuously, we have stopped buying fresh fish. The rain has also affected people involved in the fish-catching business."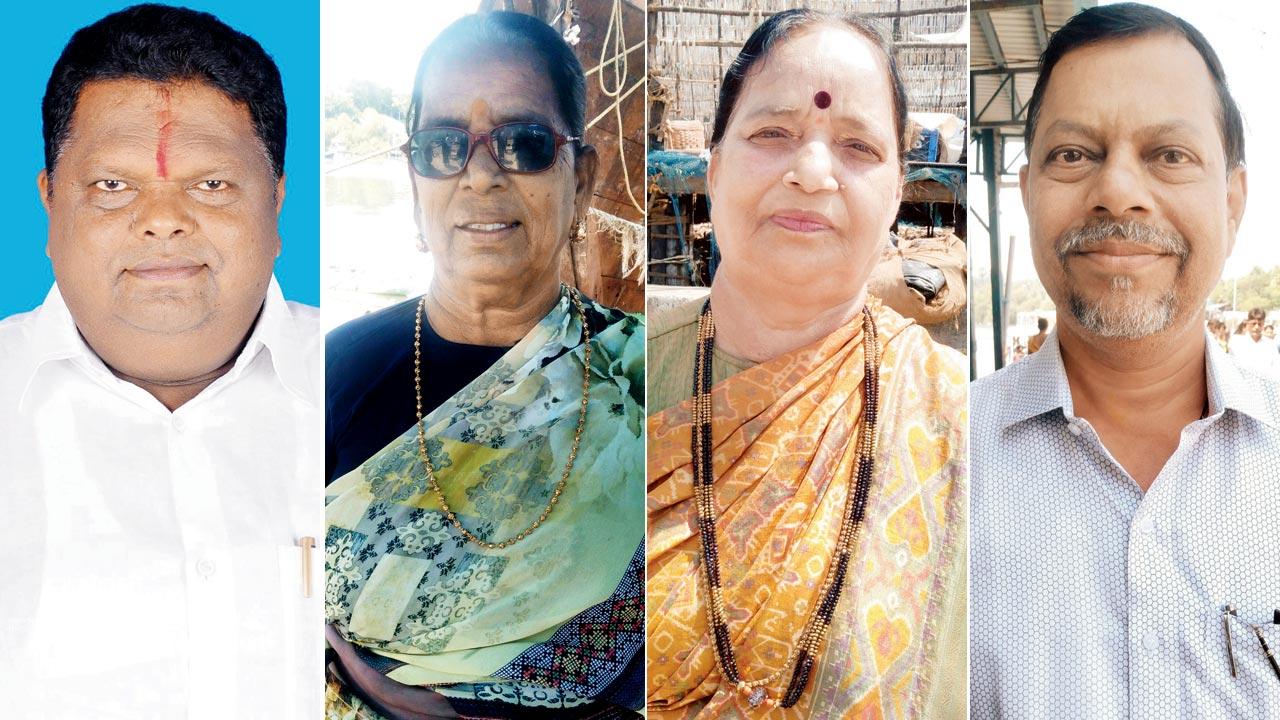 Kiran Koli, resident, Madh village; Motu Koli, resident of Madh; Rajashri Bhanji, a dry fish seller and Rajhans Tapke, the Maharashtra head of  the National Association of Fishermens
Motu Koli, a resident of Madh Patvari Koliwada, said, "I lost my stock nearly eight times. Seven to eight tonnes of fish have gone to waste."
Baby shrimp, Bombay duck and baby shark, among other fishes, are dried in Mumbai and nearby coasts. If fish that is put out to dry is damaged due to water, it is sold to poultry-feed manufacturers. "However the rate is only 10 per cent of the wholesale cost of dry fish," said Tapke.
He added that the government announces various schemes for rain-affected farmers but no such help has been extended to fisherfolk.
Kiran Koli, a resident of Madh, said, "Dry fish production has taken a huge hit. September and October is our season. But this year we lost nearly 60 to 70 per cent of our output. The government should think about us and frame a pro-fisherman policy."
Sandeep Patil of Manori said last year his family produced at least five tonnes of dry fish in September and October. "But this year we managed to only produce 500 kilograms of dry fish."
100
Volume in tonnes of dry fish produced in Sept, Oct in Versova