Civic body deploys two cranes to clear away fallen section of structure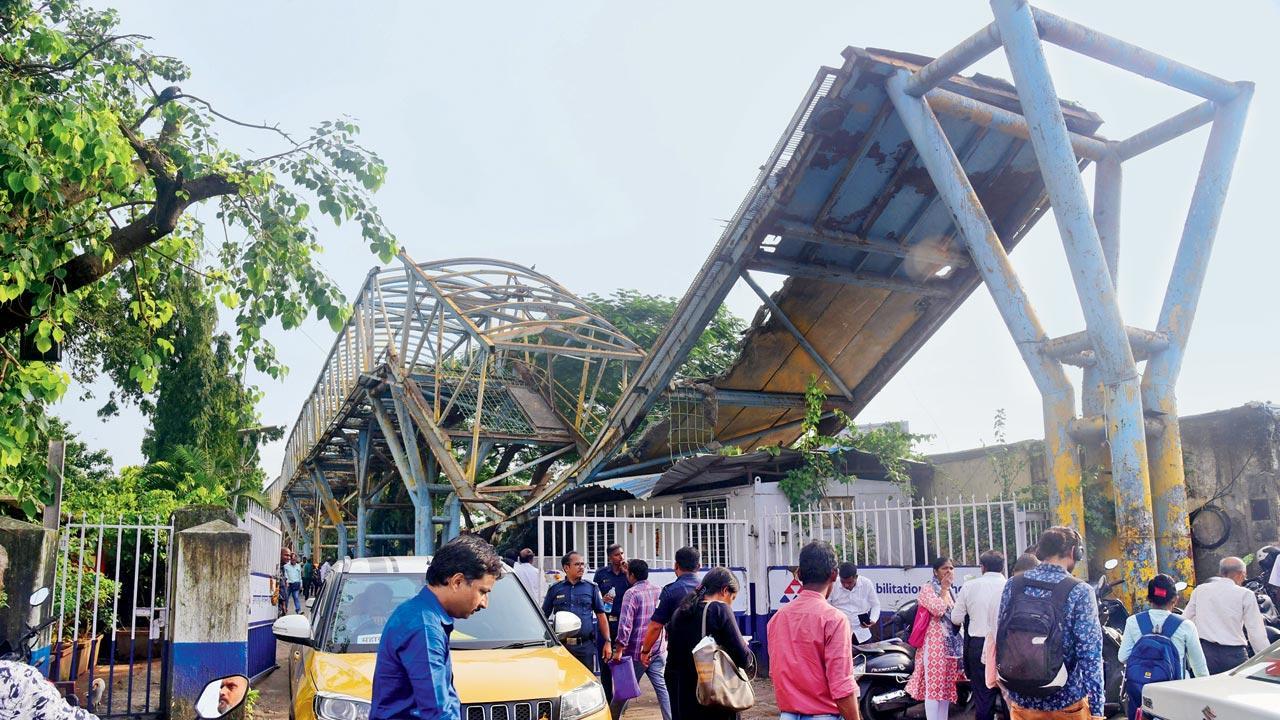 The portion of the Bandra East skywalk that collapsed on Monday afternoon. Pic/Shadab Khan
A part of the Bandra East skywalk, which is being demolished, collapsed on Monday afternoon. No one was injured.
The BMC deployed two cranes to clear away the fallen section.
ADVERTISEMENT
The skywalk, the first such structure in the city, was built in 2008 by the Mumbai Metropolitan Region Development Authority (MMRDA). However, it was shut in 2019 following a structural audit report that was submitted after the Himalaya foot overbridge at Chhatrapati Shivaji Maharaj Terminus collapsed on March 14 that year, killing six.
After three years, the Brihanmumbai Municipal Corporation finally started razing a part of the bridge, from the railway station to the Bandra court, over Anant Kanekar Marg, in April 2022. The skywalk has another 1.3-kilometre arm that goes to Kalanagar via a circuitous route.
Also Read: Mumbai: Another accident on Bandra-Worli sea link, no casualty this time
"The demolition of the bridge is in progress. The skywalk was in a dilapidated condition, so it buckled at the centre while it was being lifted. We will arrange for two cranes to dismantle and lift the parts away during the night," said an official from the BMC's bridges department.
Veermata Jijabai Technological Institute experts submitted a structural audit report in January 2020 and recommended that the structure undergo major repairs. However, BMC officials decided to reconstruct it, saying repairs would cost around Rs 7 crore but not increase the lifespan of the skywalk significantly while a new one would stand for at least 40 years.
The work on the project came to a halt due to the pandemic and the standing committee of the BMC finally approved the project in January this year. The civic administration, however, decided to rebuild part of it because reconstructing the entire skywalk would cost Rs 50 crore while the route to Bandra court had the highest footfall. The total cost of the demolition and reconstruction of one arm, over Anant Kanekar Marg, is pegged at almost Rs 19 crore.
2008
The year the construction of the structure was completed